News > WA Government
Gov. Jay Inslee calls for restrictions on military style semi-automatic rifles
Feb. 21, 2018 Updated Wed., Feb. 21, 2018 at 10:16 p.m.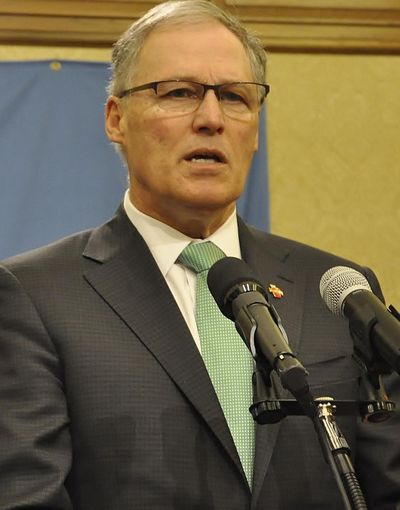 OLYMPIA – The Legislature should make it harder to buy a military style, semi-automatic rifle, and require the buyer to be at least 21, Gov. Jay Inslee said Wednesday.
"These are commonsense measures," Inslee said at a news conference to push for the bill, which is currently in the Senate budget committee but has not come up for a vote. "There is still time for action."
The bill would require a more extensive background check for the purchase of the rifles, which some people call assault weapons, similar to that used for the buyer of a handgun. It would also require the purchaser to be 21, rather than 18 in the current law.
The Legislature has two weeks left in its regular session, and Senate Majority Leader Sharon Nelson, D-Maury Island, said the bill is still alive, although not yet scheduled for a vote.
"We would need bipartisan support," Nelson said. "Our members are working on it."
The Senate previously passed a bill that would ban the sale of bump stocks, devices that increase the fire rate of semi-automatic rifles, on a 29-20 vote with three Republicans voting yes.
Although legislative rules call for Senate bills to have received a vote more than a week ago, Nelson said the bill could be part of the budget, which means it could get a vote in the final days of the session.
Inslee said lawmakers have incentives that they didn't have a few weeks ago, with the latest school shooting in Parkland, Florida, at which the shooter used that kind of rifle, and students in the state and around the country demanding action on gun control legislation.
"Now it's the Legislature's turn," he said.
The bump stock legislation, which passed the Senate, has been voted out of a House committee and is waiting for a vote in the full House.
Speaker Frank Chopp, D-Seattle, said Wednesday the bump stock ban may come up as early as Thursday, but added it will need bipartisan support in the House as well. Democratic leaders have not assessed the support among their members yet, but if they don't have the necessary 50 votes to pass it, they could still bring it to the floor if there is some Republican support, he said.
Local journalism is essential.
Give directly to The Spokesman-Review's Northwest Passages community forums series -- which helps to offset the costs of several reporter and editor positions at the newspaper -- by using the easy options below. Gifts processed in this system are not tax deductible, but are predominately used to help meet the local financial requirements needed to receive national matching-grant funds.
Subscribe now to get breaking news alerts in your email inbox
Get breaking news delivered to your inbox as it happens.
---