Sports
More names for wall of honor: It's a nice problem to wrestle with at Freeman High
Feb. 21, 2018 Updated Wed., Feb. 21, 2018 at 4:15 p.m.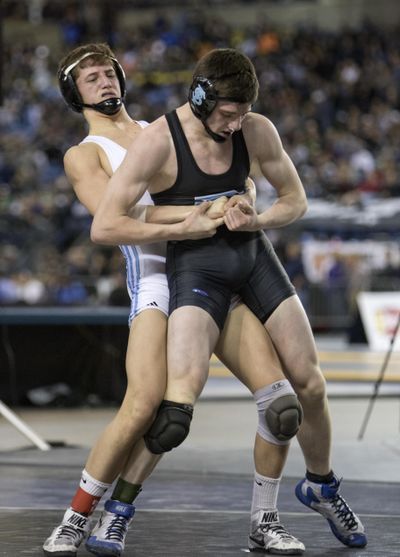 The artwork differs from wall to wall, but the reverence with which they all are looked upon differs not one little bit.
If you are a high school wrestler, if you pull on the head gear, pull on a singlet and lace up the mat shoes, you hold in your heart the dream of seeing yourself named on the practice room wall reserved for your school's wrestling royalty: the state champion.
The dream that one day, generations of wrestlers who never met you will see your name and respect the hard work and sacrifice you devoted to their sport. That they will speak your name in the same hushed tone that you use to speak the names of those who came before you, who inspired you.
Logan Holt had his name on the Freeman wrestling room wall before the start of the 2017-18 season. Just not the top spot.
"I called him over earlier this year and looked at it," Freeman coach Chad Ripke said. "I said, 'Logan, what's missing?' He said 'First.'
"I told him, 'Let's go get it.' "
Ripke had little doubt when the state tournament got underway that Holt would make his way to the state championship match at 138 pounds.
"Logan is a technician on the mat," Ripke said. "The great thing about him is that he just shines the best at that (Tacoma) Dome. He will never toot his own horn. He's incredibly loyal, committed – just a special kid. I tell my assistant coaches that Logan Holt can always date my daughter."
And, just as expected, Holt earned a spot in the championship match. But whom he would have to wrestle once he got there, however, was a total surprise.
Nolan Doloughan spent the season as Holt's practice partner – and practice partner to defending state champion Hunter Nees.
"You love to see a kid get what he's earned," Ripke said. "He's a hard worker. He's not the most athletically gifted, but he'll grind on you for six minutes. He has a great work ethic and motor – we have six-minute drills in our practice room to wear kids out. But I just can't get this kid tired."
Doloughan came into the state tournament with 18 losses to go with his 28 wins. It would be easy to overlook a wrestler with that many losses – especially if he were part of a Class 4A program.
But Ripke doesn't shy away from sending his wrestlers out to face bigger schools. He takes them to Coeur d'Alene to wrestle at Tri-State. They wrestle at University High's tournament and the River City Duals in Post Falls – not to mention being in the same league with state champion Deer Park and state runner-up Colville.
The only question about the title match was a procedural one: How do you coach a match when both wrestlers come from your wrestling room?
"We divided it up, and we had coaches on both sides," Ripke said. "But I never said a single word for that entire match. I didn't think it was appropriate."
Holt won, 7-2, to cap off his senior season. And at the same time, set the tone for next year, Doloughan's senior year.
Nees, meanwhile, also reached the state finals at 120.
"Hunter Nees is the best wrestler in Freeman history," his coach said, flatly. "He's going to go on and continue wrestling at Eastern Oregon University next year. Upsets happen at a tournament. He happened to not wrestle his best in the finals to become a back-to-back champion. But he's the first four-time state placer in school history.
"He's been our leader the last two years. I'm so proud of that kid."
Senior Cody Tardanico brought home a fifth-place medal at 170 pounds.
Brandon Iris reached the finals at 182, where he lost a 5-2 decision to Colville's John Knight and came home with a second-place medal. Iris did not face Knight in the NEA dual meet. Freeman strategically forfeited at 182 and Iris wrestled up at a weight, winning a decision at 195.
Garrett Trevino lost a 4-2 decision to eventual state champion Martin Dominguez of Warden in the 220-pound semifinals and bounced back to beat Luke Dahlgren of Forks for a third-place finish.
Ripke took six wrestlers to state. All six came home with medals.
The problem comes in finding space on the Freeman wall for all the new names.
"I'm running out of room!" Ripke said. "We've added 28 state placers to the wall in the last four years."
Class 4A
Mead finished a distant second to state champion South Kitsap. University placed 14th and CV came in at 19th.
U-Hi senior Tim Westbrook lost his quarterfinal-round match at 113 pounds to second-place finisher Yusef Nelson of Auburn Riverside, then battled back to win four straight matches and earned the third-place medal.
U-Hi's Terrell Sanders lost a 3-2 decision in the finals to Steele Starren of Tahoma.
Central Valley's Bradley Wiggs lost his first-round match at 145 and battled his way back to the medal stand with a sixth-place finish.
CV's Zak Stratton lost a quarterfinal match at 170 and battled back to earn a third-place medal.
Braxton Mikesell of CV dropped his first-round 220-pound match and worked his way back to beat Anthony Cortez of Pasco for the fifth-place medal.
Neftali Lopez of U-Hi reached the 285 semifinal, despite weighing in at just 218 pounds. He ended up with a sixth-place medal.
Class 2A
East Valley turned in a strong showing with a sixth-place finish. West Valley placed 23rd – a good showing for a rebuilding program.
East Valley's Avery Sundheim pinned Jesus Rodriguez of Wapato in the consolation final to earn a third-place medal at 120.
Zachary Bowsky battled back from a loss in the 138 quarterfinals to earn an eighth-place medal.
Isaiah Ervin lost his opening match at 145 and battled back to earn a seventh-place finish.
West Valley's Scott Bray reached the 182 semifinals, where he lost to eventual state champion Mason Sabin of White River, 8-1, and finished sixth.
East Valley's Winston Scott lost a tough, 2-1 decision to Ryan Redford of White River in the 195-pound final.
West Valley's Logan Reser got pinned late by Izz Almotes of Centralia in the third round of their quarterfinal round match at 220, but got revenge by battling back to earn a third-place medal while Almotes settled for fourth.
Local journalism is essential.
Give directly to The Spokesman-Review's Northwest Passages community forums series -- which helps to offset the costs of several reporter and editor positions at the newspaper -- by using the easy options below. Gifts processed in this system are not tax deductible, but are predominately used to help meet the local financial requirements needed to receive national matching-grant funds.
Subscribe to the sports newsletter
Get the day's top sports headlines and breaking news delivered to your inbox by subscribing here.
---