Sports > International sports
One Spokanite's trip to the Winter Olympics: Golden moments
Wed., Feb. 21, 2018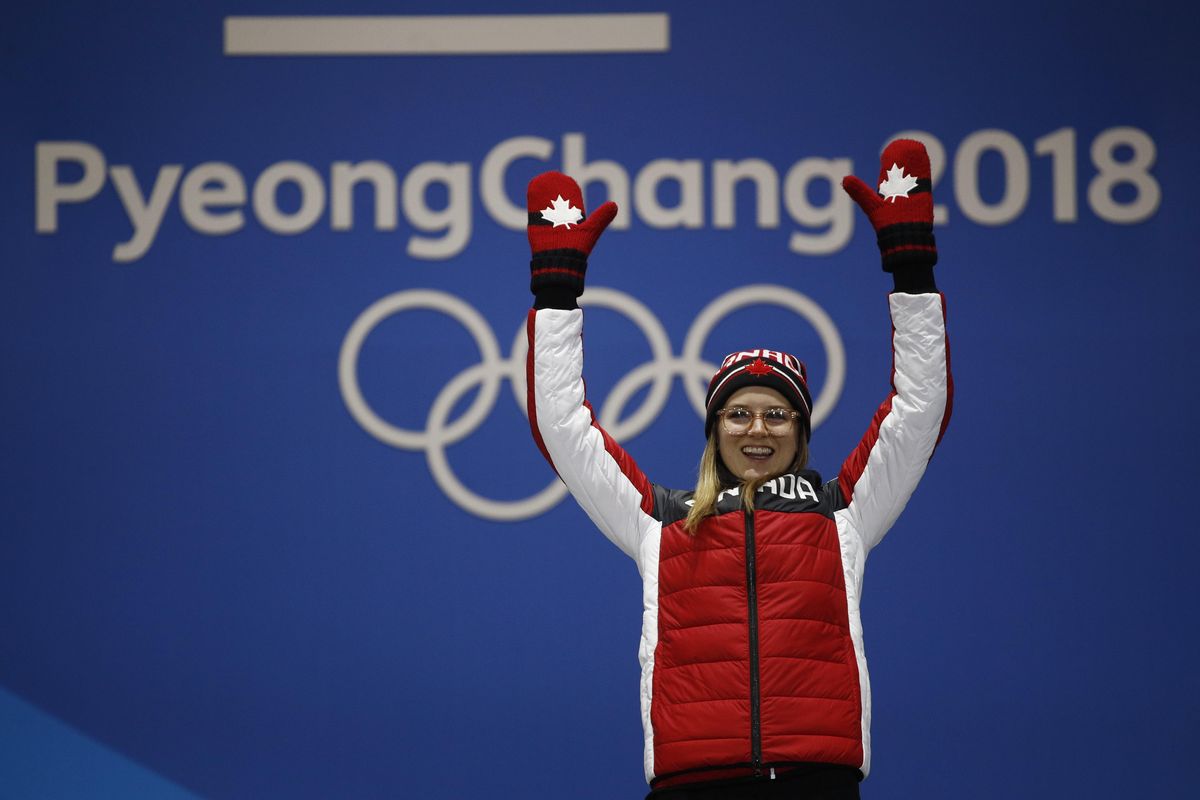 Cassie Sharpe of Canada, gold medalist in the women's freestyle skiing halfpipe, smiles during the medals ceremony Tuesday at the 2018 Winter Olympics in Pyeongchang, South Korea. (Charlie Riedel / Associated Press)
Early on Tuesday morning, I left Seoul and headed up to Phoenix Snow Park outside Pyeongchang to watch the women's freestyle skiing halfpipe finals and the men's freestyle skiing halfpipe qualifiers. It was bright and sunny, a beautiful day to witness the most prominent athletes competing on the world's biggest stage.
Getting there
I started my journey to the mountains by taking a cab to the train station in Seoul. I was happy to spend $10 U.S. on the 15-minute cab ride, as it seemed slightly cheaper than what I have paid for cabs in major U.S. cities.
I spent about an hour and a half on the high-speed Korail train before reaching my destination at Jinpo Station; I was grateful that the seats were so comfortable.
From there, I caught a bus to Phoenix Snow Park, a scenic ride that took another 20 minutes.
Finally, the Olympics!
As I walked through security checkpoints and into the competition, I was struck by the diversity of the many groups of people walking together, all wearing their respective countries' gear.
My friend Mike Riddle, who I came to watch compete for Canada, qualified for the men's freestyle skiing halfpipe finals, so I'll be heading back up on Thursday to watch him compete for a medal. Mike was a Olympic silver medalist four years ago in Sochi, so I like his chances of medaling again.
Mike's girlfriend and I are the token Americans in a large group of Canadians I'm here with, so I'm rooting for both countries this week. Cassie Sharpe made Team Canada proud when she won gold in the women's freestyle skiing halfpipe finals on Tuesday; there are no words to describe how wonderful that was to see in person!
United we stand
Between the men's and women's events, I stood with my friends out at the halfpipe for more than five hours. Spectating at winter sports is not for the faint-hearted; the cold can really start seeping into your snow boots after awhile.
Needless to say, the competition worked up quite an appetite for the group! The three Canadian Olympians we were with – Mike, Noah Bowman and Simon d'Artois, who had just competed in the halfpipe – decided to opt for the Korean barbecue restaurant at the bottom of the hill.
As we walked in, some members of Team USA were on other side of the restaurant; blue on one side, red on the other. Everyone in the restaurant went wild when Team USA's Aaron Blunck walked in; he had recorded the highest score of any of the men. He walked over to the Canadian athletes, exchanging congratulations and a hug with each one.
A lot of the Olympic skiers from both countries are friends outside of the competition. It was touching to see the congratulations and camaraderie among their families.
I mentioned to Mike just how cool all of this was, and he responded that this is what the Olympics are about – unity. It's about all of the different countries coming together, not just competition and which nation wins.
In that spirit, Mike said he's planning to trade a pin with one of the North Korean athletes before the end of the Games.
Local journalism is essential.
Give directly to The Spokesman-Review's Northwest Passages community forums series -- which helps to offset the costs of several reporter and editor positions at the newspaper -- by using the easy options below. Gifts processed in this system are not tax deductible, but are predominately used to help meet the local financial requirements needed to receive national matching-grant funds.
Subscribe to the sports newsletter
Get the day's top sports headlines and breaking news delivered to your inbox by subscribing here.
---