Sports > NCAA basketball
Women's Top 25 Capsules: No. 1 UConn beats Tulane 91-47 for 50th straight road win
Wed., Feb. 21, 2018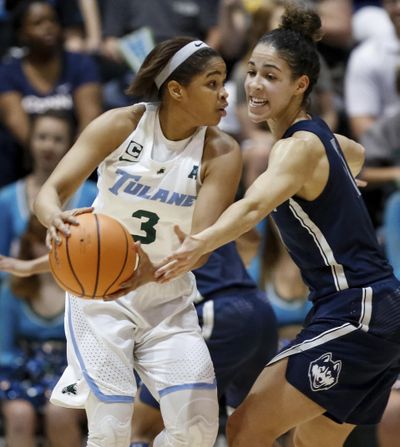 NEW ORLEANS – Azura Stevens scored 23 points, Napheesa Collier had 22 and No. 1 UConn won its 50th straight road game, 91-47 over Tulane on Wednesday night.
Katie Lou Samuelson had 15 points, nine rebounds and seven assists for UConn (27-0, 14-0 American). The Huskies led by 32 in the first half and built a lead as large as 48 in the final period.
Stevens reached 1,300 career points with her sixth point of the game. She hit nine of 12 field goals and all five of her foul shots. Her only misses were from 3-point range.
Kolby Morgan scored 15 points for Tulane (12-15, 4-10).
No. 14 Ohio State 88, Northwestern 54
COLUMBUS, Ohio – Kelsey Mitchell scored 22 points and Ohio State beat Northwestern, moving the Buckeyes closer to at least a share of the Big Ten regular-season championship.
If the Buckeyes (23-6, 12-3) beat Rutgers at home Sunday they will finish in no worse than a tie for the title. They are a half-game ahead of Maryland (11-3) and 1 1/2 in front of Nebraska (10-4).
Pallas Kunaiyi-Akpanah had 23 points and 14 rebounds for the Wildcats (10-19, 3-12).
No. 18 South Florida 81, Houston 65
TAMPA, Fla. – Kitija Laksa scored 32 points and South Florida beat Houston to seal the No. 2 seed in the American Athletic Conference Tournament.
Maria Jespersen had 19 points and 11 rebounds for South Florida (23-5, 12-2). Angela Harris scored 21 points for Houston (20-8, 9-5).
No. 23 Belmont 66, Jacksonville State 35
JACKSONVILLE, Ala. – Kylee Smith had 17 points and eight rebounds, Sally McCabe added 16 points and nine rebounds to help Belmont win its 18th straight
Darby Maggard added 12 points for Belmont (27-3, 17-0) in its 42nd consecutive Ohio Valley Conference victory. Tasha Magruder had six points for Jacksonville State (17-11, 11-6).
Kansas 66, No. 25 Oklahoma State 59
LAWRENCE, Kan. – Kylee Kopatich scored 19 points, hitting five 3-pointers, and Christalah Lyons added 15 points in Kansas' upset victory.
Austin Richardson added 13 points for Kansas (12-15, 3-13).
Loryn Goodwin led Oklahoma State (18-9, 9-7) with 21 points.
Local journalism is essential.
Give directly to The Spokesman-Review's Northwest Passages community forums series -- which helps to offset the costs of several reporter and editor positions at the newspaper -- by using the easy options below. Gifts processed in this system are not tax deductible, but are predominately used to help meet the local financial requirements needed to receive national matching-grant funds.
Subscribe to the sports newsletter
Get the day's top sports headlines and breaking news delivered to your inbox by subscribing here.
---