Analysis: Rui Hachimura delivers late as Gonzaga edges San Diego, clinches share of West Coast Conference title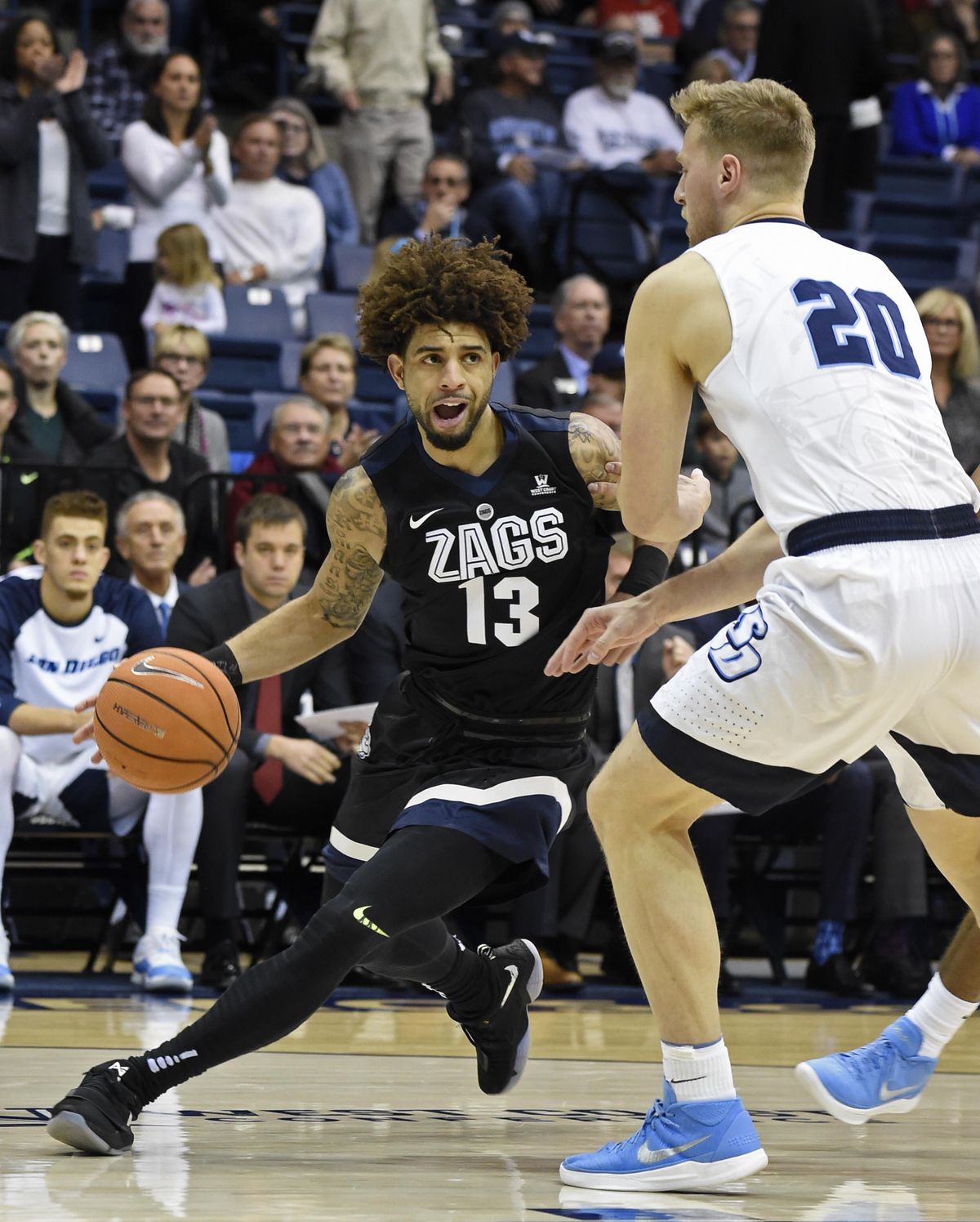 SAN DIEGO – Gonzaga had its share of foul issues, costly turnovers, sluggish offense and inattentive defense.
Meanwhile, underdog San Diego was hitting contested bank shots while falling down or difficult fade-away jumpers just before the shot clock expired. It added up to deficits as large as eight and the Zags trailing by one inside the 5-minute mark.
But Gonzaga had Rui Hachimura down the stretch. A whole lot of Hachimura, not to mention sizable contributions from Johnathan Williams and Killian Tillie.
Hachimura had 12 of his 16 points in the final 7 minutes as sixth-ranked Gonzaga rallied for a 77-72 victory Thursday in front of an announced sell-out crowd of 4,772 at the Jenny Craig Pavilion.
Hachimura struggled most of the night but shook it off when the Zags needed it most. He made the veteran move of getting to the foul line to jump-start the rest of his game. He hit four free throws and two straight post-up buckets as Gonzaga erased a one-point deficit to take a 67-60 lead.
"The free throws gave me more confidence," Hachimura said. "I missed my shot a couple times, but they trust me. I finally made shots and finished the game."
The Zags (26-4, 16-1 West Coast Conference) clinched at least a share of the conference title in much the same fashion as they defeated San Diego. It didn't look good early – WCC coaches picked Saint Mary's in the preseason poll – or when the Gaels knocked off the Zags in the McCarthey Athletic Center on Jan. 18.
Gonzaga stuck with it and earned its sixth consecutive championship and 17th in the last 18 seasons.
The players' locker room erupted with cheers audible down the hall and a celebratory dance or two when the coaches entered.
"A lot of games in there, including San Diego and BYU at our place and a couple on the road where we were tested, it was like, 'How bad do we want to stay in this race?' " Gonzaga coach Mark Few said. "They hung in there and took care of business when they got their shot.
"Now we just have to finish it (outright title) off in Provo (versus BYU on Saturday)."
They took care of the Toreros (17-12, 8-9) with another exhibition of solid late-game execution (see Pepperdine, Pacific, BYU, San Francisco and San Diego on Feb. 1), save for some adventures inbounding the ball against full-court pressure.
Williams shook off a sprained ankle late in the first half to finish with 11 points, nine boards and two blocks. His string of double-doubles ended, barely, at six.
Williams made a great pass to a cutting Zach Norvell Jr. for a three-point play and added a pretty jump hook to bump GU's lead to 63-58.
Tillie scored a team-high 17 points, including a 3-pointer that capped an 8-0 run to put Gonzaga on top 52-51 and a pair of free throws with 15.9 seconds left.
"Their interior play down the stretch," San Diego coach Lamont Smith said. "They played big with Rui, Tillie and Williams and gave us some hard matchup problems."
The trio also contributed on defense. Hachimura guarded point guard Isaiah Wright in crunch time. All three bigs showed off their versatility by successfully switching on ball screens. San Diego, which was hot early, cooled off to 34 percent in the closing 20 minutes.
San Diego junior guard Olin Carter III, who stung the Zags with five 3-pointers and 21 points in Spokane, duplicated those numbers in the rematch, but the Zags kept the rest of the Toreros in check for the most part.
"It was like we've been preaching the past month, all five guys talking, active," said guard Silas Melson, who sat out most of the second half with four fouls but chipped in on defense and with three free throws in the final 50 seconds. "In games like that, that's what it takes, all five guys locked in."
Hachimura took Cameron Neubauer inside for a tough 4-footer and then hit a soft-touch jumper over Neubauer to give the Zags a seven-point cushion with 1:20 left.
"Nobody can guard him in the WCC," Tillie said. "It's fun to have a guy like that that can help us any time and at the end."
---