Sports > Area sports
Grip on Sports: No matter what you wanted out of a college basketball game, the Inland Northwest's teams supplied it last night - and one thing Idaho didn't want
Fri., Feb. 23, 2018 A GRIP ON SPORTS • Great endings. Surprises. Physical tests. Workmanlike efforts. Last night's college basketball for the area teams featured all of the above. Sometimes more than one in the same game. Read on.
••••••••••
• From Ogden, Utah to North Spokane, from San Diego to Pocatello and every Peet's Coffee hometown in-between, Thursday night was special for the Inland Northwest's five four-year schools. All but one won. But that one loss might be the most devastating.
• Idaho had a chance to move into a tie for second place with a win over Idaho State, a .500 team in conference and overall. But Pocatello has been a tougher place to win this season and it certainly was for the Vandals.
The game was back-and-forth, finally decided on Brandon Boyd's late 3-pointer. That gave the Bengals an 86-83 win, Idaho State's first win over the Vandals since 2015.
Not only did the loss put a damper on the weekend (Idaho plays at Weber State on Saturday), it may have killed any chance for a Big Sky regular season title. If UI had won, it would have pulled within a game of idle Montana.
• The second-place door had been opened for Idaho by Eastern Washington, which handled Weber State surprisingly easy in Ogden. That just doesn't happen.
The Wildcats were on a nine-game winning streak and had a chance to pull into a tie with Montana atop the Big Sky. But Eastern had other plans. And the Eagles have Bogdan Bliznuyk.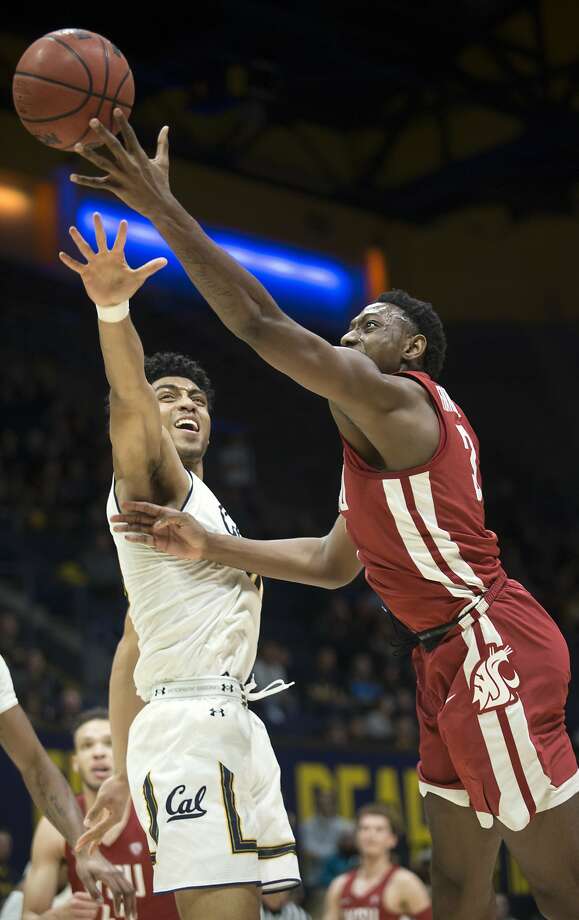 The 6-foot-6 point forward may not be the conference MVP, but only because EWU is probably going to finish fourth in the standings. By every other measure, he's the most important player in the league. Last night he scored 27 points, including nine consecutive points to rally Eastern into the lead.
• No one wants to finish last in anything. OK, maybe in the NFL or NBA, just for the draft pick. But in college hoops, last is the worst place to be. Last night's game in Berkeley was crucial in that regard for California and Washington State.
The loser would be, more than likely, saddled with the cellar-dweller status.
So the Cougars decided to play tough down the stretch – that's different – and gut out a last-second win.
Sure, this is the worst Bears team ever (at least by record), so the win isn't one you put up into a hall of honor, but in a sense it was crucial for Ernie Kent and the Cougars. This hasn't been the best of years for them. The hot start has been followed by a cold rest of the season. A loss last night, a last-place finish, a struggle to the finish line, all that would have made the offseason intolerable.
It may still be. But at least this group will have the sweep over California to build from. It's not much, but it's something.
• Whitworth will need to defend if it wants to upset top-ranked Whitman on Saturday night and earn the Northwest League's automatic berth to the NCAA Division III playoffs.
The Pirates needed to defend last night to win the semifinal against Puget Sound and they did just that, holding the Loggers to 39 percent shooting, 24 percent from beyond the arc.
Now they get a chance to defeat the Blues, something that eluded them the two regular season meetings.
• Gonzaga was tested in a myriad of ways last night in San Diego. The Toreros tested the Zags with their sticky man-to-man defense. The officials tested them – and USD – with their whistles. And they tested themselves with some offensive disconnect and defensive lapses.
But down the stretch when GU needed a lift, Rui Hachimura stretched his muscles. It's a rare West Coast Conference team that has a match for Hachimura and San Diego isn't one of them.
The win allowed the Bulldogs to clinch another WCC title. At least part of one pending the outcome of Saturday night's game in Provo. That's BYU's senior night if you didn't know. Will there be some payback happening?
• One last note: The scandal that has engulfed college basketball for the past few months seems to be getting stickier and stickier. Yahoo! Sports got its hands on some of the evidence and published it today.
This is a story that doesn't seem to be going away anytime soon.
•••
WSU: The Bay Area beckoned for the Cougars and Theo Lawson, who grew up in the foggy confines. He has the game story and video of postgame interviews with Ernie Kent and two tired, but happy, players. … The loss was just another sad tale in a sad season for California. … Elsewhere in the Pac-12, Washington never got going and ended up getting hammered by Stanford, 94-78 as Reid Travis scored 33. … If there has ever been a worse day for Arizona, let me know. The Wildcats' Alonso Trier was suspended again, coach Sean Miller walked out of a press conference, quarterback Brandon Dawkins said he will transfer, there was a lawsuit filed and they, oh wait, they were playing Oregon State. The Wildcats did win their game. … Could Arizona State miss the NCAA tournament? Sure it could, especially if the Sun Devils keep losing. Oregon got them last night in Eugene. … Utah is at it again. The Utes handed UCLA a loss last night in Salt Lake City, and hurt the Bruins' NCAA hopes. … Colorado hopes to regroup before UCLA comes to Boulder. 
Gonzaga: Jim Meehan tried to tell me last night he's not had an In-N-Out on this trip to California. If true, I wash my hands of him. He did, however, have a baseline (OK, back from the baseline) seat at last night's game. And this analysis of the game. And the three keys. … The guys in the office put together the highlight package. … I watched on TV and noted how much P.J. Carlesimo loves Hachimura. … The Toreros lamented their missed chances afterward. … The GU women held off San Diego in McCarthey, thanks to a clutch jumper from Laura Stockton. Whitney Ogden was there and has this story. … Around the WCC, San Francisco found a way to win at Pacific. … Saint Mary's got a lift from Emmett Naar and had little trouble with visiting Pepperdine. … BYU began its weekend with an easy road win over Portland.
EWU: The Eagles' big win over Weber State gives them a boost toward a top-four finish. That's important for the postseason tournament and byes. … Delaney Hodgins hit the 2,000 career-point mark last night as the EWU women picked up another victory. … Elsewhere in the Big Sky, Portland State got past host Southern Utah in overtime.
Idaho: The loss at Idaho State means the Saturday matchup with Weber State will only be for a tie for second, not outright possession.
Whitworth: Jim Allen was in the Fieldhouse last night and has this game story.
Mariners: If Hisashi Iwakuma is healthy all season – that's a big "if" – than the M's starting staff is appreciably better.
Seahawks: Russell Wilson will be wearing Yankee pinstripes. I'm not sure anyone should root for him anymore. … The Sheldon Richardson franchise tag talk is quieting down.
Sounders: It's tough to win on the road in the Champions League, as Seattle found out in El Salvador, losing 2-1.
•••       
• This seems like a good idea. … My alma mater, UC Irvine, defeated my son's alma mater, UC Santa Barbara, last night. All's right in the world. Until later …
Local journalism is essential.
Give directly to The Spokesman-Review's Northwest Passages community forums series -- which helps to offset the costs of several reporter and editor positions at the newspaper -- by using the easy options below. Gifts processed in this system are not tax deductible, but are predominately used to help meet the local financial requirements needed to receive national matching-grant funds.
Subscribe to the sports newsletter
Get the day's top sports headlines and breaking news delivered to your inbox by subscribing here.
---