A&E > Pop culture
Nimesh Patel's comedy chops are impressing 'Saturday Night Live' – and his parents
Fri., Feb. 23, 2018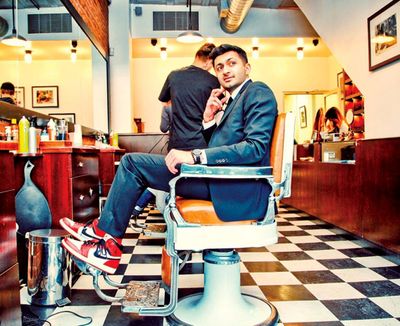 "I wanted Bobby Jindal to win for like two minutes," Nimesh Patel joked at New York's Comedy Cellar during the 2016 election season. "Not because I believe in his politics, but because I want a career on ('Saturday Night Live') and that's the only way that was going to happen."
Turns out he was wrong. The presidential aspirations for the former Louisiana governor faded, but Patel made it on "SNL" anyway – as its first Indian-American writer.
"It's funny how that worked out," says Patel, who has written for the Oscars and last year's president-less White House correspondents' dinner.
With "SNL" on break for the Winter Olympics, Patel, 32, has been on the road doing stand-up.
"On off-weeks, I can go out to do shows," says Patel, who started touring more last year. "But during the on-weeks, usually I'll just stay local."
Patel describes his comedy as half "political-social and the other half personal. I love performing in D.C. because the crowds tend to be smarter and cognizant of what's going on in the world as it is," he says. "Because they're smart, they're willing to laugh at a lot more stuff, because they're open to ideas."
Patel's parents, however, weren't so open to his idea of ditching a finance career for stand-up comedy eight years ago.
"The stereotype of Indian parents wanting their kid to be a doctor or finance person was true, for me at least," says Patel, who grew up in Parsippany, New Jersey. "Comedy wasn't even a thing they thought could be a real job."
Patel graduated with a finance degree in 2008 but then quickly got bored at work. "I've never had a fear of being onstage, so in August 2009, I started stand-up and caught the bug."
He found jobs in the city that allowed him to gig at night. After Chris Rock caught a set in 2015, the comedian hired Patel to help write jokes for Rock's Oscar-hosting gig in 2016 – Patel's first writing job.
"Once I got the Oscars job, my parents were like, 'OK, this could be something that's real,' " Patel says.
Local journalism is essential.
Give directly to The Spokesman-Review's Northwest Passages community forums series -- which helps to offset the costs of several reporter and editor positions at the newspaper -- by using the easy options below. Gifts processed in this system are not tax deductible, but are predominately used to help meet the local financial requirements needed to receive national matching-grant funds.
Subscribe to the Spokane7 email newsletter
Get the day's top entertainment headlines delivered to your inbox every morning.
---