Sports > High school sports
No. 1 East Valley girls dodge target on their back, beat White River in regional
Feb. 24, 2018 Updated Sat., Feb. 24, 2018 at 10:50 p.m.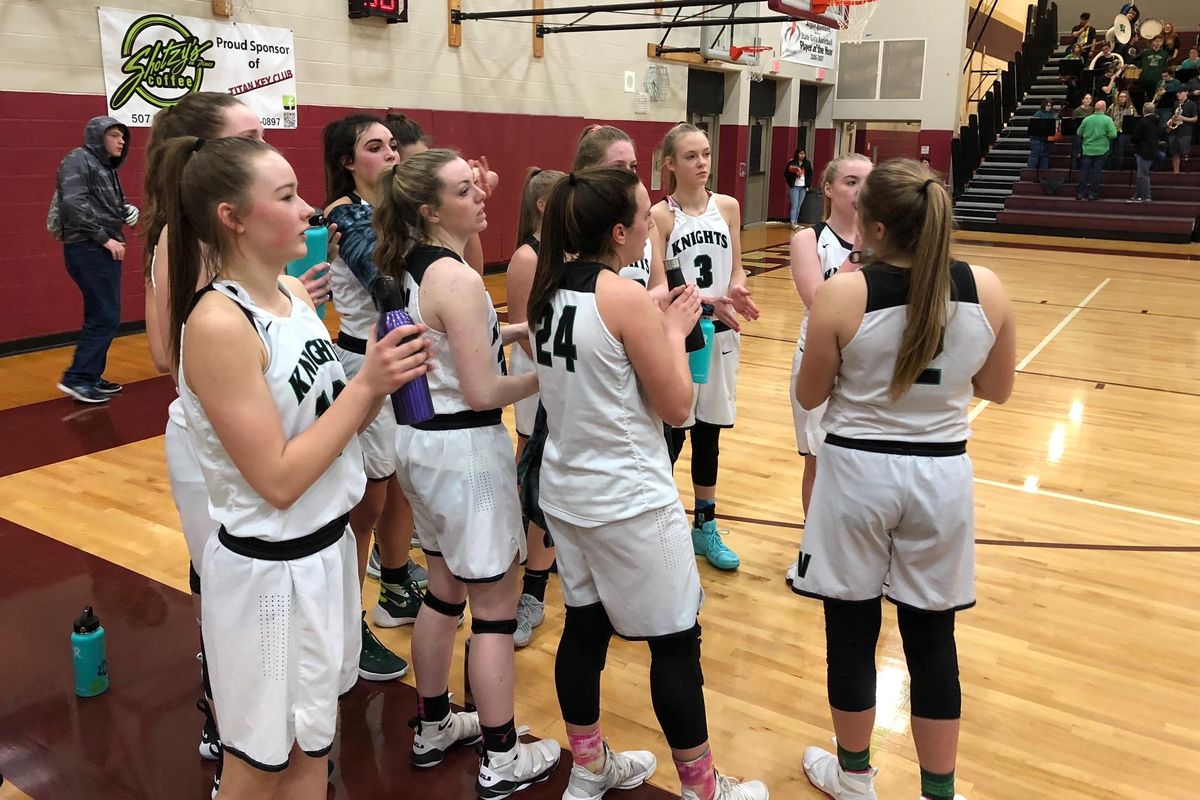 East Valley's No. 1-rated girls team celebrates its 75-62 win over White River in a 2A regional at University HS on Saturday, Feb. 24, 2018. (Dave Nichols / The Spokesman-Review)
The East Valley girls got knocked out of the state tournament last season in the Wednesday elimination round, driving over to Yakima only to turn right back around.
Using that as motivation, the Knights took care of business in Saturday's regional to avoid the Wednesday game this season.
Genesis Wilkinson scored 25 points – 14 in the fourth quarter – and top-seeded East Valley (20-1) topped No. 8 seed White River (20-5) 75-62 in a State 2A regional at University HS on Saturday.
The Knights advance to a state quarterfinal game on Thursday at 10:30 a.m. White River faces a state first-round elimination game on Wednesday at 2 p.m.
"That has kind of been our driving force for the year – that game last year against Wapato," East Valley coach Rob Collins said. "Two good teams playing and one of them had to go home. And that was us. Wednesday going home wasn't that much fun."
Brie Holechek added 17 points for East Valley.
White River was led by Georgia Lavinder with 21 points, including six 3-pointers.
The Hornets had no answer for East Valley's bigs, especially 5-foot-11 Wilkinson, a junior, who acknowledged the Knights' game plan was to take advantage of the size differential.
"Totally, totally," she said. "We just have to read the defense. It's all about working as a team. If we have a mismatch or going against someone aggressive we have to work around that as a team."
"She's a solid kid," Collins said of Wilkinson. "She gets in a little foul trouble sometimes just because she gets a little over-aggressive at times. She doesn't know a lot of her own capabilities."
Emily Fletcher, a 5-10 senior post had 10 points and 6-foot freshman Ellie Stowell chipped in six points in the third quarter while Wilkinson sat with three fouls.
The Knights have held on to the No. 1 rating in 2A all season, putting a target squarely on their backs.
"It felt like that most of the season," Collins said. "Just in our league they were all out to get us – not because of the No. 1 but it's a competitive league, a good league. I was a little nervous coming in today against an eight-seed."
East Valley built a 20-point lead during the third quarter and both teams emptied their benches midway through the fourth. But Lavinder then nailed four 3-pointers in a row to almost halve the deficit.
East Valley held, but it made for some dicey moments.
"I was a little nervous," Collins admitted. "I want to get everyone experience. It was one of those situations. It was all I could do to stay with it. I left Gen in, I knew she'd hit her free throws if needed."
Local journalism is essential.
Give directly to The Spokesman-Review's Northwest Passages community forums series -- which helps to offset the costs of several reporter and editor positions at the newspaper -- by using the easy options below. Gifts processed in this system are not tax deductible, but are predominately used to help meet the local financial requirements needed to receive national matching-grant funds.
Subscribe to the sports newsletter
Get the day's top sports headlines and breaking news delivered to your inbox by subscribing here.
---