News > Spokane
Separated 51 years ago, long-lost brothers reunite in Spokane – and their similarities are stunning
Feb. 24, 2018 Updated Sat., Feb. 24, 2018 at 1:54 p.m.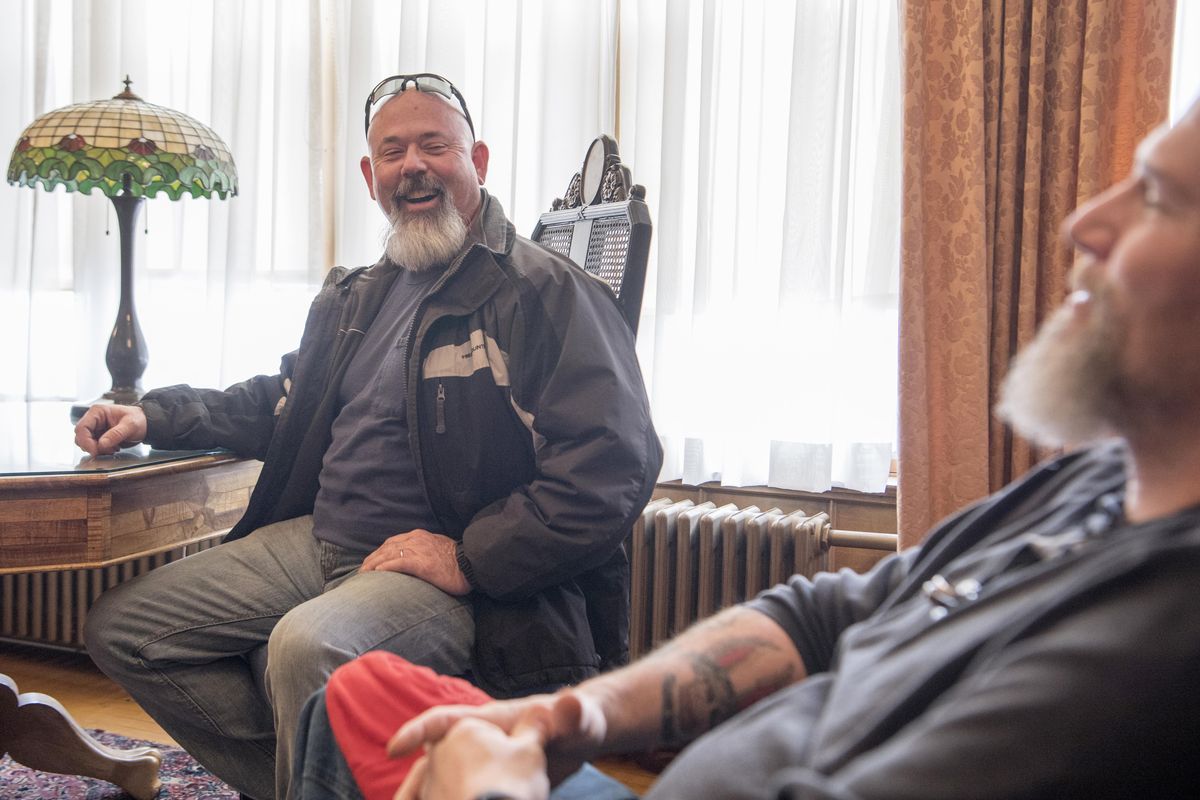 Nick Nickelson, left, laughs while his older brother Dave Johnson, right, tells the story of how they found each other through DNA matching and sleuths on the internet Friday, Feb. 23, 2018 at the Hutton Settlement. Johnson spent several years at the Hutton Settlement in Spokane while Nickelson was adopted out to another family. (Jesse Tinsley / The Spokesman-Review)
They're both burly men with salt-and-pepper goatees, shaved heads and faded jeans. They're both truckers. They're both bikers. They both grew up listening to Kiss and AC/DC. They could easily be mistaken for twins.
But for 51 years, one of these brothers didn't know the other exists.
"I had no clue," said Mike "Nick" Nickelson, the younger of the two, who was adopted at 14 months old and raised in Livingston, Montana. He always knew he might have some biological siblings, "but I never expected I'd find them," he said.
On Thursday, Nickelson and his wife, Teresa, flew to Spokane from their home in New Mexico to meet his older brother, Dave "Mark" Johnson.
As it turns out, both of them recently decided to spit in plastic tubes and send their DNA samples to the genealogists at Ancestry.com.
Nickelson did it last August after he became curious about his ethnic background. But he didn't commit much time to the endeavor and mostly stopped visiting the website.
Johnson, who lives near Deer Park, was almost 3 when Nickelson was adopted and always knew he had a younger brother. About 15 years ago, Johnson began his search.
"I got on the internet and started putting his name out on message boards," he said.
Johnson said he relied heavily on a genealogy website and accompanying Facebook group called DNA Detectives.
But he kept hitting dead ends. Nickelson had a different last name, and Johnson wasn't eager to pay hundreds of dollars for a third-party intermediary service that might, or might not, have been able to reunite them.
In December, his wife, Deanna Johnson, bought him an Ancestry.com DNA kit as a Christmas present, and on Jan. 6 the site gave him a match: user name Nickelson_82003.
"He really wanted to find him," Deanna Johnson said of her husband. "It was just one of those things that he had to do."
Dave Johnson found his brother's Facebook page and noticed he wasn't an active user. But Teresa Nickelson, the sister-in-law Johnson never knew, posted all the time. A couple days later, he sent her a message.
"He was nervous," Deanna Johnson said, "because he thought, 'What if he doesn't want anything to do with me?' "
Johnson and Nickelson had different biological fathers but the same biological mother. When she died in 1973, Nickelson already had been growing up in Montana, without siblings, for about six years. Johnson, meanwhile, went to live with relatives in Spokane.
"My aunt and uncle and cousins became my mom and dad and brothers and sisters," Johnson said. He started going by his middle name, Mark, to avoid being confused with one of his cousins, also named David.
When he was 12, Johnson went to live at the Hutton Settlement children's home near Millwood. At 18, he enlisted in the Army, and after his first tour of duty he joined the Reserves and found work as a long-haul trucker.
Little did he know, his brother was a trucker, too, and he delivered grocery items to stores in Spokane.
"It's kind of interesting," Nickelson said. "I used to drive right through here on a weekly basis."
Nickelson and his wife are staying in Spokane through the weekend, and on Friday they visited Johnson's old living quarters at the Hutton Settlement. The Nickelsons plan to return in June with their three school-age sons.
Johnson grinned as he talked about his brother, and he praised the technology that brought them together.
"There's a whole lot more of my family that we're looking for," he said.
Editor's note: This story was changed on Feb. 24, 2018. A previous version misstated when Dave Johnson joined the Army Reserves, and when he first sent a message to his sister-in-law.
Local journalism is essential.
Give directly to The Spokesman-Review's Northwest Passages community forums series -- which helps to offset the costs of several reporter and editor positions at the newspaper -- by using the easy options below. Gifts processed in this system are not tax deductible, but are predominately used to help meet the local financial requirements needed to receive national matching-grant funds.
Subscribe now to get breaking news alerts in your email inbox
Get breaking news delivered to your inbox as it happens.
---