Sports > Gonzaga basketball
TV Take: Clichés get a workout from broadcast crew in Gonzaga's big win over BYU
Feb. 24, 2018 Updated Sat., Feb. 24, 2018 at 11:35 p.m.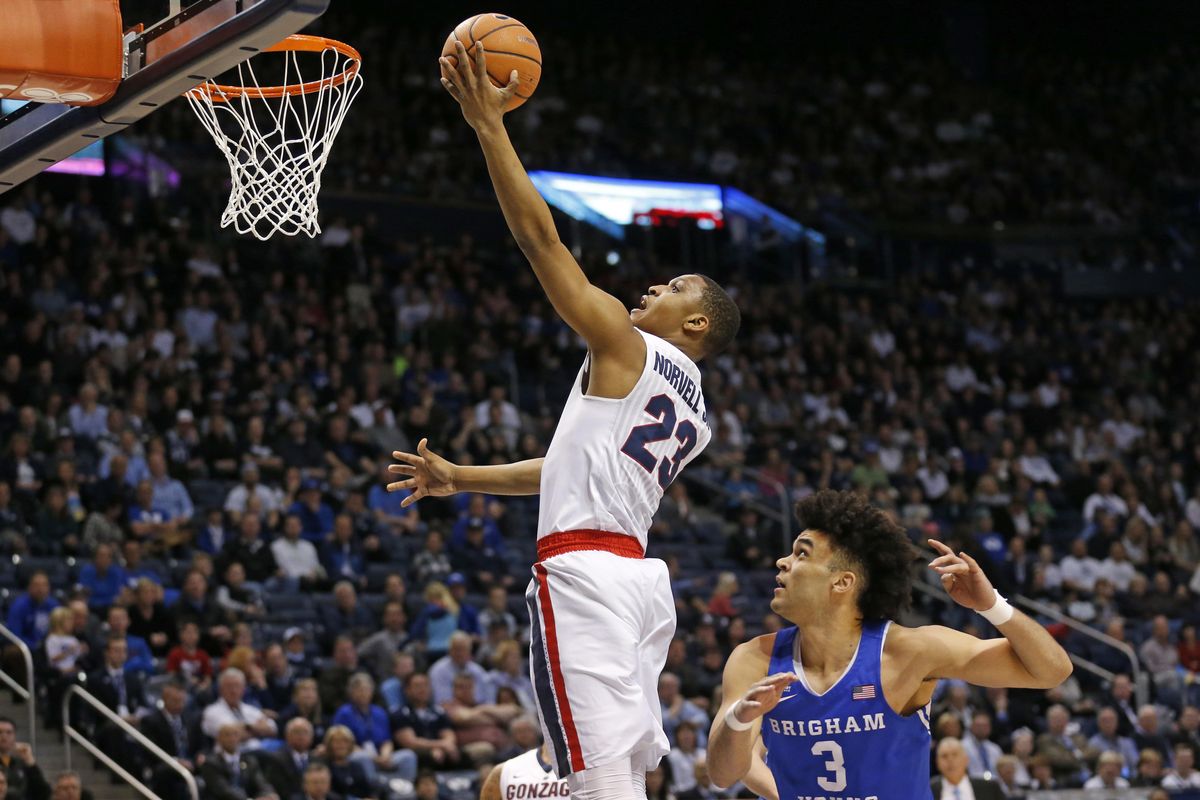 Gonzaga guard Zach Norvell Jr. (23) lays the ball up as BYU guard Elijah Bryant (3) looks on in the first half during an NCAA college basketball game Saturday, Feb. 24, 2018, in Provo, Utah. (Rick Bowmer / Associated Press)
Gonzaga has won the West Coast Conference regular-season basketball title so often recently, it's almost a cliché.
Which made ESPN2's choice of analyst on Saturday night's conference-clinching 79-65 beatdown of BYU in Provo, Utah nearly perfect.
What they saw …
When watching the sixth-ranked Zags on one of the Worldwide Leader's channels, it's always good to have Eric Rothman on the play-by-play.
A pro's pro, Rothman doesn't interfere with the flow of the game, sets up his partner when needed and, most important, drops in an occasional gem.
For example, as Gonzaga pulled away from the overmatched Cougars in the second half, Rothman mentioned, almost casually, that GU didn't have a player in the top 45 in any national statistic.
Think about that. The sixth-ranked team in the nation. A 27-4 record. At 17-1, winners of 18 of the past 19 WCC titles. And no one among the nation's leaders in any statistically category.
It was a chance for his partner, former Connecticut and NBA player Caron Butler, to explain why. He settled for saying it showed they are a team that plays for each other.
Which wasn't the most egregious cliché we were treated to in this one. If "treated" is the right word.
The pregame discussion included describing the Zags as "the gold standard" and practitioners of the always popular "don't rebuild, they reload" comment.
There were descriptions of Rui Hachimura as a "gem," a "diamond in the rough" and one of the nation's "best-kept secrets."
When BYU made a first-half run – one of the few times the Cougars, who trailed by as many as 21 points, actually competed – Butler noted Gonzaga's response by saying the Zags were "battle-tested" and always "play with a bull's-eye on their back."
It's amazing they can win so many games carrying that around.
We also heard "grown-man move" (about a Johnathan Williams dunk) and "he's a shot maker, not a shot taker" (about BYU's TJ Haws).
OK, that last one isn't as bad. To use a phrase we actually didn't hear on the broadcast, surprisingly, it's the exception that proves the rule.
After all, by then the Zags had already found a way to "impose (their) will on the game."
What we saw …
Other than the jarring predilection to dig through the cliché bin, Butler and Rothman were enjoyable to listen to as the Zags paid BYU back for some Senior Night defeats in recent years.
There were a couple of minutes midway through the first half, though, when the Cougars' best stretch of play was glossed over because the game was only on the left two-thirds of the screen.
On the right side was ESPN's Joe Lunardi, who annually presents his only-for-discussion bracket projections.
That's what he was doing here, talking about Gonzaga's chances for a four seed, the probable disappointment of GU fans when the bracket is announced and BYU's only hope – win the WCC's postseason tournament.
The back-and-forth distracted from an 8-zip Brigham Young run that got the Cougars close enough to make this one interesting. For a while.
But the Zags' balanced attack – six of them scored in double figures, led by Williams' 16 – asserted itself in the second half. As did Gonzaga's often overlooked defense.
The Cougars were hitting just 15 percent of their second-half shots just before the second media timeout and, despite about 9 minutes of garbage time, only 27 percent for the half.
But it wasn't a point of discussion.
Josh Perkins' 3-point shooting was, and rightfully so. He was 4 of 6 from long range, including a momentum-building three to end the first half and another, in the second, from the first "R" in the Marriott Center sign.
Or, as Rothman described it, far enough away that "you need GPS to find him on that one."
Maybe not completely original, sure, but certainly not a cliché.
Local journalism is essential.
Give directly to The Spokesman-Review's Northwest Passages community forums series -- which helps to offset the costs of several reporter and editor positions at the newspaper -- by using the easy options below. Gifts processed in this system are not tax deductible, but are predominately used to help meet the local financial requirements needed to receive national matching-grant funds.
Follow along with the Zags
Subscribe to our Gonzaga Basketball newsletter to stay up with the latest news.
---