News > Religion
Happy 'got me a long ways': As retirement nears, Rev. Percy 'Happy' Watkins reflects on Spokane life and service
Sun., Feb. 25, 2018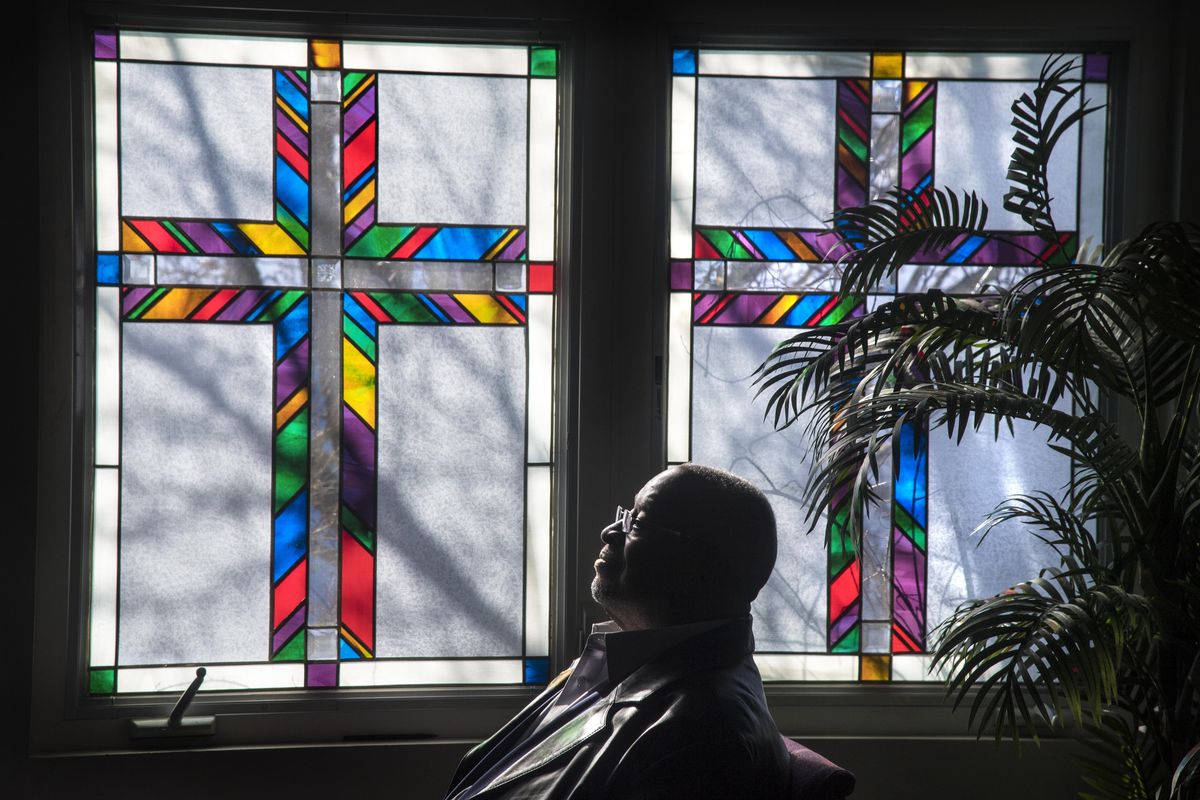 Percy "Happy" Watkins is retiring as pastor of the New Hope Baptist Church. Here he visits the Veredale United Church of Christ for a gathering of Faith Leaders & Leaders of Conscience on Feb. 21 in Spokane Valley. (Dan Pelle / The Spokesman-Review)
Everyone wants to hear the Rev. Percy "Happy" Watkins speak.
His captivating recitation of Martin Luther King Jr.'s "I Have a Dream" speech, which he's delivered hundreds of times across three decades, has made him an icon in the Inland Northwest. People ask him to officiate weddings and speak at all sorts of events, and Watkins, for the most part anyway, makes time for all of it.
It wasn't long ago when Watkins would recite "I Have a Dream" at several dozen venues each year in the weeks before Martin Luther King Jr. Day. On July 7, 2007 – when couples across the country clamored for an easy-to-remember anniversary of 7/7/7 – Watkins remembers officiating five weddings, though more commonly he'd officiate two or three over any given weekend.
When he sat down recently to reflect on his popularity as a public speaker, Watkins avoided being boastful about his accomplishments. While expressing his thankfulness for the recognition and humanitarian awards he's received over the years, he also changed the focus of the conversation onto others. He'll ask you about your kids, then ask you more about them after providing the standard, polite response. He expresses joy in discovering the joy of others.
If you ask him about legacy, Watkins refers to the advice his father gave him when he was young.
"A good attitude and a good personality will take you a long ways," Watkins said.
Kurtis Robinson, president of the Spokane Chapter of the NAACP, praised the statesmanship of Watkins' numerous public addresses.
"His authenticity just carries through – you can tell in all his positions this man really cares," Robinson said. "His constant message of everybody working together and really coming at it from Dr. King's perspective."
Since 1990, Watkins, 75, has been the pastor at New Hope Baptist Church. The church moved into a new building at 9021 E. Boone Ave. in Spokane Valley last September, and the challenges of that, plus some health issues in recent years, has finally motivated him to take on a little less.
"About four years ago I had one knee surgery, a year later another knee surgery, I had my spleen removed, thought I might have cancer," Watkins said. "I was really overdoing it … I stressed out."
During the peak of these health problems, his youngest son and the church's assistant pastor, the Rev. James Watkins, filled in admirably at New Hope. Now, after settling into the church's new home, the elder Watkins is ready for his son to take over full-time.
Next Sunday, Watkins will retire at New Hope, and his son will take over as lead pastor. Watkins will be honored with a party on Saturday, though family and friends are keeping most of the details from him.
"Now it is his time," Watkins said focusing back to his son. "He is a counselor at Airway Heights Corrections Center, and that gives him a unique position … he has his own style, he's funny, and a master of events. He has a lot of original stuff."
Watkins' retirement only officially applies to New Hope. Though he says he'll give himself more free time, he will still be out there speaking, sharing his message and the words of King.
"I still have a few more dreams to recite," he said. "I don't want people to think I'm being put out to pasture."
Robinson said the Spokane community will continue to lean on Watkins.
"The fact is he is going to be tapped into as being a great mentor," Robinson said.
Journey to Spokane
Watkins, who turns 76 next month, has been in Spokane for 57 years. Born in the Bronx, Watkins' first taste of public speaking originated from a "living words" speech contest in high school. The first year he took first place in his borough, and the second year he placed third in all of New York City.
Still, Watkins never considered himself a natural performer.
"I had to work hard at it," he said.
In 1961, right after high school, he enlisted in the Air Force, with his initial training in San Antonio. Two months later, he was assigned to Fairchild, and the location described to him came as a bit of a shock.
"At first I was thinking I was going to Spokane D.C.," Watkins said. "I was 19 and half years old and I started crying … (I was told) about bears, severe winters. I was destroyed."
"I lived in the Bronx," he continued. "A million and a half people, not to mention all the millions in the entire city. It was diversity at its best, and I didn't realize it at the time."
Watkins said he felt isolated and depressed in his first months here. Then he joined Morning Star Baptist Church in Spokane.
"The older congregation there took me in and let me feel at home," he said. "I had a place to be. A place to go every Sunday."
In 1962, he met a Lewis and Clark High graduate, Etta, and they were married in 1963. They will be married 55 years this coming August.
But in January 1964, the Air Force sent Watkins to Okinawa, Japan, without his wife. It was there that Watkins began to focus on his path forward.
"I was immersed in my own kind of meditation," Watkins said, then referring his prayers to what Jesus experienced in the Garden of Gethsemane. "I was asking God, 'What's my future?' Because I didn't know."
It led him back to Spokane. The Watkinses would have four sons here, and he worked as a grocery clerk, and a school bus driver. He then worked as a salesperson for Xerox, then traveled throughout the Northwest selling pharmaceuticals.
Watkins said he often tells the story of his first experience in Bonners Ferry in the early 70s, when he walked into a restaurant and everything stopped.
"Even the cook flipped the flapjack up and the pancake stopped in midair," Watkins said. "They didn't see many people of color; same thing happened in a lot of places."
That's when his father's advice really began to shape his perspective.
"Wherever I went my name was Happy Watkins; it got me a long ways," he said.
A family man becomes a community icon
Watkins' public life in Spokane began when his boys reached middle and high school. Being one of just a few African-American families in their neighborhood, he became concerned about some of the trouble and name-calling that was happening at school.
"I got involved with the high school, with the parents and the teachers, just to help the community to understand," Watkins said. "The challenge was I wanted the boys to get a good education. They were all good athletes, and they had a lot of black friends and white friends … they would all come over, because they knew I'd be cooking."
His reach expanded. He worked with broader organizations and became involved in reaching out to the prison population.
"I thought I could change the system, but the system changed me," he said. "It gave me a great lesson in treating people right."
He became a chaplain at Deaconess Medical Center and Holy Family Hospital. Beginning in 1985, he served as the assistant pastor at Calvary Baptist Church until he took over at New Hope in 1990.
"I just like people," he said. "It's just a matter of not just getting involved but genuinely involved … the cause will define who you are, and people will believe in you."
"I Have a Dream" imprinted on Watkins the first time he heard it. He would go on to memorize the speech, and it was around 1983 when he began to deliver the speech to much acclaim, garnering requests from churches, schools and to groups throughout the Inland Northwest and beyond.
In an interview he gave last year for The Spokesman-Review, Watkins said, "I know the speech. But not just the speech. I know the struggle. And that's what makes the combination so powerful. The speech and living through turmoil."
Robinson said Watkins' performances inspire the same peaceful advocacy King strove to accomplish in his lifetime.
"It's the genuineness that carries through," Robinson said. "That message of love and compassion and inclusiveness for all people."
Now on the eve of retirement from the church, Watkins still sees the importance of continuing to deliver the speech and fighting for its impact.
"I'll be 76, and we still have a long ways to go," he said.
'Take care of your kids'
Watkins sat for this interview just a couple of days after the deadly school shooting in Parkland, Florida, and the events were still heavy on his mind. He recalled speaking to victims of violence over the years, and how the community often reached out to him looking for answers. It's never been easy, he said, but he hopes he's been able to provide some comfort.
But back to his son. He credited James Watkins for his ability to reach young people. Passing the torch to his son at New Hope Baptist Church is just an extension of what Watkins began when he first got involved at his children's school.
"I focus on family, home and the kitchen table," Watkins said. "You've got to sit down at the table and talk to Mom and Dad and to listen to what they are saying. (Your parents) may not know the latest dance, but they got here and they're taking care of you."
And then Happy Watkins will ask more about your kids. His face will light up, and, with that smile, he shows you everything you need to know about his legacy.
Local journalism is essential.
Give directly to The Spokesman-Review's Northwest Passages community forums series -- which helps to offset the costs of several reporter and editor positions at the newspaper -- by using the easy options below. Gifts processed in this system are not tax deductible, but are predominately used to help meet the local financial requirements needed to receive national matching-grant funds.
Subscribe now to get breaking news alerts in your email inbox
Get breaking news delivered to your inbox as it happens.
---