News > World
Church officials: Holy Sepulchre to remain closed
Mon., Feb. 26, 2018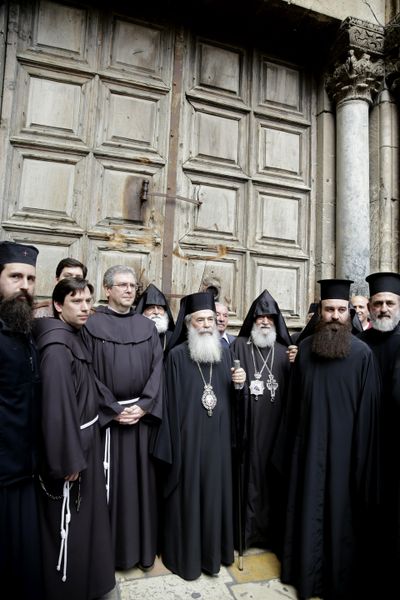 JERUSALEM – Leaders of the two largest Christian denominations in Jerusalem on Monday said the Church of the Holy Sepulchre will remain closed indefinitely to protest an Israeli attempt to tax their properties in the holy city, shuttering one of Jerusalem's most venerable and popular holy sites.
Both Greek Orthodox and Roman Catholic representatives said they were blindsided by the Jerusalem municipality's recent decision to begin taxing them and accused the mayor, Nir Barkat, of disrupting a longstanding and fragile status quo.
Anna Koulouris, an official in the chief secretariat's office of the Greek Patriarchate, said that all major Christian denominations were united in their opposition to the Israeli move.
"They are serious," she said. "They really want to see something change before they think about reopening the doors."
The church, situated in Jerusalem's Old City, is one of Christianity's holiest sites, revered as the spot where Jesus was crucified and resurrected. It is a popular destination for tourists and Christian pilgrims from around the world.
Barkat has said the order does not affect houses of worship, including the Church of the Holy Sepulchre, and only applies to what he calls "commercial properties" owned by the churches, including hotels and office space. He said the churches have debts of roughly $185 million.
"We will no longer require Jerusalem's residents to bear or subsidize this huge debt," he said in a statement. He claimed Jerusalem has a "good and respectful relationship" with all churches in the city.
But church representatives said Barkat's hasty move threatened that relationship and that the sudden taxes would jeopardize schools, health clinics and other vital services for their local flocks.
Both Koulouris and Farid Jubran, a legal adviser to the Roman Catholic Church's custodian of holy sites, said the churches were never formally notified of Barkat's decision and learned of it through the media.
Both officials said they do not know how the city even calculated their debts or decided which buildings to tax.
"We're talking about land with spiritual significance to people," Koulouris said. "Where do you draw the line?"
Jubran said it was especially shocking because the church has good ties with the mayor, and that at a meeting weeks before the order was issued, he made no mention of it. He said tax inspectors later arrived at a monastery and tried to seize property to collect debts until a lawyer stopped them.
"It absolutely took us by surprise," he said. "We wake up one morning and find the municipality took unilateral action without previous notice."
They said that there has been no contact with Barkat's office since the church was closed on Sunday, but expressed hope the matter would be resolved.
"We believe everything can be solved through dialogue," Jubran said.
He said Barkat's actions may have been politically motivated. Barkat has been feuding with Israeli Finance Minister Moshe Kahlon over budgets and appears to be going after the churches to put pressure on the national government to restore funding.
The churches are also upset over a proposal in parliament that would allow the government to appropriate lands in Israel sold by churches to anonymous buyers since 2010.
The bill's sponsor, lawmaker Rachel Azaria, has said these questionable sales have plunged thousands of Jerusalem residents into uncertainty over their living conditions and that the bill had "nothing whatsoever" to do with the churches. Nonetheless, the legislation was put on hold on Sunday amid the closure of the Church of the Holy Sepulchre.
"It is important to note that though the Church will not be in any way affected by the bill, I have decided to delay deliberations on it by a week, in order to restore calm," Azaria said.
Rebecca Santos, a tourist from the Philippines, said she was "very sad" to see the church closed.
"It is my second time to the Holy Land, and my expectation was to see Jesus Christ, the Sepulchre," she said. "That's why I came here. … I hope they will open it again for all of us."
Local journalism is essential.
Give directly to The Spokesman-Review's Northwest Passages community forums series -- which helps to offset the costs of several reporter and editor positions at the newspaper -- by using the easy options below. Gifts processed in this system are not tax deductible, but are predominately used to help meet the local financial requirements needed to receive national matching-grant funds.
Subscribe now to get breaking news alerts in your email inbox
Get breaking news delivered to your inbox as it happens.
---