News > Washington
Helen Jackson, widow of Sen. Henry Jackson, dies at 84
Mon., Feb. 26, 2018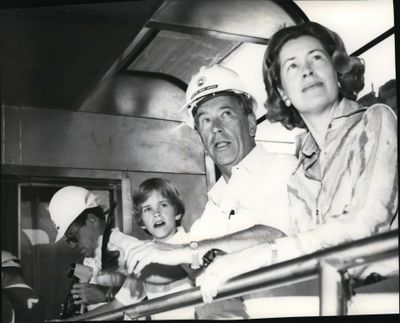 EVERETT, Wash. – Helen Jackson, widow of the late Sen. Henry M. Jackson and for years a gracious and tireless contributor to local civic life and philanthropic causes, died Saturday evening after a long struggle with Alzheimer's disease. She was 84.
She was born in New Mexico, went to college in New York and California, and worked and met her husband in Washington, D.C. But it was Sen. "Scoop" Jackson's native Everett that became her home.
She is survived by her daughter, Anna Marie Laurence, and her son, Peter Jackson, both of Seattle. Peter Jackson is a former editorial page editor of The Daily Herald. She also is survived by two grandchildren, Jack and Julia.
She died at her home in Everett, surrounded by her family, Peter Jackson said.
"A life in full. I was lucky to have her as my mom," he said in a text. Memorial services are pending.
"Mom loved Everett," Laurence said in 2012, when the city celebrated the 100th anniversary of Sen. Jackson's birth. "She could have stayed in D.C. or gone elsewhere. She had the choice after my dad died. She felt a strong tie to the community and felt welcome."
In a piece published in The Herald during the 100th anniversary observance, Peter Jackson wrote: "My mom, Helen Hardin, was the linchpin to Scoop's success. … She breathed life into his unfinished work when, less than a year into his sixth term, he suddenly died."
Sen. Jackson died in Everett on Sept. 1, 1983.
For many years, Helen Jackson was a leader in philanthropic projects in and around Everett, often hosting fundraisers in her home. The many local agencies she supported included the Imagine Children's Museum, Cocoon House, the Snohomish County Chapter of the American Red Cross and the Everett Symphony.
Diagnosed with Alzheimer's disease in 2003, her health had in recent years prevented her from being as active in the community as she once was.
She continued to live at the family's home on Grand Avenue, a Colonial Revival-style house the Jacksons bought in 1967. Before Sen. Jackson's death in 1983, they split their time between Washington, D.C., and their landmark home, which in 1998 was named to the National Register of Historic Places.
In an irony, given Sen. Jackson's lifelong service as a Democrat, the house had been built in 1910 for William C. Butler, a staunch Republican banker and businessman who financed much of Everett's early development and controlled the city politically for years.
Helen Eugenia Hardin was born in Clovis, New Mexico, on Aug. 17, 1933. An only child, she was 10 when the family moved to Albuquerque. Her father, Marion Moody Hardin, was president of the American Gypsum Company. Her maternal grandfather, Dr. Clyde Campbell, was a Methodist missionary who taught at a university in China from 1907 to 1911. Helen's mother, Jeanne Hardin, was born in China.
The future Mrs. Jackson attended Vassar College in New York state, graduated from Scripps College in Claremont, California, and earned a master's degree from Columbia University. In New York, she worked as secretary to the editor of medical publications at Oxford University Press.
According to a 2011 profile on the HistoryLink website, written by Everett Public Library historian Melinda Van Wingen, Helen Hardin worked in Washington, D.C., for Sen. Clinton Anderson, of New Mexico. She met her future husband her first day on the job, Jan. 4, 1961.
Anderson invited her to a swearing-in ceremony for new senators that day, according to HistoryLink. "He introduced me to Scoop; I was maybe 28," Helen Jackson recalled in a Herald interview in 2002. The Democratic senator from Washington was with her in an elevator on the way to the ceremony that day. He was 21 years older than his future bride.
They were married Dec. 16, 1961, at the Central Methodist Church in Albuquerque. Scoop Jackson served in the U.S. Senate from 1953 to 1983, after having been elected five times to the House of Representatives.
In the 2002 Herald interview, Helen Jackson remembered their life as wonderful. "It was a joy meeting so many people," she said.
Sen. Jackson made a run for the Democratic nomination for president in 1976. Helen Jackson recalled in 2002 that except for losses in primaries that year, there was never a close election night.
The late senator's influence was largely responsible for bringing the Navy to Everett, which Helen Jackson talked about in 2002. She said she wished he could have seen the completion of Naval Station Everett. "He'd be so proud of that," she said.
After her husband's death, she established the Henry M. Jackson Foundation. A living memorial to the late senator, the foundation helps public officials, diplomats and journalists in addressing international issues. It funds scholarships, visiting faculty and other programs at the University of Washington's Jackson School of International Studies.
In 2008, the Helen H. Jackson Endowed Chair in Human Rights at the Jackson School of International Studies was created to recognize her personal commitment to human rights.
She spoke in 2002 about her husband's love for Everett and Snohomish County. "What's important is Scoop's legacy," she said. Recalling his White House bid, she added "I'm glad I'm right here."
Local journalism is essential.
Give directly to The Spokesman-Review's Northwest Passages community forums series -- which helps to offset the costs of several reporter and editor positions at the newspaper -- by using the easy options below. Gifts processed in this system are not tax deductible, but are predominately used to help meet the local financial requirements needed to receive national matching-grant funds.
Subscribe now to get breaking news alerts in your email inbox
Get breaking news delivered to your inbox as it happens.
---