News > Spokane
Coeur d'Alene police officer shot Tuesday night; suspect killed
Feb. 27, 2018 Updated Tue., Feb. 27, 2018 at 10:40 p.m.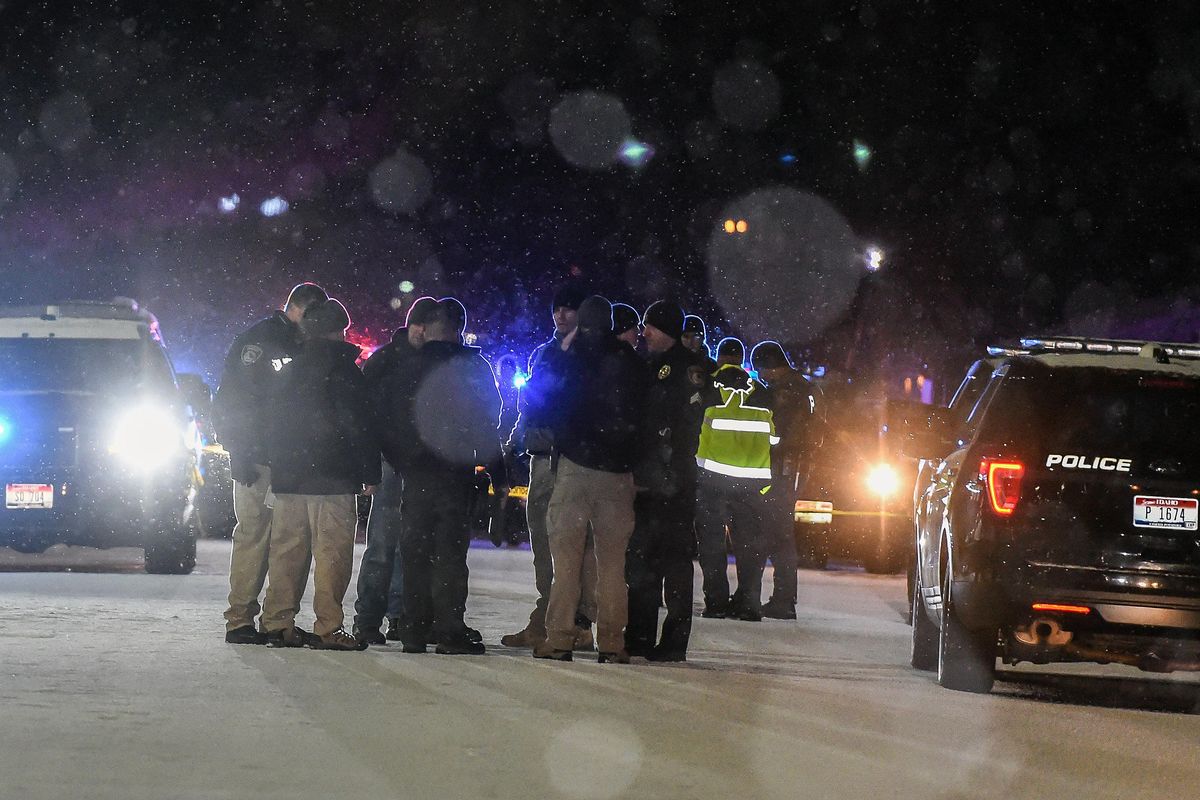 Law enforcement gather near the scene on Hattie Ave in Coeur dAlene were a police office was shot Tuesday night. (Colin Mulvany / The Spokesman-Review)
A Coeur d'Alene police officer was shot Tuesday night by a man he was attempting to arrest during a traffic stop.
Multiple officers returned fire, killing the suspect. The officer who was shot was rushed to the nearby Kootenai Health hospital by another officer.
The officer was undergoing surgery late Tuesday but earlier had been talking to first responders, Police Chief Lee White said at a news conference at the hospital. He did not say where the officer was struck.
The shooting erupted about 7 p.m. Tuesday when an officer and an officer-in-training approached the suspect, who was wanted on a felony warrant, near Hattie Avenue and Government Way.
White said a third officer had arrived on scene sometime before the shooting occurred.
White said he wasn't certain of the exact circumstances that led to the stop. The wounded officer, nor the suspect have been named by police.
" At some point, they contacted this individual," White said. "They learned he had a felony warrant for his arrest."
When the officers attempted to detain the man "he produced a gun and fired at the officers," White said. "At least one officer was struck by gunfire and he was transported here to the hospital actually by another officer."
White did not immediately have the condition of the shot officer.
"I don't have an update on his status but I can tell you he was up and talking to us," White said.
After the suspect fired, officers returned fire and shot him. The suspect was pronounced dead at the hospital.
"I'm not prepared to say how many officers fired their weapons or anything like that at this point," White said. "We are in the infancy of this."
Chris Moore, who lives a couple houses down from the shooting scene, says he was unloading groceries in his front yard when he heard gunfire.
"Heard about 15 gunshots, then I came around the corner and the cops were having a shootout," Moore said. "Then my neighbor called and told me that (the suspect) was laying in their backyard."
Investigators planned to spend the rest of the night processing crime scenes and investigating the shooting.
"We have families to take care of," White said. "We have the whole agency and officers, who as you know, are still reeling from the last event that happened a couple years ago."
White was referring to the murder of Sgt. Greg Moore who was shot and killed on May 5, 2015, by Jonathan D. Renfro. A Coeur d'Alene jury sentenced Renfro to death last November after convicting him of first-degree murder in the ambush-style killing.
"This one is different," White said of the Tuesday shooting, "but we still have a whole family group that we have to watch out for. So, we are going to be kind of busy tonight."
Local journalism is essential.
Give directly to The Spokesman-Review's Northwest Passages community forums series -- which helps to offset the costs of several reporter and editor positions at the newspaper -- by using the easy options below. Gifts processed in this system are not tax deductible, but are predominately used to help meet the local financial requirements needed to receive national matching-grant funds.
Subscribe now to get breaking news alerts in your email inbox
Get breaking news delivered to your inbox as it happens.
---