News > World
Czechs release Syrian Kurdish politician, angering Turkey
Tue., Feb. 27, 2018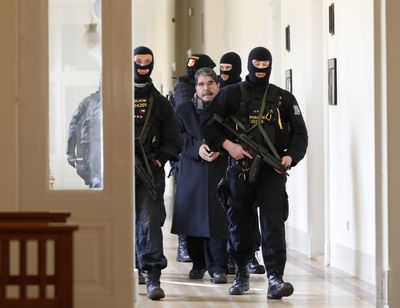 PRAGUE – A Czech court ruled on Tuesday that the former leader of a Syrian Kurdish party detained by authorities in Prague will be released from detention despite Turkey's request for his extradition.
Salih Muslim, former co-chair of the Democratic Union Party, or PYD, was detained in the Czech capital of Prague on Saturday based on a Turkish request for his arrest.
According to Muslim's Czech lawyer Miroslav Krutina, Prague's Municipal Court ruled to release Muslim. The court officials did not immediately comment on the hearing, which was held behind close door.
Turkey considers the PYD a "terrorist group" linked to outlawed Kurdish insurgents fighting within Turkey's own borders. Muslim was put on Turkey's most-wanted list earlier in February, with a $1 million reward for his capture.
Turkish Foreign Minister Mevlut Cavusoglu described Tuesday's decision as a "scandal" while Deputy Prime Minister Bekir Bozdag said it would have a negative effect on ties between Turkey and the Czech Republic.
"This decision very clearly amounts to support for terrorist groups," Bozdag said.
Ahead of the Prague ruling, Turkish Prime Minister Binali Yildirim said the court's decision would be a "test" for the Czech Republic on its sensitivity toward the fight against terrorism and its solidarity toward a NATO ally.
"However, whatever the outcome (court ruling), these terrorist ringleaders will not be able to walk free, we will continue to make life unbearable for them," Yildirim said.
The PYD is the leading political Kurdish force in northern Syria, and Muslim remains highly influential in the party, even after stepping down as co-chair last year.
On Jan. 20, Turkey launched an incursion into northern Syria, seeking to rout the U.S.-backed Syrian Kurdish militia, known as the People's Protection Units or YPG, from the enclave of Afrin. The YPG is the armed wing of the PYD.
Local journalism is essential.
Give directly to The Spokesman-Review's Northwest Passages community forums series -- which helps to offset the costs of several reporter and editor positions at the newspaper -- by using the easy options below. Gifts processed in this system are not tax deductible, but are predominately used to help meet the local financial requirements needed to receive national matching-grant funds.
Subscribe to the Coronavirus newsletter
Get the day's latest Coronavirus news delivered to your inbox by subscribing to our newsletter.
---