News > Business
Dice Throne creators look to build on board game's success
Tue., Feb. 27, 2018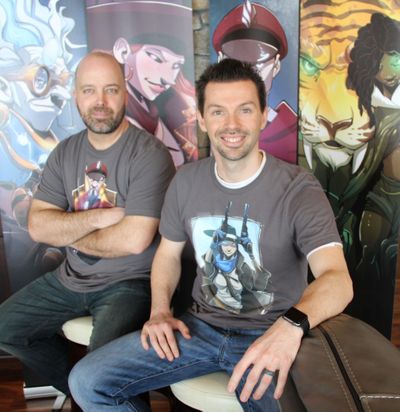 One year ago this past weekend, Spokane software engineer Nate Chatellier and artist Manny Trembley celebrated the conclusion of a Kickstarter campaign they hoped would pay for production of Dice Throne, an original board game they described as "kind of a battle version of Yahtzee."
Their goal was to raise $15,000 in pledges.
By the end of a 30-day online fundraiser, they had amassed more than $181,000.
Then came the hard part: fulfilling their promise to eager fans in 45 countries.
The past year has been "crazy busy and exciting," reports Chatellier, 35.
After a few startup hiccups, 8,000 games were manufactured and shipped. Due to demand, another 4,000 units are on order and should be available in May.
Chatellier and Trembley now are working on Dice Throne Season Two, which they hope to ship in November.
A new Kickstarter campaign for that game was launched last week with a goal of raising $60,000.
"We reached that in 22 minutes," Chatellier said incredulously. He predicts the final tally two weeks from now will be $500,000 to $700,000.
All future Dice Throne iterations will be stand-alone and cross-compatible, Chatellier explained. "You can skip Season One and jump into our next game, or mix and match the heroes and play them against one another."
Trembley, 42, now works full time on the Dice Throne project.
Meanwhile, Chatellier is about to launch a new game-nurturing venture called Nerd Ninjas, which he said will initially work on "a top-secret, augmented-reality/geospacial game similar to Pokemon GO that will merge the real world with a virtual one."
"We hope to bring together millions of simultaneously active players around the globe," he said.
By mid-March Chatellier expects to have hired 10 employees – eight in Spokane and two on the state's West Side.
Looking back, Chatellier and Trembley's success right out of the gate might seem akin to first-time bobsledders winning Olympic gold. But the pair insist they put in the long hours necessary to succeed. And they handled unanticipated bumps along the way.
For instance, they elected to have the game manufactured in China to keep it affordable. "But during holidays – like Chinese New Year right now – the whole country shuts down, and there's no communication. That was one reason we missed our U.S. delivery deadline by three weeks," Chatellier said.
"We also had quality-control issues. Roughly 250 games had components missing. We took care of everyone, but that was mud on our face."
On the bright side, he said, Dice Throne fans have been phenomenal.
"People on Facebook talk about playing five hours at a stretch," Chatellier said. "And if anyone has a rule question, others answer it right away. It's an insanely active community."
Some fans approach Chatellier, hoping his gift for co-creating a successful board game will rub off.
"Four people in the last five days have told me, 'I have an idea for a game!'
"I want to be encouraging," Chatellier said, "but I also try to paint a realistic picture. Creating a game takes an incredible amount of time, and the vast majority of first-launch games don't do well. Try it only if you're motivated by passion rather than money."
Chatellier and Trembley have a 10-year plan for Dice Throne, so they've partnered with Calgary-based publisher Roxley Game Laboratory to spread the workload.
While Trembley focuses on Dice Throne, Chatellier will concentrate on his fledgling Nerd Ninjas studio. The first game he envisions will be free, but players can buy features that make playing it more exciting.
Chatellier approached "a very well-known American company" – he won't say which one – about funding the roughly two-year startup project, and the company agreed.
"What's exciting for me is that I can do this in Spokane," he said. "My wife has a great job at Eastern. We have fantastic friends here. I love the church I go to. I love our house. We don't want to move.
"When I lost my previous job, I came very, very close to having to leave Spokane. Now, because of these new ventures, we can stay here indefinitely.
"And, on top of that, I'm literally creating jobs in Spokane. To me, that's a big deal."
Writer Michael Guilfoil can be reached at mguilfoil@comcast.net.
Local journalism is essential.
Give directly to The Spokesman-Review's Northwest Passages community forums series -- which helps to offset the costs of several reporter and editor positions at the newspaper -- by using the easy options below. Gifts processed in this system are not tax deductible, but are predominately used to help meet the local financial requirements needed to receive national matching-grant funds.
Subscribe to the Coronavirus newsletter
Get the day's latest Coronavirus news delivered to your inbox by subscribing to our newsletter.
---