News > ID Government
Idaho Senate rejects hands-free cellphone driving law, cites government overreach
Feb. 28, 2018 Updated Wed., Feb. 28, 2018 at 9:41 p.m.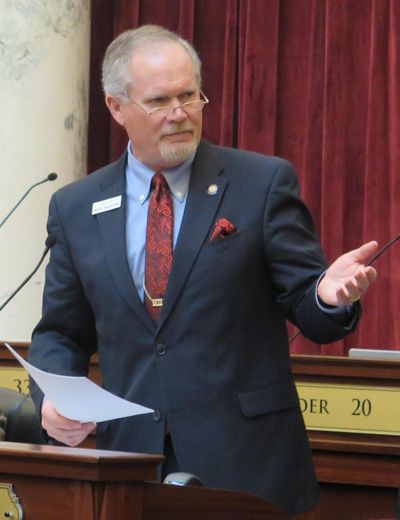 Requiring only hands-free cellphone use while driving in Idaho was a step too far for the Idaho Senate, which killed the bill citing government overreach Wednesday on a 22-13 vote.
"We could pass laws on this topic 'til the cows come home and they will continue to do it," declared Sen. Dan Foreman, R-Moscow. "The people of the state of Idaho do not want to lose their ability to legally use their electronic devices – whether that's safe or not by any technical definition is a moot point in my mind."
"The people have spoken on this issue," he said. "If you don't believe me, the next time you pull up to an intersection and stop for a red light, look around."
The bill proposed by Sen. Marv Hagedorn, R-Meridian, would have repealed Idaho's existing ban on texting while driving – which he said has proven nearly impossible to enforce, as it targeted only texting, not posting to social media or other uses of electronic devices – and replaced it with a requirement that use of electronic devices while driving in Idaho would have to be hands-free. It also would have banned drivers from plugging both their ears with headphones or earbuds; just one earbud could be used, or a speakerphone, Bluetooth or other hands-free device.
"We've got to be smarter and we've got to do something better," Hagedorn told the Senate, noting that 64 Idahoans died in crashes caused by misuse of electronic devices in 2016, according to the Idaho Transportation Department. "And this particular bill is smarter and better."
Senate Transportation Chairman Bert Brackett, R-Rogerson, spoke in favor of the bill. "I do a lot of business on the phone," he said "I do have hands-free capability in my vehicle. … This will change my behavior if this bill passes." He compared it to the seat belt law. "The seat belt is to protect yourself," he said. "What we're talking about is protecting others. … My rights stop at the point that I endanger others."
But Sen. Steve Vick, R-Dalton Gardens, called the bill "another example of overreach." He said, "I think we have better things to do than look for people whether they're wearing one earbud or two earbuds when they're driving down the road."
Local journalism is essential.
Give directly to The Spokesman-Review's Northwest Passages community forums series -- which helps to offset the costs of several reporter and editor positions at the newspaper -- by using the easy options below. Gifts processed in this system are not tax deductible, but are predominately used to help meet the local financial requirements needed to receive national matching-grant funds.
Subscribe now to get breaking news alerts in your email inbox
Get breaking news delivered to your inbox as it happens.
---