Wounded Coeur d'Alene police officer expected to make full recovery after Tuesday shooting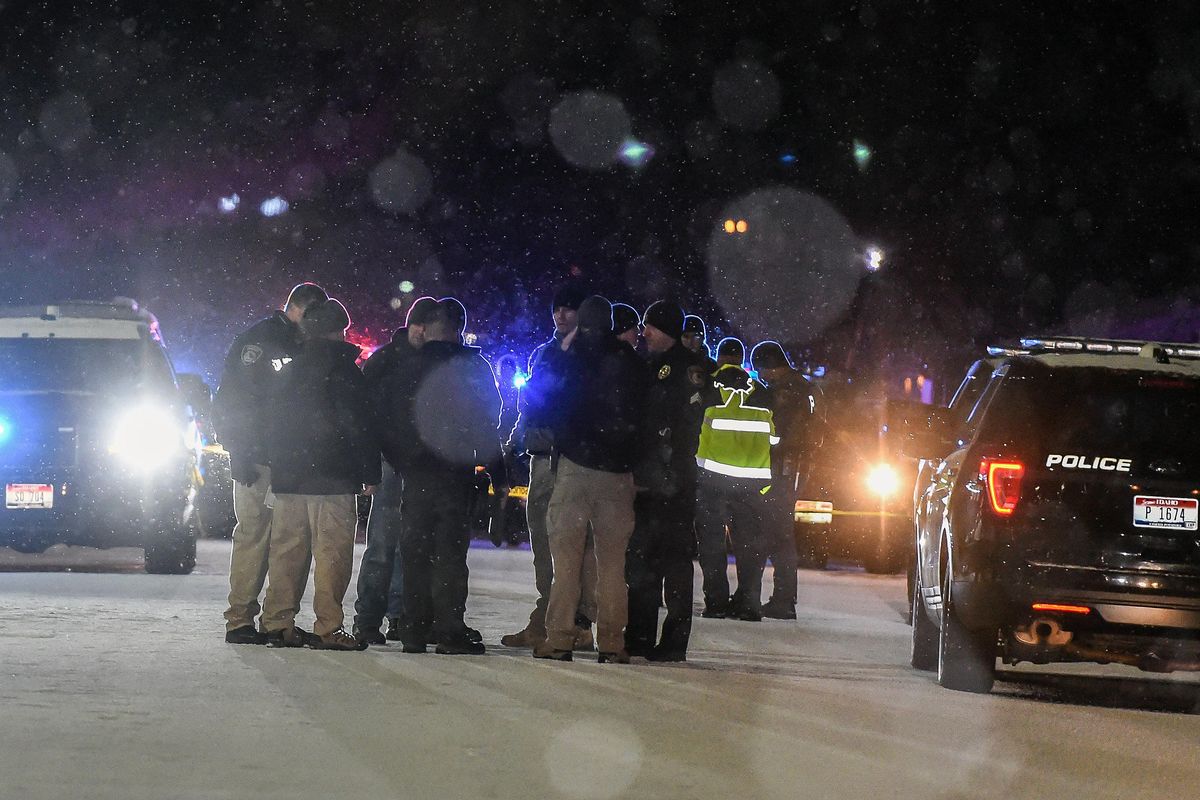 Two months after graduating from patrol academy, Coeur d'Alene Police Officer Charles Hatley met a flurry of gunfire Tuesday night.
One of the rounds pierced the officer's belt and struck him in the abdomen. Hatley and accompanying officers returned fire, killing 34-year-old suspect Curtis B. Ware.
Hatley was standing and talking Wednesday morning after a night of surgery, according to Coeur d'Alene Police Chief Lee White.
The shooting incident, which began as a traffic stop, occurred near Government Way and Hattie Avenue. Snow and hail covered a dimly lit neighborhood as another officer, Kelly Mongon, stopped Ware's black sedan around 7 p.m. When Ware, whose car carried two passengers, was flagged for a felony warrant, Hatley and his field training officer, Taylor Beach, were called in as backup.
White said the Post Falls man fired multiple gunshots at the officers. Witnesses at the scene said they heard over a dozen shots fired during the ensuing gunbattle.
"Shots fired!" an unidentified officer says on the a police scanner. "Where is he? Beach, where is he?"
"One officer hit, I might be hit as well, I can't tell," an officer says.
Sometime later, Ware was found lying facedown in the snow in a resident's yard. He was pronounced dead at Kootenai Health.
Beach, a five-year law enforcement veteran, quickly loaded Hatley into the patrol vehicle, White said, and raced to a hospital located less than mile from the shooting.
Ware's two passengers, Trenton D. Szafransky, 23, and Eli W. Darby, 24 , were arrested at the scene on drug possession charges. Both are Kootenai County residents.
The Coeur d'Alene Police Department hosted a news conference Wednesday morning, where White identified the officers and the deceased suspect.
According to White, Ware's lengthy criminal record started in the Boise area, and included drug possession, probation violations, felon in possession of a firearm, eluding police and forgery. He served prison time in Idaho from 2004-2009.
Ware's recent arrest warrant stems from his failure to appear for pretrial sentencing for charges of felony drug possession and intent to deliver in Kootenai County. Court documents from the December drug arrest say he was a known to carry a firearm.
White said the officers were wearing body cameras and a handgun was recovered at the crime scene. Idaho State Police are investigating the incident.
Hatley, a husband and father of a 7-week-old infant, underwent surgery Tuesday night and is expected to recover. He began his career with the Coeur d'Alene Police Department in September and spent four years working in the detention division of the Kootenai County Sheriff's Office.
"He's a strong young man," White said of Hatley. "He did extremely well. We're very proud of him and Officer Beach and all of our officers that responded.
"This is a much different press conference than the one I gave three years ago," said White, referencing the 2015 shooting death of Coeur d'Alene Police Sgt. Greg Moore. "Even though this is a more upbeat kind of press conference than the one I gave three years ago, it still has a pretty big impact on our department.
"We've had two officers hit now within three years. That is a big deal for a community our size. We don't take things like this lightly."
Neither does Scot Haug, a police use-of-force expert and chief of the Post Falls Police Department.
Haug, who has served as an expert witness in trials involving officer-involved shootings across the country, said North Idaho hasn't been immune from the national uptick in police shootings.
"In the last 10 years, I think we have seen more violence toward law enforcement," Haug said. "A lot of it has to do with drug-related offenses. There's been more meth and heroin in the area."
---