Sports > Area sports
Grip on Sports: Another great weekend of college basketball kicks off tonight
Thu., Jan. 4, 2018 A GRIP ON SPORTS • If you love college basketball, you must be a really big fan of Thursdays around these parts. Read on.
••••••••••
• Yes, we know Saturdays are better. Saturdays are always better, in everything. But Thursdays are pretty darn good too. At least when it comes to college hoops.
Heck, tonight will be fun despite Washington State being off as the Cougars prepare for a visit from their cousins across the mountains. Yep, Washington is in Pullman on Saturday.
Instead of focusing on what we don't have tonight, let's focus on what there is.
How about a couple of Big Sky Conference games in the area? Portland State visits Eastern Washington for a 6 p.m. game in Cheney. It's the type of game the Eagles need to win if they want to be a factor in the conference race.
Portland State, despite a road loss to open conference play, has to be considered one of the favorites, after being the only Big Sky team to win 10 nonconference games.
Down the road in Moscow, Idaho hosts Sacramento State, which is coming off an upset of the Vikings, starting at 7. Which means, despite their 4-10 overall record, the Hornets are one of five unbeaten conference teams.
But that's not all.
The Gonzaga women, fresh off two road victories to open West Coast Conference play, hosts Pepperdine, which also won twice last week. The game at McCarthey tips at 6.
The GU men are also in action tonight, but they are in a far warmer place: Malibu. And at a far later time: 8, so you'll have to watch on TV (ESPNU). The Zags play 3-11 Pepperdine, which has lost five consecutive games.
The West Coast Conference schedule couldn't open much softer for Gonzaga. After this weekend, the Bulldogs will have played four of the five worst teams. The fifth, Portland, visits McCarthey next Thursday.
• So long Roy Manning. We knew your voice well.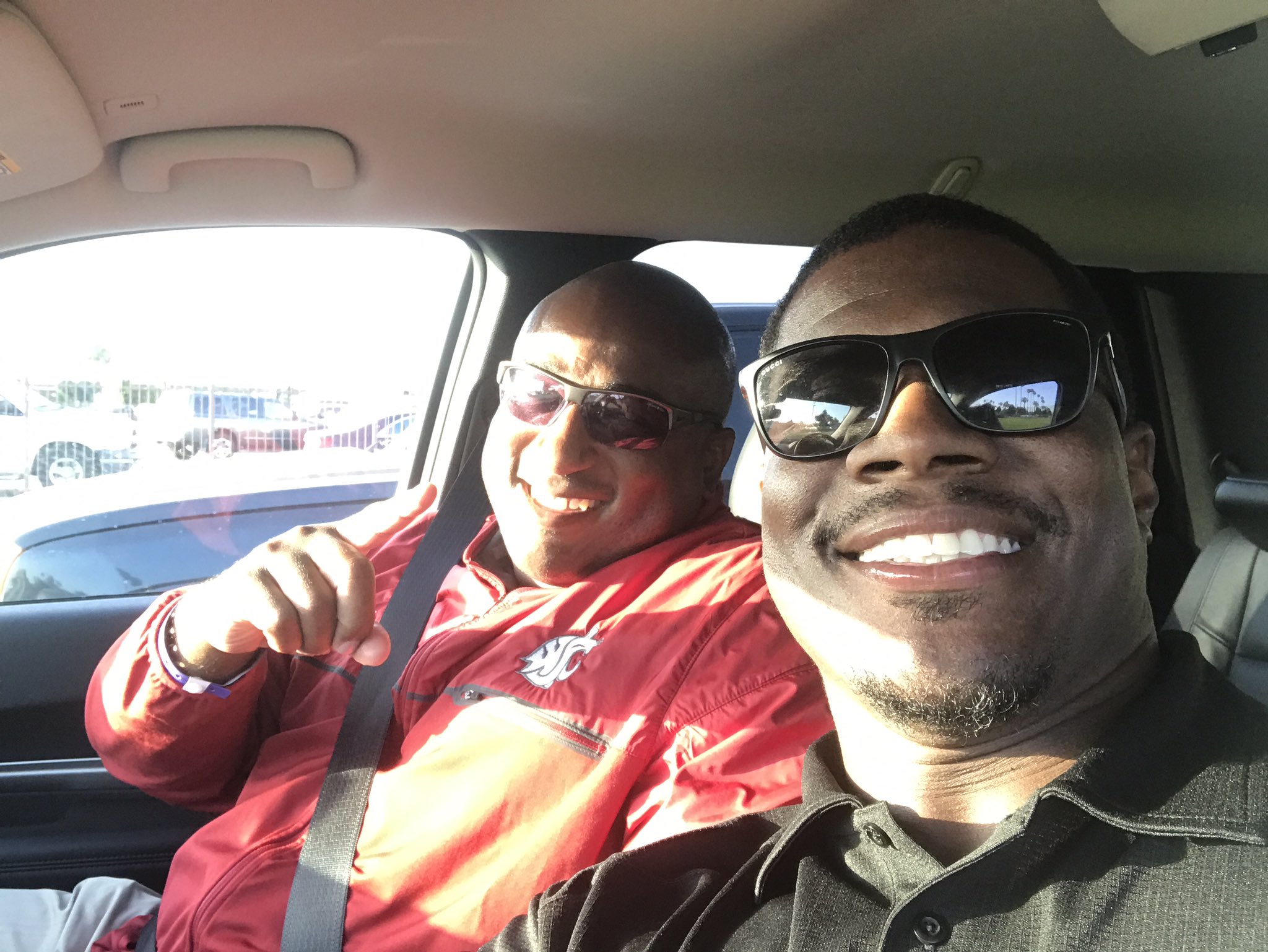 Multiple reports yesterday have the Cougar defensive assistant (at right in photo) leaving Pullman for Los Angeles, where he will join Chip Kelly's UCLA staff as the special teams coordinator.
He will be missed by the Washington State faithful. Not just because of the work Manning did with the outside linebackers, but for his postgame (and sometimes post-practice) videos.
See, Manning would post highly entertaining videos on Twitter that usually consisted of him celebrating, loudly, in his car, touting the Cougars' success. Occasionally, Manning would have guests, including Mike Leach. But mainly it was just his exuberant personality coming through.
The videos made Manning something of a Cougar legend. And no one likes to see a legend, even a social-media legend, abandon ship.
One thing is for sure. Manning's postgame videos are going to be well-received in the media capital of the nation. Social media has become the Schwab's drugstore of the 21st Century, so it probably won't be long before Manning is co-starring in an action film with Chris Pratt.
•••
WSU: Theo Lawson has more on the Manning news. … With Rich Rodriguez's firing from Arizona, Leach is the last coach standing from the 2011 Pac-12 hires. John Blanchette examines the how and why behind that. … There is more on Manning from the Times, both in Seattle and Los Angeles. … This would make Luke Falk very happy. … Timm Rosenbach is back in the area.
Elsewhere in the Pac-12, there is football news and basketball news to pass along, so we will start with the round ball. After all, we have a power ranking to share. … Colorado hosts the two ranked teams this weekend and hope that will mean an uptick in attendance. … Arizona has struggled in the mountains recently. … Arizona State is looking forward, not back. … A transfer has helped key Utah's success. … Stanford is coming off a dispiriting loss to California. … USC will be a bit shorthanded against the Bears. … Now, to football, which isn't the conference's strong point these days. … USC and UCLA lost their quarterbacks to the NFL within minutes of each other. … The Bruins lost another player to the draft. … Arizona is going to have a tough time salvaging next year if it doesn't make the right choice to replace Rodriguez.
Gonzaga: Lou Holtz was famous for saying Notre Dame's next opponent, even if it was 0-10, was the best team the Irish had played. Mark Few isn't in that category, yet, but he's not one to allow his team to overlook a conference foe. No matter its record. Jim Meehan has a preview of tonight's game and a look at the Waves' best player. … Jim Allen has a preview of the women's weekend. … Around the WCC, BYU's improved defense and center Yoeli Childs will be tested by San Francisco.
CCS: Walla Walla swept both games from the Spokane school to open conference play.
Preps: It was a busy Wednesday night, which translates into a crowded Thursday newspaper. Dave Nichols has a preview of the upcoming gymnastics season and there is a roundup of last night's action in the sport as well. … We can also pass along roundups from wrestling as well as girls and boys basketball.
Seahawks: Maybe it wasn't just the fans that were upset with Blair Walsh. … If Jimmy Graham is like a unicorn, will he really exist in Seattle next season? … Kris Richard is scheduled to interview in Indianapolis tomorrow. The Hawks' DC is a candidate for the Colts' head coaching position.
Sounders: It seems as if last season ended yesterday, but no matter. The 2018 season, at least training for it, begins in a couple weeks.
•••       
• We will be back here tonight with our TV Take from the Gonzaga game. We'll see how the ESPN announcing crew does. By the way, in the way of a heads up, we won't be here on Saturday unless something odd happens. We have an early commitment. Until later … 
Local journalism is essential.
Give directly to The Spokesman-Review's Northwest Passages community forums series -- which helps to offset the costs of several reporter and editor positions at the newspaper -- by using the easy options below. Gifts processed in this system are not tax deductible, but are predominately used to help meet the local financial requirements needed to receive national matching-grant funds.
Subscribe to the sports newsletter
Get the day's top sports headlines and breaking news delivered to your inbox by subscribing here.
---