Sports
Top 25 capsules: No. 1 Michigan State routs Maryland
Thu., Jan. 4, 2018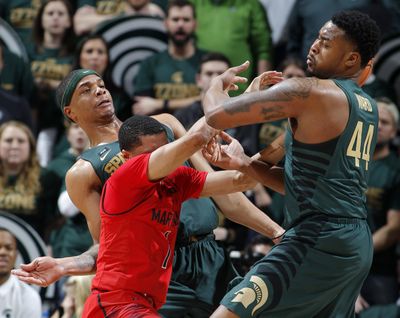 Updates.
EAST LANSING, Mich. – Miles Bridges had 15 points, seven assists, six rebounds and two blocks to help No. 1 Michigan State turn a closely contested game into another rout, pulling away to beat Maryland 91-61 on Thursday night.
The Spartans (15-1, 3-0 Big Ten) went on a 15-0 run late in the first half to take control and led 44-32 at halftime. They refused to be content with the 12-point lead, building 30-plus point cushions in the second half by diving for loose balls, playing tough defense and finishing with a season-high 16 3-pointers.
Freshman Jaren Jackson had 15 points, three blocks and two steals despite playing just 4 minutes in the first half because he had two fouls.
Anthony Cowman scored 26 points for the Terrapins (13-4, 2-2), who had won seven straight.
Colorado 90, No. 4 Arizona State 81, OT
BOULDER, Colo. – Namon Wright scored five of his 19 points in overtime, including two crucial free throws at the end, for Colorado.
Down 11-0 to start the game, the Buffaloes (9-6, 1-2 Pac-12) steadily whittled away and opened up a six-point lead with 1:17 remaining in regulation. But the Sun Devils (12-2, 0-2) stormed back, with Mickey Mitchell tying the game at 74 with 5 seconds left on an emphatic dunk.
In overtime, the Buffaloes hit six straight free throws down the stretch. It was the highest-ranked team Colorado has beaten since knocking off No. 3 Texas on Feb. 4, 2003. The Colorado fans stormed the court to celebrate.
McKinley Wright added 19 points and George King chipped in 18 as Colorado snapped a three-game skid, including two straight to start conference play.
Tra Holder had 24 points for Arizona State before fouling out in OT.
No. 9 Wichita State 81, Houston 63
WICHITA, Kan. – Landry Shamet scored 18 points in just 22 minutes to lead Wichita State.
Wichita State (12-2, 2-0 American Athletic Conference) made nine of its first 11 3-point shots and led by as many as 25 in the first half. Starting guards Shamet and Conner Frankamp (15 points) were a combined 12 of 15 from the field.
Rob Gray led Houston (12-3, 2-1 American) with 13 points, six below his season average. He was 6 of 14 from the field.
No. 14 Arizona 94, Utah 82
SALT LAKE CITY – Deandre Ayton scored 24 points and grabbed 14 rebounds for Arizona.
The Wildcats (12-3, 2-0 Pac-12) have won nine straight.
Rawle Alkins finished with 22 points for Arizona and Parker Jackson-Cartwright added 19.
Sedrick Barefield led Utah (10-4, 2-1) with 23 points and David Collette added 19.
Utah rallied from a 17-point deficit to tie the game late, but couldn't pull off the upset.
No. 19 Cincinnati 55, Temple 53
PHILADELPHIA – Jacob Evans III hit the winner with .4 seconds to play for Cincinnati and the Bearcats got a needed assist from a soaring water bottle.
The Bearcats (13-2, 2-0 American Athletic Conference) rallied down the stretch to win their sixth straight game.
Temple led by two points when a turnover and on offensive foul caused coach Fran Dunphy to angrily smack a water bottle on the scorer's table and send the plastic container to the court. Dunphy was whistled for the technical. Gary Clark made one of two free throws to cut the Bearcats' deficit to one.
Kyle Washington put the Bearcats ahead 52-50 on a 3-pointer from the wing and Evans hit the jumper in the final second to win it.
Washington led the Bearcats with 18 points and Evans had 14.
Obi Enechionyia led the Owls (7-7, 0-3) with 14 points. The Owls have lost four straight games.
Local journalism is essential.
Give directly to The Spokesman-Review's Northwest Passages community forums series -- which helps to offset the costs of several reporter and editor positions at the newspaper -- by using the easy options below. Gifts processed in this system are not tax deductible, but are predominately used to help meet the local financial requirements needed to receive national matching-grant funds.
Subscribe to the sports newsletter
Get the day's top sports headlines and breaking news delivered to your inbox by subscribing here.
---