Sports > Idaho basketball
University of Idaho's proposed basketball arena gets its name
Jan. 4, 2018 Updated Thu., Jan. 4, 2018 at 7:45 p.m.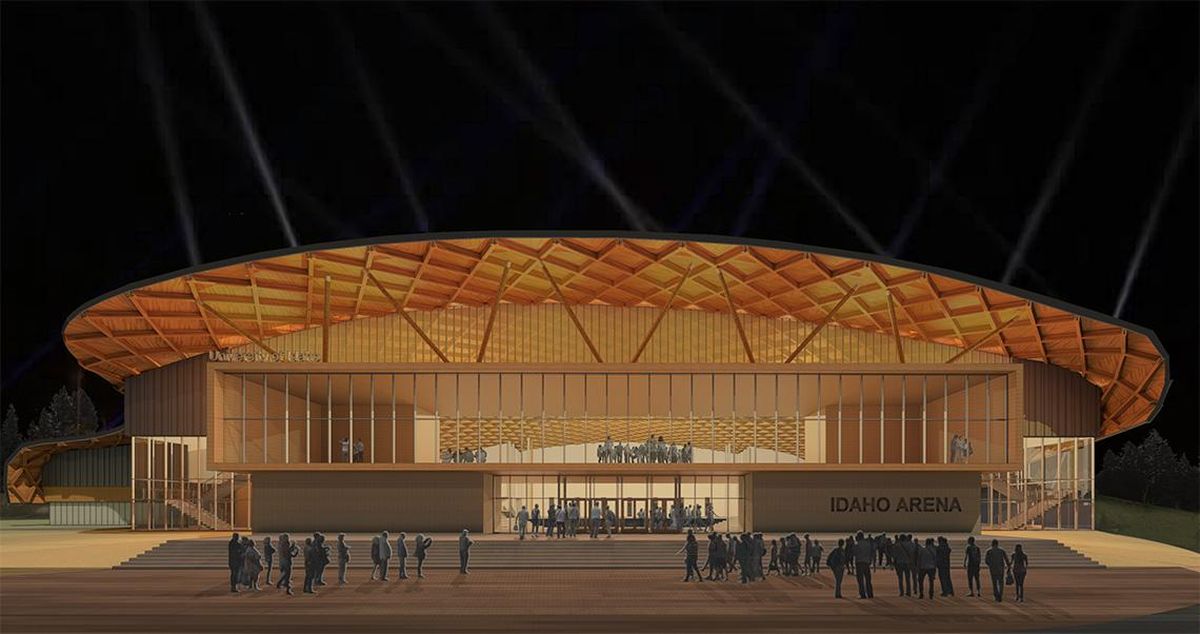 The University of Idaho announced that Idaho Central Credit Union has secured the naming rights to the school's new arena after a $10 million donation on Thursday, Jan. 4, 2018, in Moscow, Idaho. (Opsis Architecture / Courtesy)
MOSCOW, Idaho – Idaho Central Credit Union has purchased naming rights to a proposed University of Idaho basketball arena for $10 million.
UI officials and ICCU chief executive Kent Oram announced the gift Thursday.
The donation gives new impetus to fundraising for an uncomman athletic venue built with mass timber construction. The university is now $34 million toward its $45 million goal, according to UI President Chuck Staben. A public campaign to raise the remaining $11 million will take place this year. Ideally, construction will begin in 2019, and Idaho Central Credit Union Arena will be open for the 2021 basketball season.
It will feature a 4200-seat competition floor, a practice court, offices, locker rooms and conference space for both men's and women's basketball programs. The amenities for the respective programs will be comparable, Staben said. The building also is suitable for concerts and convocations and should help alleviate demand on other university facilities.
ICCU has purchased arena naming rights for 35 years.
The $10 million gift is notable for more than its amount. It gives ICCU, headquartered in Chubbuck, Idaho, recognition in North Idaho, where the credit union has been building branches for three years, Oram said. ICCU, founded in 1940, has 300,000 members in Idaho, Oram said.
The UI now has a relationship with one of the state's preeminent financial companies, UI athletic director Rob Spear said, and it has strengthened ties with Idaho's forest products industry by proposing to build a showcase athletic facility with timber.
"What a powerful partnership this is going to be," Spear said.
"It paves the way for additional sustainable buildings of this type," Staben added.
He called the arena "a living laboratory" and said opportunities for UI engineering, architecture and natural resources programs will flow from the project, highlighting UI's role as Idaho's land grant research institution.
Spear also said a new basketball arena will further a grand goal "to change every student's life through the athletic department."
He said UI has sought to build a basketball arena for 50 years. "The vision has always been there. The dream has been there. We just needed a dream fulfiller."
ICCU's $10 million donation will be deposited in an account dedicated to arena construction, Staben said. The credit union will treat the donation as a marketing expense over the 35 years of the naming rights deal, Oram said. If UI does not build the arena, the $10 million will be returned to ICCU, he said.
Originally, ICCU had sought only to sponsor the arena floor, Oram said. The university already had a sponsor, however, and after several months "we decided to go for the big one," he said.
Local journalism is essential.
Give directly to The Spokesman-Review's Northwest Passages community forums series -- which helps to offset the costs of several reporter and editor positions at the newspaper -- by using the easy options below. Gifts processed in this system are not tax deductible, but are predominately used to help meet the local financial requirements needed to receive national matching-grant funds.
Subscribe to the sports newsletter
Get the day's top sports headlines and breaking news delivered to your inbox by subscribing here.
---