News > Health
Most Spokane, Coeur d'Alene hospitals saw childbirth uptick last year
UPDATED: Fri., Jan. 5, 2018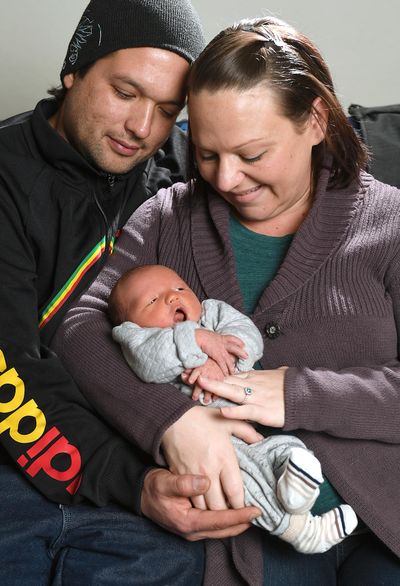 If you'd asked Jeannie Berzanski a year ago what she would be doing to ring in 2018, she might have said she'd be watching fireworks and hanging out with family. She never would've guessed that she'd be having a baby.
"He's our little miracle baby," she said.
Jeannie and her husband, Jordon Berzanski, are among an increasing number of young couples across the country trying to start a family. But they were told they couldn't have kids, and they'd pretty much given up.
Nothing about Berzanski's pregnancy was expected. She found out she was pregnant at a visit to the doctor when she thought she had strep throat. She lost her job five months into her pregnancy. And then, her son came 10 days early, catching the young parents completely off guard.
Jasper Berzanski was born at 11:35 a.m. on Jan. 1, making him the first baby born in 2018 at Multicare Deaconess Hospital. And in a time when more millenials are deciding to settle down and have kids, he's part of a large wave of births in Spokane.
Spokane County has seen a slight increase in births from 2015 to 2017, with preliminary numbers from the Spokane Regional Health District suggesting 400 more babies were born in 2017 than in 2016. Theories for the reason behind the uptick range from post-recession optimism to power outages during windstorms in Nov. 2015.
"And I don't think we can ignore the economy," said Patrick Jones, an economics professor at Eastern Washington University.
Spokane is in line with national birth trends that are most likely a result of post-recession optimism. Now that the economy is more stable, people are more comfortable settling down, getting married, buying houses and starting families, Jones said.
In Spokane, the number of women age 18 to 34 has increased, so there are more potential mothers.
Others see nature's hand at play in the statistical pregnancy bump.
"We saw a big bump that was coming in July, August a couple of months ago or a month ago earlier than we would normally see, and we really attribute that to the windstorm," Dr. Daniel Zwiesler, a Northwest OB-GYN physician, told KREM in September 2016.
In 2008, a Brigham Young University study showed that there is typically an uptick in births nine months after low-severity storms where people are required to mostly just stay inside and shelter in place.
Hospitals in Spokane proper saw only modest increases in birthrates, if any. Providence saw a significant drop, with 226 fewer births in 2017 than in the previous year. Hospital officials aren't sure why this is, though it may be due to changes in payer contracting, Providence spokeswoman Jennifer Semenza said. Providence was not in the network of some insurance providers last year.
Kootenai Medical Center saw the biggest increase in births, with 133 more babies being born at the Coeur d'Alene hospital.
Part of that spike is due to growth in the area, said Meghan Smith, a nurse and unit manager for the family birth center. But the hospital also has recently added many services.
The Neonatal Intensive Care Unit is now Level III, meaning it can care for premature babies born earlier in a pregnancy. The hospital is now able to assist mothers looking to have a vaginal birth after a Cesarean section.
As with many health officials in the area, she expects to see even more babies born this year.
"I think we are gonig to continue to grow," she said. "We really look forward to being able to keep local patients local."
Local journalism is essential.
Give directly to The Spokesman-Review's Northwest Passages community forums series -- which helps to offset the costs of several reporter and editor positions at the newspaper -- by using the easy options below. Gifts processed in this system are not tax deductible, but are predominately used to help meet the local financial requirements needed to receive national matching-grant funds.
Subscribe to the Coronavirus newsletter
Get the day's latest Coronavirus news delivered to your inbox by subscribing to our newsletter.
---