A&E > Books
The books of 2018: Many good words ahead for Spokane-area readers
Sun., Jan. 7, 2018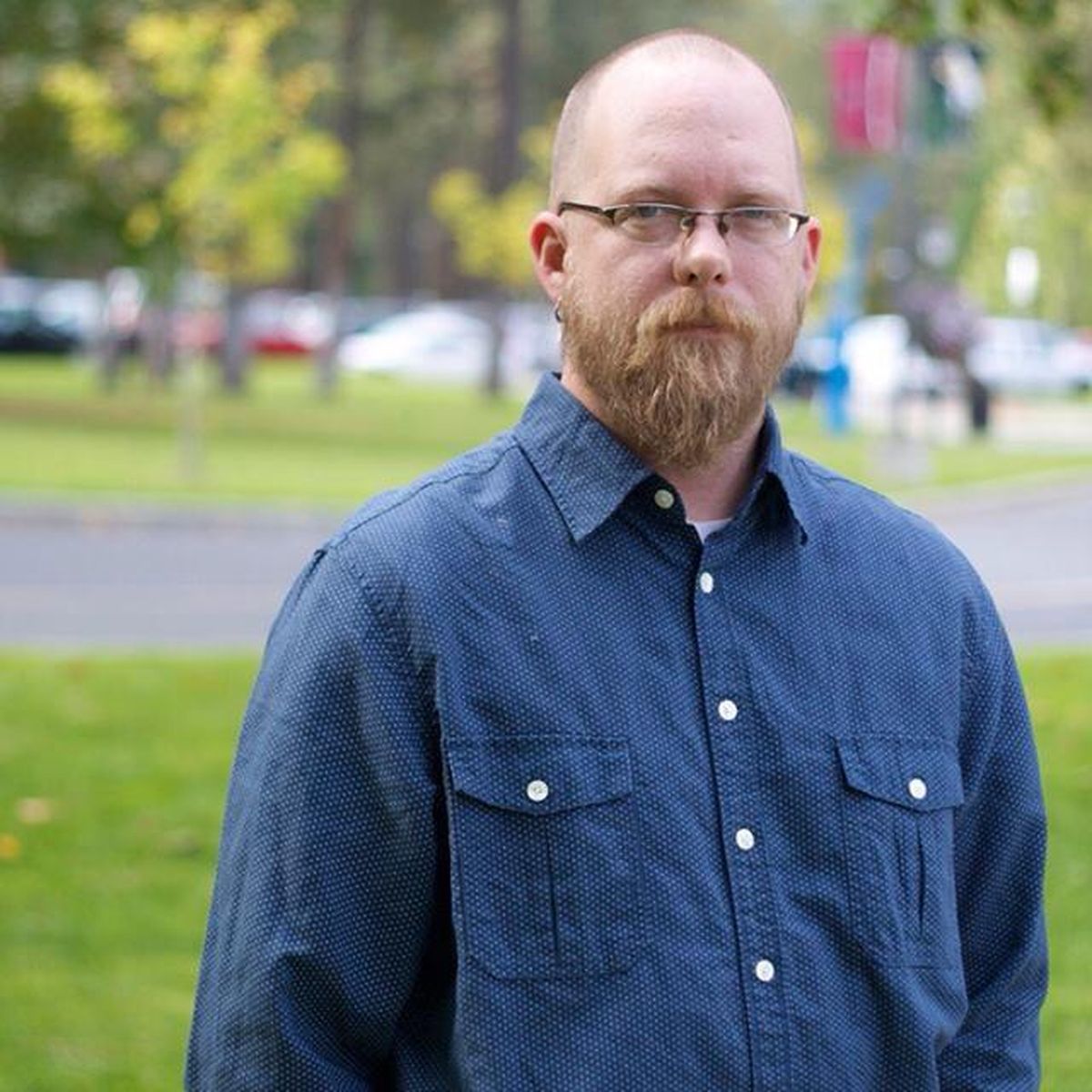 Thom Caraway's new poetry collection, "What the Sky Lacks," will be released on 2018. (Courtesy of Thom Caraway / Courtesy of Thom Caraway)
January often is full of looking-ahead stories. The year in movies. The year in music. The year in politics.
How about the year in books?
Coming out in 2018 are new volumes from a Pulitzer Prize winner with North Idaho roots, a couple winners of the Washington Book Award, popular local young adult authors and poets galore. Here's a brief look at some of the titles expected in 2018 from the region's top talent.
(We've probably missed a few. If you have a book being published in 2018, email carolynl@spokesman.com so we can add you to our master list.)
Bruce Holbert will follow up his Washington Book Award-winning novel "The Hour of Lead" with "Whiskey," set for release March 18 from MCD. As with "Lead" and his debut novel, "Lonesome Animals," Holbert revisits the dry scablands of Eastern Washington to tell the story of two brothers living in Electric City who experience "darkly comedic and hauntingly violent events."
Paul Lindholdt, author of the Washington Book Award-winning memoir "In Earshot of Water," has edited a new anthology, "The Spokane River," due out from the University of Washington Press in April. The book profiles the 111-mile long river through essays, history, science and poetry from 28 contributors, including Sherman Alexie, Tod Marshall, Jack Nisbet, Nance Van Winckel, Jess Walter, John Roskelley and Bishop William S. Skylstad.
Also from the University of Washington Press is "Uplake," by Ana Maria Spagna of Stehekin. Her collection of essays "of coming and going," as the book's subtitle reads, tells of her trips to distant cities, where she fantasizes about other people's lives. Then she returns to her mountain valley home, where long hikes, summer fires and the sound of chainsaws are the rhythm of her life. Coming in March.
Asa Maria Bradley, author of the award-winning "Viking Warrior" series, has an urban fantasy novella coming out in February called "Buried Powers."
Moscow, Idaho, young adult author Makiia Lucier, whose debut novel "A Death Struck Year" was set against the backdrop of the Spanish flu epidemic in Portland, will release the fantasy novel "Isle of Blood and Stone," the first of a "duology," on April 10 through Houghton Mifflin Harcourt. The book centers on 19-year-old mapmaker and explorer Elias, who who heads off on an expedition of uncharted territory.
YA writer Trent Reedy, whose previous novels are the "Divided We Fall" trilogy, "Stealing Air," and "Words in the Dust," will release "Gamer Army" from Scholastic's Arthur A. Levine Books in the fall. The story centers two friends who sign up for a video game contest, only to discover the game is darker and more dangerous than they thought.
Although it's been many years since the esteemed novelist and essayist Marilynne Robinson called the Idaho Panhandle home, her fans in the Inland Northwest know that new title from her is worth checking out. On Feb. 20, the Pulitzer Prize winner from Sandpoint will release a new collection of essays called "What Are We Doing Here?" from Farrar, Straus and Giroux. In her 15 essays, Publishers Weekly writes, "Her eloquent work stands up for a compassionate faith, the value of education, and a sense of decency."
Science Fiction Writers of America Grandmaster C.J. Cherryh, who lives in Spokane, just this past week released "Emergence," the latest in her "Foreigner" series, from DAW Books. In the book – technically the first in the seventh sub-series of "Foreigner," – she tells the story of human diplomat Bren Cameron as he travels to distant galaxies to protect a peace agreement between humans and alien refugees. Cherryh, winner of three Hugo Awards, is the author of more than 70 books.
Sherry Jones, whose previous books of historical fiction include "The Jewel of Medina" and "The Sharp Hook of Love," will release "Josephine Baker's Last Dance" on Oct. 30 from Simon & Schuster/Gallery.
New York Times best-selling romance novelist Shirlee McCoy will release two titles this year. Actually, two titles within about a week of each other. "Home With You," the first book in her Bradshaw Brothers series, comes out Feb. 27 from Zebra/Kensington. "Night Stalker," the first in her new FBI: Special Crimes Unit series, comes out March 6 from Love Inspired Suspense/Harlequin.
Poets, poets and poets
Aileen Keown Vaux's debut chapbook, "Consolation Prize" will be released from Scablands Books in April. The books epigrath sets up the poems within: "In 1892, Olympia, Ellensburg, and Yakima vied for the title of Washington State's capital city. After the dust settled, Olympia retained the seat of state power; Ellensburg established Central Washington University. As a consolation prize, Yakima was awarded the Central Washington State Fair, the first fair in the state. These poems take their titles, verbatim, from recent Central Washington State Fair themes."
Laura Read, who recently concluded her tenure as Spokane's poet laureate, will release a poetry collection in the fall. Called "Dresses From the Old Country," it's due out from BOA Editions on Oct. 9.
And Spokane's first poet laureate, Thom Caraway, will have a poetry collection out this year, too. Look for "What the Sky Lacks" from Korrective Press in the spring.
One of the most ambitious projects in the pipeline for 2018 is "The Pink Tablet," based on a chapbook of the same name due out next month from Spokane poet Ellen Welker. Rather than do a traditional book launch and reading, she teamed up with a group of local artists – dancers, filmmakers, singers and visual artists – to create a "feral opera" that will be broadcast from 7:30 to 9 p.m. Feb. 9 on Community-Minded Television (channel 14), with a second showing at 3 p.m. Feb. 10. With an emphasis on the "mutability of borders and boundaries real and imagined, imposed and inherent," "The Pink Tablet" promises to be one of the most intriguing art happenings in Spokane this year.
Regional rock stars
New books from Northwest authors include:
Portland's Ursula K. Le Guin is publishing "Ursula K. Le Guin: Conversations on Writing " from Tin House Books on July 17. The book gathers a series of conversations with David Naimon, in which Le Guin discusses her fiction, nonfiction and poetry – both her process and her philosophy.
Chuck Palahniuk, another Portlander, will release the new novel "Adjustment Day " from W.W. Norton & Company on May 1. His first novel in four years, the book is described this way: "Smug, geriatric politicians hatch a nasty fate for the burgeoning population of young males; working-class men dream of burying the elites; and professors propound theories that offer students only the bleakest future. When it arrives, Adjustment Day inaugurates the new, disunited states."
Portland writer Jon Raymond, who wrote the screenplay to the 2010 film "Meek's Cutoff," as well as the novels "Rain Dragon" and "The Half-Life," will release "Free Bird" from Tin House Press on Jan. 23. It centers on a California family on the verge of losing everything, and how the family patriarch's untold history shapes the family's moral center.
Also from Portland, novelist-musician Willie Vlautin will release "Don't Skip Out on Me" from Harper Collins on Feb. 20, accompanied by an instrumental soundtrack from his alt-country band, Richmond Fontaine.
Debbie Macomber, the perennial best-seller from Port Orchard, has a couple titles due out in 2018. Up first is a cookbook, "Debbie Macomber's Table," due April 3 from Random House. It includes 100 recipes that Macomber cooks for friends and family, as well as dishes inspired by scenes from some of her popular novels. On July 17, she releases a new novel, "Cottage by the Sea," also from Random House.
Seattle-area New York Times best-seller Kristin Hannah ("The Nightingale") will release "The Great Alone" on Feb. 6, from St. Martin's Press. Set in Alaska in the early '70s, it centers on a family in crisis hoping to heal while living off the grid in America's last frontier.
"Bright Bones," an anthology of contemporary Montana writing from Open Country Press, will include fresh poems, stories, lyric essays and translations, as well as cross-genre, collaborative and experimental work. It's due in early 2018.
And Wyoming author and frequent Spokane visitor, "Longmire" creator Craig Johnson, will release the latest in that popular series, "Depth of Winter," in September.
Local journalism is essential.
Give directly to The Spokesman-Review's Northwest Passages community forums series -- which helps to offset the costs of several reporter and editor positions at the newspaper -- by using the easy options below. Gifts processed in this system are not tax deductible, but are predominately used to help meet the local financial requirements needed to receive national matching-grant funds.
Subscribe to the Spokane7 email newsletter
Get the day's top entertainment headlines delivered to your inbox every morning.
---