A&E > Stage
Civic brings '60s-tinged comedy 'Cactus Flower' to Spokane
Thu., Jan. 11, 2018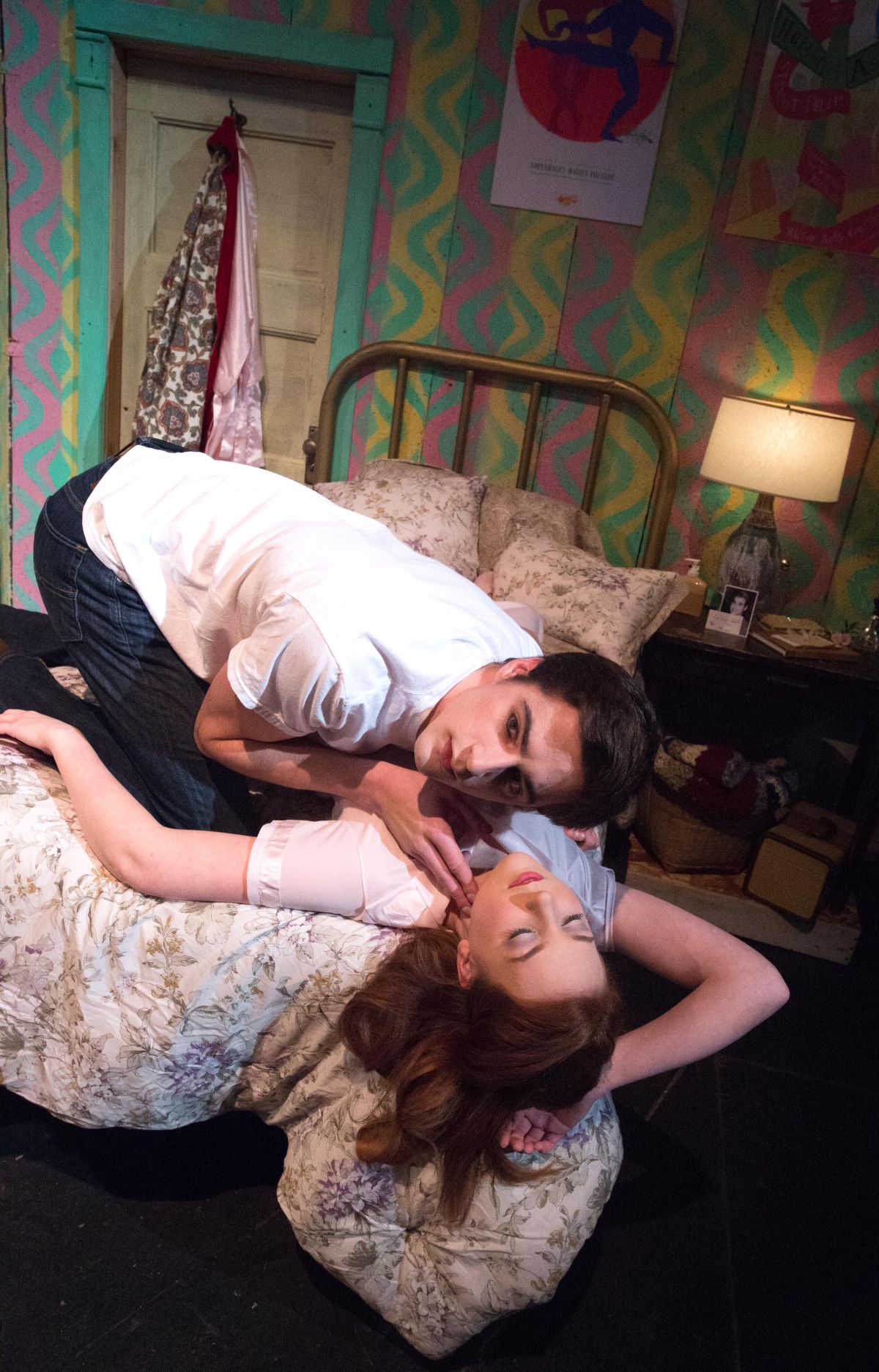 Seth Rohrenbach and Phletha Wynn, act out a scene where Rohrenbach's character - Igor Sullivan - administers CPR to Wynn's character -Toni Simmons - in the play "Cactus Flower" on Monday, Jan. 8, 2018, at Spokane Civic Theater in Spokane, Wash. (Tyler Tjomsland / The Spokesman-Review)
"Cactus Flower" is a classic love story.
Girl loves guy.
Guy loves girl, but also claims to be married and have three kids to keep her at arm's length.
After a dramatic event, guy hastily suggests leaving his "wife" to be with girl, thus forcing him to convince his assistant to pretend to be his soon-to-be-ex-wife.
Girl, feeling guilty, vows to find a new love for guy's "wife," setting off a chaotic, comedic chain of events.
See, classic.
Abe Burrows' farce "Cactus Flower," based on Pierre Barillet and Jean-Pierre Gredy's "Fleur de cactus," opened on Broadway in 1965 with a cast that included Lauren Bacall, Barry Nelson, Brenda Vaccaro and Burt Brinckerhoff.
In 1969, a movie based on the play directed by Gene Saks and starring Walter Matthau, Ingrid Bergman and Goldie Hawn was released. Hawn won the Academy Award for Best Supporting Actress for her role.
The 2011 Adam Sandler-Jennifer Aniston film "Just Go With It" (commercially successful but critically panned) was also based on the Broadway play.
Director Jessica Loomer's take on the farcical play opens at Spokane Civic Theatre on Friday.
Loomer wasn't familiar with the story of "Cactus Flower" before being given a few plays to consider for the season, but she loved the humor in the script and requested the play.
After the decision for her to direct the play was finalized, Loomer did more research on the play and the 1960s.
She also watched the Saks movie and took notes on the music and color of the era, which helped with discussions with costume designer Summer Berry and set and light designer David Baker, who she credits for helping bring the show to life.
But Loomer stuck to the original source material for her production of "Cactus Flower."
"I will watch movies sometimes to get a feel of what they did, but I try not to let it influence me too heavily when we do stage plays since it's so different of a format," she said.
When casting "Cactus Flower," Loomer looked for actors who could balance the real human qualities and wacky behavior of the characters.
"It's one of those things where you've got these crazy kooky characters, but you still have to make them relatable and lovable so that the audience really wants to know what happens to them," she said. "What I was looking for especially with auditions was finding those actors who could play those comedic moments but still on the flipside have that honesty as well.
"I think I have an amazing cast and I'm so excited for people to come see it because everyone brings so much to the table."
The pseudo love triangle is played by Phletha Wynn (the young and wild Toni Simmons), Dave Rideout (the older, not-actually-married Dr. Julian Winston) and Jennifer Miles (Winston's shy assistant Stephanie Dickinson).
"Cactus Flower" also features Billy Hultquist (Harvey Greenfield), Seth Rohrenbach (Igor Sullivan), Audrey Overstreet (Mrs. Dixon Durant), Nate Edmons (Senor Arturo Sanchez), Taylor Olmstead (Botticelli Springtime/Ensemble) and Kaylan Martin (Waiter/Ensemble).
Dominick Betts, who Loomer said has a great eye for comedy, is assistant director.
Loomer was drawn to "Cactus Flower" for its humor and believes the chance to see a light-hearted comedy that "doesn't ever go too deep" while still being able to relate to the characters onstage will draw in audiences as well.
"I don't remember who said it, but something along the lines of 'Farce is taking a tragedy and speeding it up times 10' " she said. "When you've got this situational comedy that has some farcical moments in it like 'Cactus Flower,' you have those real moments, this drama, but it gets pushed to the extreme and that's what makes it hilarious."
Local journalism is essential.
Give directly to The Spokesman-Review's Northwest Passages community forums series -- which helps to offset the costs of several reporter and editor positions at the newspaper -- by using the easy options below. Gifts processed in this system are not tax deductible, but are predominately used to help meet the local financial requirements needed to receive national matching-grant funds.
Subscribe to the Spokane7 email newsletter
Get the day's top entertainment headlines delivered to your inbox every morning.
---