Sports
Grip on Sports: Keith Jackson was our connection to college football and part of this area's rich broadcasting history
Sun., Jan. 14, 2018 A GRIP ON SPORTS • Nuggets have a way of showing up in out-of-the-way places. Which is my meandering way of saying goodbye to Keith Jackson, one of, if not the, best to ever call a college football game. Read on.
••••••••••
• Others knew Jackson better. Others will write better tributes to the Washington State graduate.
Heck, I could never come close to summarizing Jackson's life as well as John Blanchette did here on The Spokesman-Review's website and in its newspages.
But one thought hit me yesterday as I was contemplating Jackson's days, which ended Friday night after 89 descriptive years on this planet: Washington State has produced two of the most memorable and important broadcast journalists of the past century.
Think about that for a second. A school 100 miles from nowhere, in the middle of Eastern Washington's wheat fields, has sent the country two voices that shaped their times and other generations of broadcasters.
The first, of course, is the man whose name adorns the Edward R. Murrow School of Broadcasting these days. The World War II and Cold War-era giant, who shaped and reshaped radio and television journalism for the Greatest Generation and its Baby Boomer children.
Murrow was a Northwest story, through and through. Though born down South – something he shares with Jackson – his family moved to Skagit County when he was six.
You probably know his story as well as I. He grew up near the Canadian border, headed off to Washington State College in the fall of 1926, graduated and moved to New York.
From there he became a legend, with his radio coverage of the war for CBS from London changing our culture. After the war, he became CBS' shining radio and then TV star until his principled stands on everything from poverty to Eugene McCarthy became too much baggage for William S. Paley and CBS.
An incessant smoker, Murrow died much too young, in 1965 at age 57. He had been out of broadcast journalism for four years.
But while his star shined, it attracted a galaxy to CBS, as every broadcast journalist wanted to bask in his light. Murrow influenced a generation of journalists with his work ethic and principles, many of which can be traced back to his time in the Northwest.
Jackson's calling was different, but nearly as influential. His path from Georgia, where he was born and grew up, to Pullman was bulldozed by the U.S. Marine Corps, as he attended the school on the G.I. Bill.
He discovered at WSC the joy of describing sporting events and found out he was good at it. (He also discovered his lifetime partner and wife, Turi Ann.)
The obituaries we link today, from our Theo Lawson to the New York Times and everywhere in-between, will tell you his life story.
What they don't tell you is the incredible number of young men and women Jackson's voice touched in the 1960s through the early years of this century. And how those young men and women, hearing a game called the way it was supposed to be called, decided that's what they wanted to do.
Jackson's college football calls were sports broadcasting at its finest, never too much, never too little and always – always – memorable.
Keith Jackson knew the value of silence. He knew the value of a perfectly timed pause. And he knew the value of a well-turned phrase.
Though "whoa, Nellie" may not have the historical significance of "this … is London," the two signature phrases of two giants have one thing in common.
They have their roots in a small town on the Palouse.
•••
WSU: Stop the presses. Robert Franks connected on a school-record 10 3-pointers – the final one with a 20-plus-point lead and only a few seconds remaining – as the Cougars won their first Pac-12 game this season, 78-53 over reeling California. Theo Lawson was joined by a bit more than 3,000 folks at Beasley to see it, but he's the only one to write it for the S-R. He also posted postgame interviews with Ernie Kent and players, including Franks. … Tavares Martin Jr. is not transferring. Instead, he's entering the NFL draft. Theo has the story. … We linked Theo's Keith Jackson obituary above, but we also wanted to add a few more links to other stories about the broadcast legend's life and career and the reaction to his death. We also can pass along this photo gallery. … Back to hoops, we can pass along a couple stories with a California emphasis.
Elsewhere in the Pac-12, Stanford completed a sweep of the Washington schools by getting past the Huskies 73-64 in Seattle. … Colorado picked up its first win ever at Pauley Pavilion last night, getting past UCLA 68-59. … Oregon couldn't get a desert sweep done, as the Ducks were overpowered by Arizona in Tucson, 90-83. … Oregon State lost both this weekend, falling 77-75 to Arizona State. … Struggling Utah will face a surging USC team today…. In football news, will Myles Gaskins leave Washington for the NFL? We know USC is losing another player.
Gonzaga: USF's War Memorial Gym was packed last night, though many of the fans came to root for Gonzaga. Jim Meehan was also in San Francisco and has this analysis of the Zags' 10-point victory. Jim also has his three keys to the victory. … I watched from the comfort of home and wrote this TV Take. … The guys in the office put together this highlights package. … There was a story out of San Francisco as well. … The women blew out USF at McCarthey. Jim Allen was there and has this story. … Around the WCC, form held throughout, with BYU winning easily over Santa Clara, 84-50. … Saint Mary's, which plays at Gonzaga Thursday, diced up Pepperdine in Malibu. … San Diego held off Loyola Marymount at home. … Pacific won again, this time in Portland.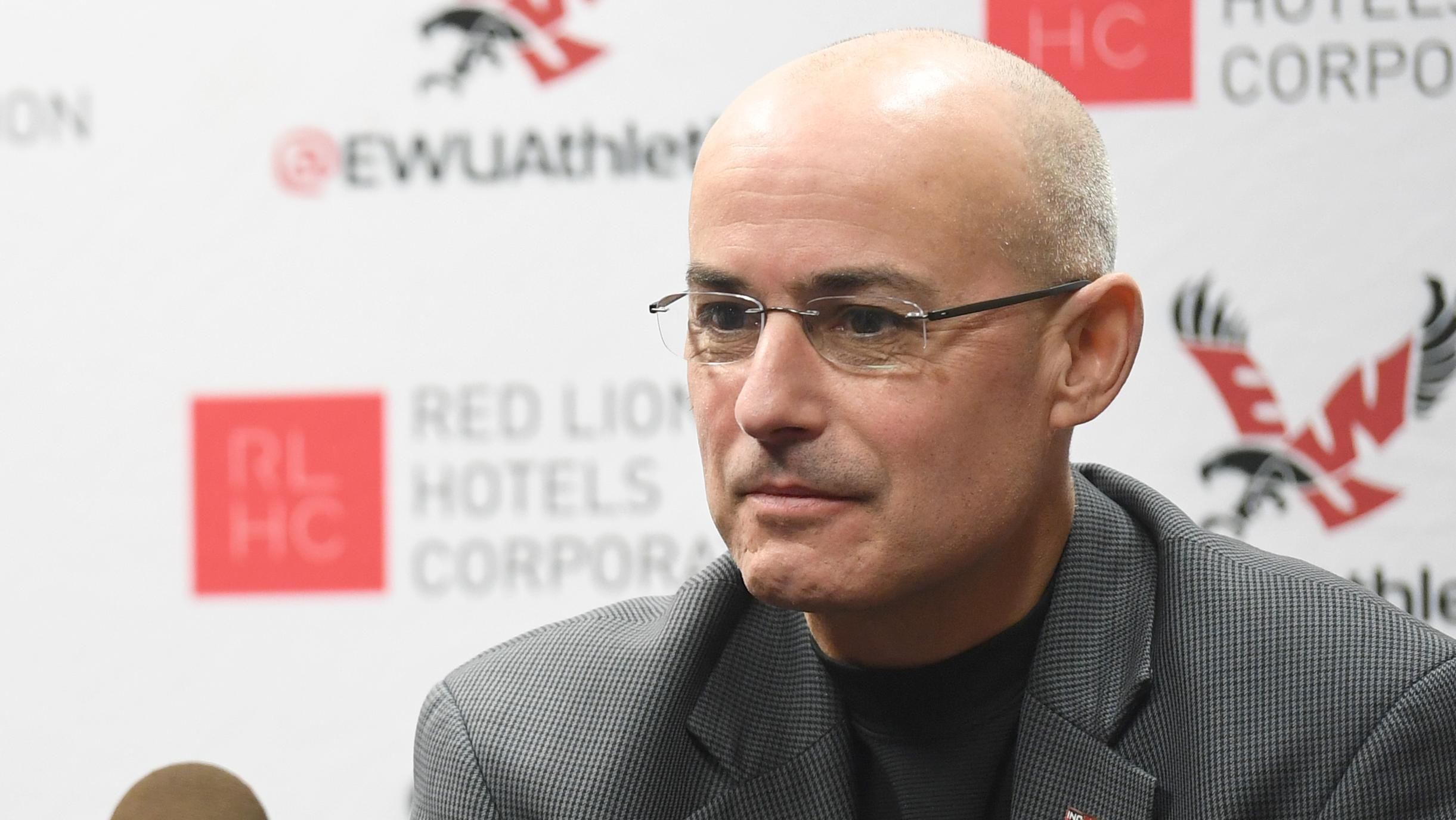 EWU: The Eagles are in the market for a new athletic director. Jim Allen has the news Bill Chaves is headed to Grand Forks, North Dakota. Bring a heavy jacket Bill. … Jim also has this probably related story on a budget deficit faced by the athletic department. Both of the area's state colleges have relatively new presidents who want to reduce spending for athletics – and both are looking for new department directors. It can't be a coincidence, can it? … Former Eastern standout Alvin Snow will enter the school's Hall of Fame. … Around the Big Sky, Montana has opened a two-game lead on the field after a road sweep. The Griz won last night at Portland State, 92-89. … North Dakota earned a weekend sweep with a home win over Weber State. … Northern Colorado handled Idaho State. … Southern Utah held off winless-in-conference Northern Arizona. … Sacramento State pounded visiting Montana State.
Whitworth: The Pirates had little trouble with George Fox, winning 89-77 at the Fieldhouse. Whitney Ogden was there and she has this game story.
Chiefs: Spokane gave up early goals and couldn't come back against Everett and star goaltender Carter Hart, losing 5-2 at the Arena. Kevin Dudley has the story.
Preps: Saturday was dominated by basketball action this week and we can pass along boys and girls roundups.
Seahawks: There are multiple reports the Hawks will name Brian Schottenheimer as their offensive coordinator. I'm already pining for Darrell Bevell to be back. His name was easier to spell. … It looks as if Tom Cable has already found work. … Is DeShawn Shead leaving?
•••       
• That's a pretty packed column for a Sunday morning in which we didn't even talk about the NFL playoffs. I actually didn't watch yesterday, preferring to get my news about the Patriots' rout via Twitter and the ticked off Titan fans. Until later … 
Local journalism is essential.
Give directly to The Spokesman-Review's Northwest Passages community forums series -- which helps to offset the costs of several reporter and editor positions at the newspaper -- by using the easy options below. Gifts processed in this system are not tax deductible, but are predominately used to help meet the local financial requirements needed to receive national matching-grant funds.
Subscribe to the sports newsletter
Get the day's top sports headlines and breaking news delivered to your inbox by subscribing here.
---