News > Pacific NW
Following national shift, Northwest Cub Scouts open doors to girls
Mon., Jan. 15, 2018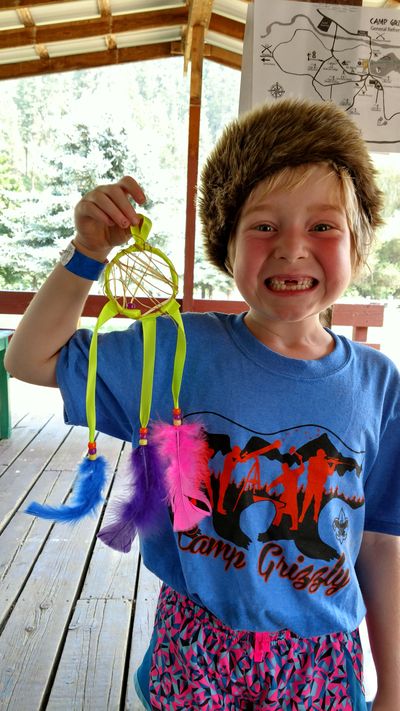 Girls across the Inland Northwest can now join the Cub Scouts, a unit of Boy Scouts of America, following a significant policy shift for the 108-year-old organization.
Karen Meier, the director of the Boy Scouts' Inland Northwest Council, which covers 17 counties in Washington and Idaho, said about 30 Cub Scout packs in the region are "early adopters" of the nationwide policy. Girls in kindergarten through fourth grade can join those packs as of Monday, and the policy will take effect everywhere later in the year.
"I'm just ecstatic," Meier said last week. "My granddaughter is so excited to join the Cub Scouts."
The Boy Scouts of America announced in October it would begin allowing girls to join the Cub Scouts and earn the rank of Eagle Scout. It's the organization's latest move to ease membership restrictions. The Boy Scouts lifted its ban on openly gay scouts in 2013 and began allowing gay leaders in 2015. And earlier last year, the organization said it would welcome scouts who self-identify as male, creating room for transgender members.
A news release from the Inland Northwest Council touted the new policy as a plus for families looking to provide activities for both sons and daughters. Girls and boys will be in separate groups, called dens, but they will follow the same curriculum.
"The Boy Scouts of America is committed to serving youth, families and communities through programs that deliver character development and values-based leadership training for young people – all while remaining true to our mission and core values, outlined in the Scout Oath and Law," the news release said.
The step toward co-ed scouting has drawn rebukes from Girl Scouts of the USA leaders, who argue that girls raised in a male-dominated society should have opportunities to learn in nurturing environments where they don't need to compete with boys.
"The need for female leadership has never been clearer or more urgent than it is today – and only Girl Scouts has the expertise to give girls and young women the tools they need for success," reads a statement on the organization's website from October.
The group's president, Kathy Hopinkah Hannan, wrote to the Boy Scouts in August, asking the board to refrain from recruiting girls. Such a decision would "result in fundamentally undercutting Girl Scouts of the USA," she wrote.
The Girl Scouts also have suggested the Boy Scouts' new policy boils down to a competitive move to shore up declining membership. Nationwide, Boy Scouts membership peaked at more than 4 million in the late 1980s and fell to 2.2 million by 2016, according to annual reports from the organization. Some speculate that recent membership declines are due to the new policies welcoming gay and transgender scouts.
According to federal tax filings, membership in the Boy Scouts' Inland Northwest Council stood at more than 13,700 youths in 2009, then hovered around 11,000 until 2015, the last year for which filings were available. In last week's news release, the council said it now has about 8,500 young members in its ranks. That's roughly a 38 percent decline in nine years.
The Girl Scouts, meanwhile, report 1.8 million youth members nationwide. They, too, have seen interest dwindle both locally and nationally. According to federal tax filings, membership in the Girl Scouts of Eastern Washington and Northern Idaho fell from more than 8,000 in 2009 to just 3,100 in 2016.
Meier said at the local level, at least, the Boy Scouts and Girl Scouts will continue to collaborate and co-host some scouting activities.
"We have a really strong relationship with the Girl Scouts," she said. "There's enough room in this community for both organizations."
Families interested in joining the Cub Scouts can contact the council office in Spokane at (509) 325-4562.
Local journalism is essential.
Give directly to The Spokesman-Review's Northwest Passages community forums series -- which helps to offset the costs of several reporter and editor positions at the newspaper -- by using the easy options below. Gifts processed in this system are not tax deductible, but are predominately used to help meet the local financial requirements needed to receive national matching-grant funds.
Subscribe to the Coronavirus newsletter
Get the day's latest Coronavirus news delivered to your inbox by subscribing to our newsletter.
---