Sports
NBA capsules: Kevin Durant's 32 points send Warriors past LeBron James, Cavs 118-108
Mon., Jan. 15, 2018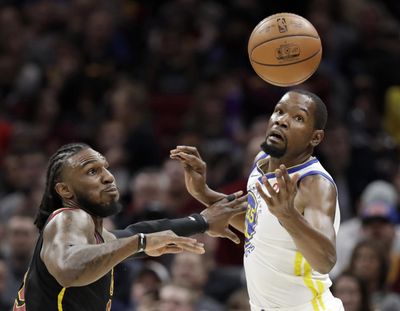 CLEVELAND – Kevin Durant scored 32 points, Stephen Curry added 23 and the Golden State Warriors extended their road winning streak to 13 games with a 118-108 Martin Luther King holiday victory Monday night over the Cleveland Cavaliers, their struggling NBA Finals foes.
Durant scored 16 in the third quarter for the defending champions, who haven't lost outside Oracle Arena since Nov. 22.
LeBron James scored 32 points and Kevin Love 17 for Cleveland, which had its home winning streak stopped at 13. Isaiah Thomas, getting his first taste of the Warriors-Cavaliers rivalry, had 19 points in a season-high 32 minutes as he works his way back from a hip injury.
It was Golden State's second straight win over the Cavs, who have dropped eight of 10 dating to a loss to the Warriors on Christmas Day.
Clippers 113, Rockets 102
LOS ANGELES – Lou Williams scored 31 points, Blake Griffin added 29 before his ejection, and Los Angeles beat Houston in Chris Paul's heated return to Staples Center against his old team.
Buoyed by Williams' 13th straight game of 20 or more points, the Clippers won their fifth in a row.
Paul had 19 points, six rebounds and seven assists.
Things got testy with 3 1/2 minutes to go. Griffin scored under the basket and Paul was called for a foul. Paul ran over to the referees in disbelief, while Rockets coach Mike D'Antoni appeared to unleash expletives in Griffin's direction.
The referees reviewed video of the play and confirmed the foul on Paul, while also assessing double technicals to Griffin and D'Antoni.
Bucks 104, Wizards 95
WASHINGTON – Giannis Antetokounmpo scored 27 points and grabbed a career-high 20 rebounds as Milwaukee beat Washington for the second time in 10 days.
Like it was on Jan. 6, it was tight late before Antetokounmpo took over. He led Milwaukee on an 11-0 run in the final minutes and finished 9 of 23 from the field, dribbling out the clock to "M-V-P!" chants from Bucks fans in attendance for the annual Martin Luther King Jr. Day matinee in Washington.
Eric Bledsoe had 23 points for the Bucks in outdueling former University of Kentucky teammate John Wall, who led the Wizards with 27 points. Washington committed 23 turnovers, tying a season high; 17 of them came in the first half.
The Bucks, who came in ranked 28th in the NBA in 3-point shooting at 34.6 percent, made half of their attempts against the league leaders in 3-point defense.
Grizzlies 123, Lakers 114
MEMPHIS, Tenn. – Dillon Brooks matched his season best with 19 points and eight Memphis players finished in double figures.
Marc Gasol had 17 points and seven rebounds for Memphis, while Tyreke Evans had 15 points and 12 assists. Wayne Selden and James Ennis III added 13 points each.
The Lakers ended a four-game winning streak. They were without Lonzo Ball, who injured his left knee in Saturday's overtime win at Dallas, and Brandon Ingram also didn't play because of a left ankle sprain.
Kentavious Caldwell-Pope led the Lakers with 27 points, while Kyle Kuzma finished with 18. Josh Hart had 16 points, including 10 in the fourth quarter when Los Angeles cut a 20-point lead down to single-digits in the final minutes.
Thunder 95, Kings 88
OKLAHOMA CITY – Russell Westbrook had 19 points, 16 rebounds and nine assists before being ejected, and Oklahoma City rallied from a 15-point first-half deficit to beat Sacramento.
Carmelo Anthony added 20 points, Paul George scored 18 and Steven Adams had 13 points and 13 rebounds for the Thunder, who avoided what would have been a fourth straight home loss.
Buddy Hield scored 16 points and Willie Cauley-Stein added 15 for Sacramento, which is 1-16 on the road against Oklahoma City since the Thunder franchise moved from Seattle.
Oklahoma City was up 91-77 with 2:51 left before official Matt Boland called two quick technical fouls on Westbrook after he complained about being called for traveling on a play on which he thought he'd been fouled.
76ers 117, Raptors 111
PHILADELPHIA – Joel Embiid had 34 points and 11 rebounds and Philadelphia narrowly avoided blowing another big lead in a 117-111 victory over cold-shooting Toronto.
T.J. McConnell added a career-high 18 points and JJ Redick scored 15 before leaving with a left leg injury for the Sixers, who shook off Ben Simmons' foul trouble to win for the fifth time in six games.
The Sixers blew a 22-point lead in a loss to Boston in London in their last game and coughed up a 22-point lead in a loss in Toronto's previous visit last month.
They saw a 21-point lead cut to 102-101 on DeMar DeRozan's 3-pointer with 3:01 left. Simmons responded with a driving layup and Dario Saric hit a 3 on the next possession to get the lead back to six.
Hawks 102, Spurs 99
ATLANTA – Dennis Schroder scored 26 points, Ersan Ilyasova added 20 and Atlanta held off San Antonio in the closing seconds.
LaMarcus Aldridge had 25 points and 11 rebounds for San Antonio, which dropped to 10-14 on the road.
The Hawks (11-31), who came in with the NBA's worst record and had lost five of six, never trailed after John Collins' tip-in made it 78-76 with 9:23 remaining.
Danny Green's 3-pointer with 31 seconds left cut the lead to one, but Schroder answered by dribbling down the shot clock and hitting a layup to put Atlanta up by three with 10 seconds left.
Atlanta hit four free throws and the Spurs hit two before Green's 3-point attempt bounced off the back of the rim with 2 seconds left.
Bulls 119, Heat 111
CHICAGO – Zach LaVine scored 18 points in his second game for Chicago, Justin Holiday made a career-best seven 3s and scored 25 points, and the Bulls ended Miami's seven-game winning streak.
The Bulls have won three straight and 14 of their last 21.
LaVine tore an ACL last season with Minnesota and was traded in a package for Jimmy Butler in the offseason. He scored 14 points in his Bulls debut Saturday against Detroit.
The Bulls are limiting LaVine to 20 minutes per game in his first week back. He scored 13 points in 12 minutes in the first half, and his four-point play with 0.9 seconds left before the break put the Bulls ahead 55-48. He also had five rebounds, five assists and two steals.
Knicks 119, Nets 104
NEW YORK – Kristaps Porzingis had 26 points and nine rebounds, Michael Beasley added 23 points and 10 boards, and New York opened its longest road trip in nearly 30 years by beating Brooklyn.
A day after blowing a 19-point lead in the third quarter of a loss to New Orleans, the Knicks lost most of a 14-point advantage heading to the fourth. But they opened the period with 11 straight points and went on to beat the Nets comfortably for the third time this season.
Rookie Frank Ntilikina finished with 10 points, 10 assists and seven rebounds as the Knicks snapped a three-game losing streak and won for the third time in 13 games. They played without Tim Hardaway Jr., who was rested after playing 33 minutes Sunday in his second game back from a stress injury to his lower left leg.
Hornets 118, Pistons 107
DETROIT – Kemba Walker scored 17 of his 20 points in the second half, and Charlotte pulled away in the fourth quarter of a win over Detroit.
Dwight Howard had 21 points and 17 rebounds for the Hornets, who trailed 56-50 at halftime before dominating the final two quarters. A 10-0 run in the fourth put Charlotte ahead 106-88, and although Detroit answered with nine quick points, the Hornets were never in much danger of losing down the stretch.
Andre Drummond of the Pistons had only three points and 10 rebounds, and his day was summed up late in the fourth when he went up for a powerful, one-handed dunk – only to have Howard easily swat the ball away.
Pacers 109, Jazz 94
SALT LAKE CITY – Victor Oladipo scored 28 points and Indiana shot 54 percent from 3-point range in a win Utah.
Oladipo got going late in the second quarter during a 15-2 run that gave Indiana a 14-point lead. Then his back-to-back buckets early in the third capped a 9-0 surge to push the advantage to 67-47. He also had six rebounds and six assists.
Domantas Sabonis finished with 15 points and eight rebounds for the Pacers, and Thaddeus Young scored 17.
Donovan Mitchell scored 23 for the Jazz, while Derrick Favors added 16 points and seven rebounds.
Local journalism is essential.
Give directly to The Spokesman-Review's Northwest Passages community forums series -- which helps to offset the costs of several reporter and editor positions at the newspaper -- by using the easy options below. Gifts processed in this system are not tax deductible, but are predominately used to help meet the local financial requirements needed to receive national matching-grant funds.
Subscribe to the sports newsletter
Get the day's top sports headlines and breaking news delivered to your inbox by subscribing here.
---