News > WA Government
Bump stock ban passes committee
Jan. 16, 2018 Updated Wed., Jan. 17, 2018 at 6:54 a.m.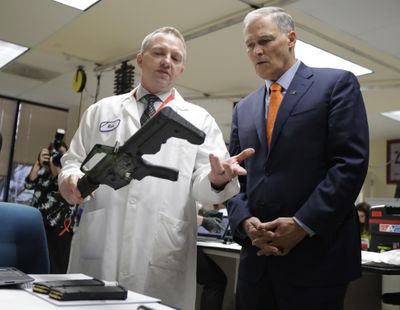 OLYMPIA – Washington would ban certain trigger devices that allow semi-automatic rifles to fire more rapidly under a bill approved by a Senate panel Tuesday.
On a party-line vote, the Law and Justice Committee approved Senate Bill 5992 after rejecting a Republican bid to allow them to be sold if the purchaser passes a federal firearms background check.
The devices, known as bump stocks or bump-fire stocks, were used in the Las Vegas mass shooting to increase the firing rate of some rifles used by shooter Stephen Paddock. At a hearing Monday, survivors and family members of victims of that mass shooting described the rain of bullets.
Sen. Mike Padden, R-Spokane Valley, said the Las Vegas shooting was "horrific" but preventing future events might be better addressed through improved mental health programs. The devices were originally designed to help shooters with disabilities that make it difficult for them to pull a trigger.
But committee Chairman Jamie Pedersen, D-Seattle, said the state has had a long-standing law against automatic weapons, and bump stocks essentially turn a semi-automatic weapon into an automatic one. The definition of bump stocks and other trigger devices that would be banned could be revised as the bill moves through the Legislature, he said.
According to testimony at Monday's hearing on SB 5992 and four other gun control bills, bump stocks are relatively rare in Washington.
While the other gun bills may undergo some changes before the committee votes on them, Democratic leaders said the full Senate could vote on the bump stock bill as soon as Pedersen says it's ready.
At a Republican leadership press conference after the committee hearing, Sen. Jan Angel, of Port Orchard, questioned the need for a ban: "Are we going to make laws for every single person in Washington based on what a bad person did?"
Senate Republicans haven't measured the support for the bill among their members, Minority Leader Mark Schoesler, of Ritzville, said. But the bill does have some GOP support: its 21 co-sponsors include two Republicans.
Local journalism is essential.
Give directly to The Spokesman-Review's Northwest Passages community forums series -- which helps to offset the costs of several reporter and editor positions at the newspaper -- by using the easy options below. Gifts processed in this system are not tax deductible, but are predominately used to help meet the local financial requirements needed to receive national matching-grant funds.
Subscribe now to get breaking news alerts in your email inbox
Get breaking news delivered to your inbox as it happens.
---