News > Spokane
Cougar fans urge focus on mental health after Tyler Hilinski's apparent suicide
Jan. 17, 2018 Updated Thu., Jan. 18, 2018 at 12:10 p.m.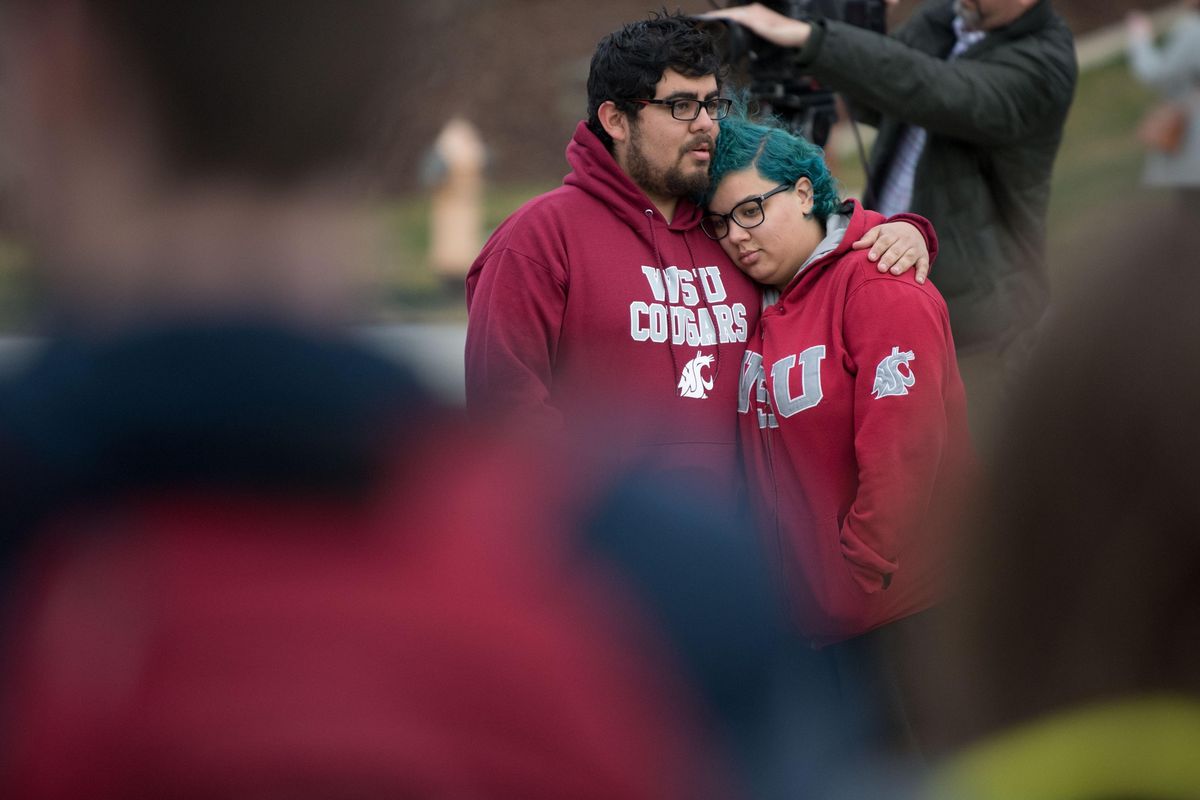 Marching Band members Rick Flores, left and Amber Yiust embrace in grief over the loss of WSU quarterback Tyler Hilinski during a brief memorial held on Wednesday, Jan. 17, 2018, near the Cougar Pride statue outside Martin Stadium in Pullman, Wash. (Tyler Tjomsland / The Spokesman-Review)
Condolences have poured in for the family of Washington State University quarterback Tyler Hilinski, who was found dead of apparent suicide in his Pullman apartment on Tuesday night.
After news of Hilinski's death surfaced, members of the college football community took to Twitter to share the National Suicide Prevention Lifeline – (800) 273-8255 – and plead with people to seek help for themselves and others who are struggling.
"Absolutely heartbreaking news," wrote Oregon State quarterback Jake Luton. "I pray that everyone, athletes included, PLEASE seek the help you need."
Others wondered why someone like Hilinski, a vibrant and well-liked 21-year-old with a promising football career, would choose to end his life. "Hard to believe someone who seemed to have so much going for him could be so troubled," one Twitter user wrote.
In 2015, suicide was the second-leading cause of death among people ages 15 to 34, and the 10th-leading cause overall in the United States, according to the Centers for Disease Control and Prevention. The number of documented suicides that year, 44,193, dwarfed the number of homicides, 17,793.
Sabrina Votava, a suicide-prevention advocate in Spokane, said males are about four times as likely as females to die by suicide. And most people who attempt suicide grapple with mental illness or substance abuse, or both, although sometimes those conditions go undiagnosed.
"Depression is our No. 1 risk factor for suicide," Votava said. "Across all ages, 90 percent of people who die by suicide have a diagnosable mental health issue at the time of their passing." And for about 60 percent of people who take their own lives, she said, "it's depression that they're dealing with."
Votava founded FailSafe For Life, a nonprofit devoted to educating people about suicide risks, in 2016. She is motivated by the deaths of her brothers, Zach and Kacey, who ended their lives within six months of each other in 2003.
Zach, who died at 22, "was a recent college graduate with a degree in plastics engineering," Votava said. "Just a very, very bright man."
Kacey, who was 23, "just had a new job offer," she said. "He had kind of a rough year earlier in the year, but it seemed like things were turning around for him."
Speaking generally, Votava said people often mistakenly assume that others who are "successful" or "high-functioning" are mentally healthy and at low risk of suicide.
"Usually when someone is struggling with a mental health issue, we still correlate it with bad life circumstances," she said. But, "no one is immune to mental health problems."
Votava urged people to routinely ask their loved ones how they're doing, if they are OK, and to really listen. She said that in the wake of her brothers' deaths, it was difficult for her family to learn about all the warning signs they had missed.
"We didn't know what to look for," she said. "I didn't realize this information was out there. I didn't realize there was something I could do."
Pullman police said in a statement Tuesday night they had found Hilinski's body beside a rifle and a suicide note after he did not show up to football practice earlier in the day. They said a gunshot wound to his head appeared to be self-inflicted.
Chief Gary Jenkins said officers interviewed Hilinski's friends, coaches and teammates Wednesday in an effort to "recreate the events that transpired before his death." Hilinski's family arrived in Pullman on Wednesday morning from their home in Irvine, California, and will also be interviewed.
Jenkins said the department will continue conducting interviews throughout the week with those who may be able to provide evidence, but he doesn't expect that police will be able to report any new information until next week at the earliest.
Spokesman-Review reporter Theo Lawson contributed to this story.
Local journalism is essential.
Give directly to The Spokesman-Review's Northwest Passages community forums series -- which helps to offset the costs of several reporter and editor positions at the newspaper -- by using the easy options below. Gifts processed in this system are not tax deductible, but are predominately used to help meet the local financial requirements needed to receive national matching-grant funds.
Subscribe now to get breaking news alerts in your email inbox
Get breaking news delivered to your inbox as it happens.
---