Sports
Grip on Sports: Competition takes a back seat after what happened in Pullman yesterday
Wed., Jan. 17, 2018 A GRIP ON SPORTS • The news from Pullman concerning Tyler Hilinski last night made it hard to sleep. Three words, all of them beginning with the letter "S," kept running through our head. And another word. Why? Read on.
••••••••••
• No one will ever really know the answer to the why Tyler Hilinski died Tuesday night of an apparent suicide. That's a question that's always left for us to deal with after such an action. It lingers, always in our mind, coloring our days.
So are emotions.
There is sadness. And sorrow. It's so hard to understand, to deal with. Our first thought when the news broke last night was to think of Tyler's parents, whose sadness and sorrow must know no limits. It made us want to cry. And we did.
We are crying a bit now. Sure hope it's OK, because it isn't stopping.
It so hard to understand death at any time, but when it comes to someone so young, so bright, so alive, it's nearly impossible to comprehend.
We are always left searching for the reasons, no matter the circumstances. Through the sorrow. Through the sadness.
But there is another emotion we felt last night. And a word we kept uttering, one our President reportedly used a variation of recently.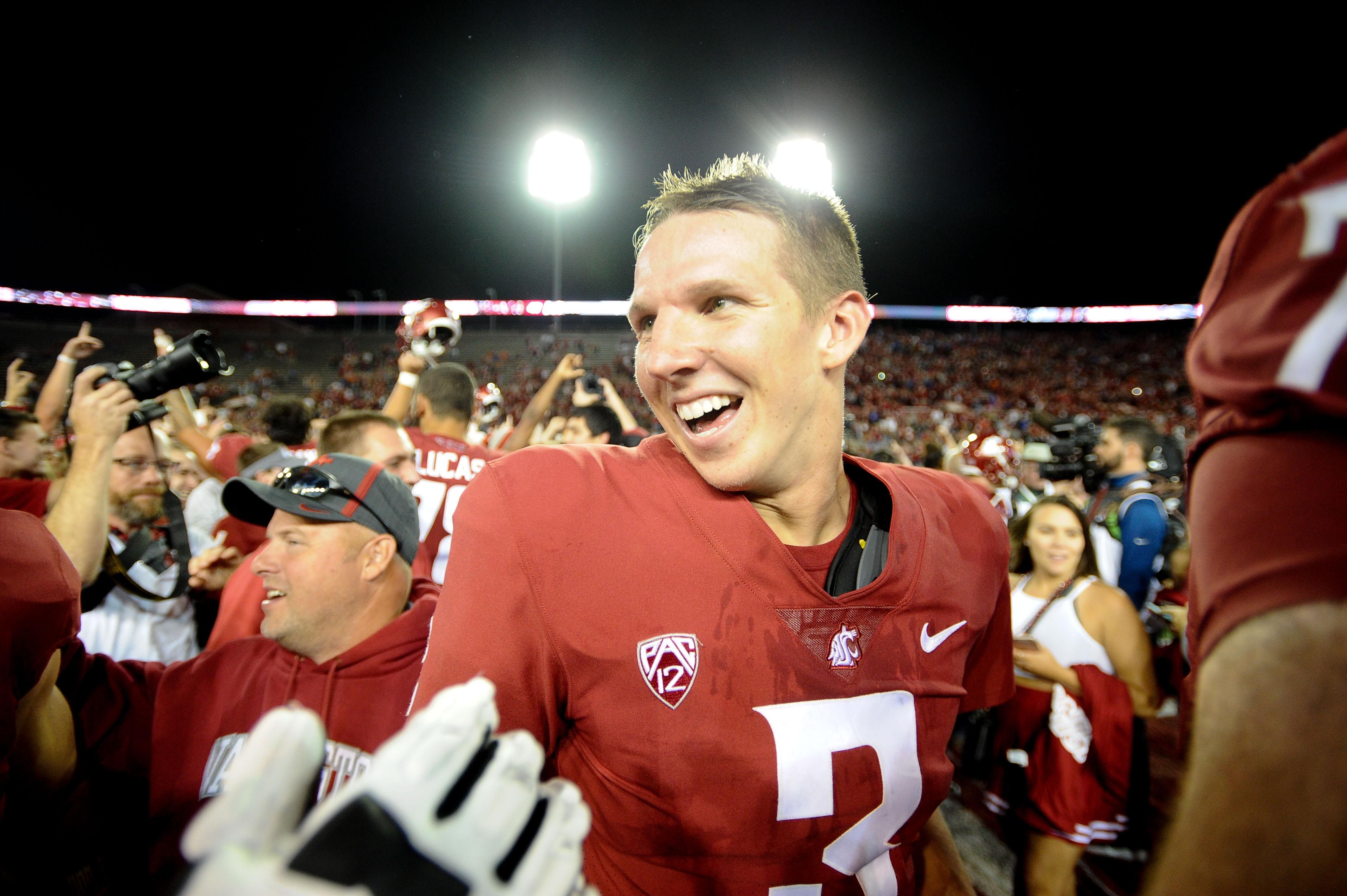 We uttered it under our breath 10, 20 times as we lied awake, searching for relief that wouldn't come.
There is anger with the sadness, with the sorrow. Not directed at anyone in particular but just at what life is, and what it isn't. And how we never know what our fellow man and woman is really feeling.
And how the only answer is to let everyone around you know how you feel about them. That they are loved. They are prized. They are valued. Not just for what they can do, but for who they are.
Love, as smarter people than myself have said over the centuries, really is the answer. To all our questions.
•••
WSU: There are hard days to be a reporter and then there are really, really hard days. Yesterday was one of those days for Theo Lawson, I'm sure. He has the story on Hilinski's death, one that no one ever wants to write. And he helped relay how others dealt with the news. … Before all this happened, Theo shared the name of Washington State's next athletic director, Pat Chun. The Florida Atlantic AD has a reputation as a fund-raiser, which seemed to be the first priority with this hire. He was to be introduced today but that introduction was postponed. … Theo also had a story on the suspension of a basketball reserve and video of Ernie Kent's weekly press conference. … Finally, Theo shared with us a transcript of new defensive coordinator Tracy Claeys' conference call. … The Times Stefanie Loh has her coverage of the Hilinski news as well as the new athletic director. … Hilinski was a Southern California kid and we have a story from that area. … Larry Stone grabs some happy moments from the melancholy of Keith Jackson's recent death.
Elsewhere in the Pac-12, we are about halfway through the basketball season, so it's time for halfway awards, right? … Former Washington coach Lorenzo Romar is doing fine in Tucson. … Oregon State felt it missed some chances last weekend. … Oregon picked up some positive vibes from its weekend in the desert. … Arizona State guard Shannon Evans has come a long way. … The Arizona Wildcats have recruited more than their share of McDonald's All-Americans. That could end this year, thanks in part to the FBI probe. … Colorado will have to deal with the second half without a key player. … Utah hopes to get one back to 100 percent soon. … UCLA didn't let its best offensive player make plays down the stretch in the Colorado loss. … In football, Washington has to be the conference favorite for next season. … Arizona's hire of Kevin Sumlin comes at the right time.
Gonzaga: With Saint Mary's coming to Spokane for tomorrow's West Coast Conference showdown, Jim Meehan reached into the past for some of the better games between the two rivals. … Around the WCC, it's a big weekend for Bay Area hoops and the Saint Mary's game is part of it. … BYU has a defensive stat that's name seems a little out of place.
EWU: As Bill Chaves was introduced in Grand Forks, an event Jim Allen covered via telegraph or telephone or some other modern conveyance, the Eagles were left wondering how to cover a budding and building deficit. Jim also has a story on what's on the table to deal with it.
Preps: We went out to watch a high school basketball game last night, and so did a lot of other people, if the pictures from the Arena can be trusted. (Just kidding, of course they can.) Dave Nichols was at the Rubber Chicken and covered Lewis and Clark's last-second win in the first of the rivalry games. … We also can pass along GSL boys and girls basketball roundups as well as roundups of girls and boys hoop action around the area.
Seahawks: There are a few things you never say to a police officer when pulled over for a traffic stop. "I was more high than anything" is really close to the top of the list. … The staff moves were made official yesterday. The Hawks are dipping into their past to try to regain lost glory. … Only one Seahawk rookie earned an honor.
Mariners: So you are telling me there is a chance?
•••       
• Sorry for the inadequate words this morning, but we did our best. Sometimes it's tough to express our thoughts and feelings – and to know how deep to delve into them. I hope everyone out there has a chance today to make someone else's day a bit brighter. It's a responsibility we should never forget. Until later … 
Local journalism is essential.
Give directly to The Spokesman-Review's Northwest Passages community forums series -- which helps to offset the costs of several reporter and editor positions at the newspaper -- by using the easy options below. Gifts processed in this system are not tax deductible, but are predominately used to help meet the local financial requirements needed to receive national matching-grant funds.
Subscribe to the sports newsletter
Get the day's top sports headlines and breaking news delivered to your inbox by subscribing here.
---