News > Idaho
Group wants lethal traps banned in Idaho wolverine habitat
UPDATED: Thu., Jan. 18, 2018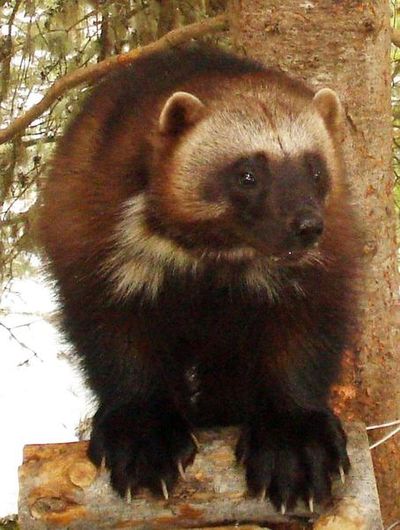 BOISE – An environmental group has asked Idaho officials to prosecute a trapper who killed a wolverine and ban lethal traps in areas inhabited by wolverines, but state officials say they will do neither.
The Center for Biological Diversity made the request Tuesday in a letter to Idaho Department of Fish and Game Director Virgil Moore after obtaining some of the agency's internal documents through a public records request.
The group also sent a copy of the letter to the U.S. Fish and Wildlife Service, which is considering federal protections for wolverines.
Idaho has not allowed a hunting or trapping season for wolverines since 1965.
Documents the Center obtained through a public records request show Fish and Game investigators reported the snare that killed the wolverine in December lacked a mandatory addition called a "stop," which prevents the snare from tightening all the way and choking to death non-targeted species.
"When any regulation is not enforced, the incentive to follow the law is lost," said Andrea Santarsiere, senior attorney with the Center for Biological Diversity.
Fish and Game spokesman Roger Phillips said Thursday that the agency is not going to prosecute the trapper and will not ban lethal traps in wolverine habitat. He said wildlife officials have discretion when it comes to prosecuting possible violations.
"We investigated it, and we did not issue a citation," he said Thursday.
The Idaho trapper, as required by state trapping regulations, reported on Dec. 10 to Fish and Game finding the adult female wolverine caught in his trap in Lemhi County. The trapper told officials he estimated the wolverine had been snared one or two days earlier, based on its semi-frozen condition.
Fish and Game officials conducted an investigation resulting in a six-page memorandum by wildlife biologist Beth Waterbury sent in an email to agency officials at about 10:30 a.m. on Dec. 12 and obtained by the Center through its public records request.
"There was no stop on the snare loop," Waterbury wrote.
Fish and Game Wildlife Bureau Chief Scott Reinecker about an hour later emails a communications worker to hold off putting out a news release because there may be a "trapping violation we need to look into." A few minutes later he sent an email to wildlife biologists asking how they discovered the snare didn't have a stop.
Waterbury responded within half an hour that she specifically asked the trapper, whose name is redacted, whether the snare had a stop, and the trapper said it didn't. She said the agency didn't examine the snare.
Phillips noted that the snare might have had another device called a breakaway, which releases if an animal larger than intended is caught in the snare, and would make the snare legal. However, he said, investigators don't know if the snare had such a device. Phillips said he didn't know why investigators didn't find out.
The documents also said the trapper was targeting foxes, which are typically smaller and not as strong as wolverines.
The decision not to prosecute "is just another example of Idaho Fish and Game protecting trappers to the detriment of our wildlife," Santarsiere said.
Wolverines were wiped out across most of the U.S. by the 1930s. In the Lower 48 states, an estimated 250 to 300 wolverines survive in remote areas of Montana, Wyoming, Idaho, Oregon and Washington state.
Santarsiere said she sent a copy of the letter to Fish and Wildlife's headquarters in Washington D.C. on Tuesday. Leith Edgar, a spokesman for the federal agency, said Thursday the agency hadn't yet received it.
"We look forward to receiving the letter, assessing its merits, and then determining whether it will be a factor in our analysis of the status of wolverines under the Endangered Species Act," he said.
Local journalism is essential.
Give directly to The Spokesman-Review's Northwest Passages community forums series -- which helps to offset the costs of several reporter and editor positions at the newspaper -- by using the easy options below. Gifts processed in this system are not tax deductible, but are predominately used to help meet the local financial requirements needed to receive national matching-grant funds.
Subscribe to the Coronavirus newsletter
Get the day's latest Coronavirus news delivered to your inbox by subscribing to our newsletter.
---