News > Local government
Ethics Commission revives complaint against Mayor David Condon stemming from Frank Straub dismissal
Fri., Jan. 19, 2018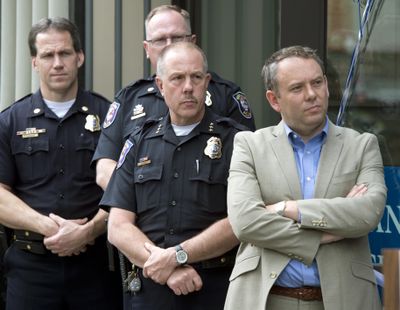 A statement made by Mayor David Condon more than two years ago – in which the mayor answered a question from the Spokane City Council about the ouster of former police Chief Frank Straub – has drawn renewed interest from the city's Ethics Commission.
The panel voted unanimously Wednesday to hold a hearing on a complaint filed by former City Council President Joe Shogan alleging dishonesty in a private meeting with lawmakers held the day before Straub's forced resignation was announced.
Condon, through attorney James King, has contended Shogan's multiple complaints to the ethics panel for a flurry of statements – both public and private – surrounding Straub's ouster already have been dismissed or are refuted by the findings of an independent human resources investigation into the incident.
The commission did not rule on the merits of the complaint, only to publicly address the allegations. That could include subpoeanas of the mayor and City Councilwoman Karen Stratton, whose signed affidavit alleging dishonesty prompted, in part, the decision by the panel to take another look at the case.
Shogan, who filed his first complaint in the matter in December 2015, said the volunteer panel's decision to hear the case would compel Condon to explain his statements about the handling of Straub's removal. It's the first of Shogan's five complaints against the mayor that has reached a full hearing, after previous allegations were dismissed for lack of evidence and redundancy with other claims, including one by the National Organization of Women that was settled by Condon in fall 2016.
"All I want is the hearing," Shogan said Thursday. "If I lose in the hearing, fine. So be it."
Brian Coddington, a spokesman for the mayor's office, said Condon had no additional comment on the ethics panel's decision to move forward to a hearing. King was not available for comment on the case Thursday. A date for the hearing has not been set, but the commission is scheduled to meet next in March.
Ethics commission members, who met officially for the first time Wednesday after lacking a quorum since July, were swayed to take another look at the dishonesty complaint after Shogan secured the affidavit from Stratton last spring. That sworn statement was prepared after the ethics commission tossed Shogan's previous complaint last February, citing a lack of specific evidence.
Stratton, who frequently has butted heads with Condon on hiring and most recently the city's budget, said she believed Condon was "untruthful and dishonest" when he denied that his decision to ask for a resignation was connected to Monique Cotton, a former police spokeswoman, in response to her question witnessed by several council members and the mayor's staff at a private meeting held Sept. 21, 2015. Straub's departure was announced the next day.
Public records requested by The Spokesman-Review and released after Condon's election to a second term showed that Cotton had approached the mayor and his staff in April of 2015 about alleged sexual harassment, and she quickly was moved to a higher-paying position in the parks department.
"I do not believe he was being honest, knowing what we knew," Stratton said. "It did have something to do with Monique."
That sentiment is contradicted in the findings of the Seabold Group report, a document prepared by attorney Kris Cappel after her investigation into the case.
"Ms. Cotton was not a factor in the Mayor's decision," Cappel wrote. "At most, she was one of many who had been exposed to Chief Straub's abusive management style."
Stratton said she didn't dispute that the letter from police leadership might have influenced Condon's decision to force Straub out, but it was up to the Ethics Commission to determine if his answer to her question in the private session constituted dishonesty under the city's code.
"I feel comfortable in every statement I made. If that helps make an argument either way, then so be it," Stratton said. "When you take all that information together, and you look at what the end result was, there was a lot more to that firing than just a letter from the lieutenants."
Straub's last day with the Spokane Police Department was more than two years ago. Cotton left her position with the city soon after. A federal lawsuit from the former police chief alleging wrongful termination was dismissed in June 2016, but remains under appeal.
In November, the city agreed to pay $165,000 to settle a lawsuit from Nancy Goodspeed, the parks employee who said she was unfairly replaced by Cotton due to her age and health issues. The city also paid $50,000 to a former Spokane Police detective who filed a lawsuit over the delayed release of records in the case.
City Council President Ben Stuckart, who after the release of the Cappel report called for resignations at City Hall but has since taken a more collaborative tack with Condon, said Thursday he supported the Ethics Commission doing their work.
"If they think there's merit, I think they should hear it," Stuckart said. "Every citizen deserves their rights that we've set up through the Ethics Commission."
"I've moved on, but that doesn't mean that's for everybody," Stuckart added.
Shogan said he believes the public deserves a hearing on his case.
"They're going to have to have him come down here, or do an affidavit, or we win," Shogan said. "He's got to do something."
All members of the ethics panel voted to hold the hearing except chairman Dennis Cronin, who's recused himself due to a friendship with Stratton. The other members of the commission are Kenneth Hall, Sarah O'Hare, Brian Steverson, Amina Fields, Clayton McFarland and Michelle Bleek, all appointed during Condon's term in office. The panel, if it finds a violation, may impose fines or issue a written letter of reprimand if the violation wasn't willful.
Local journalism is essential.
Give directly to The Spokesman-Review's Northwest Passages community forums series -- which helps to offset the costs of several reporter and editor positions at the newspaper -- by using the easy options below. Gifts processed in this system are not tax deductible, but are predominately used to help meet the local financial requirements needed to receive national matching-grant funds.
Subscribe now to get breaking news alerts in your email inbox
Get breaking news delivered to your inbox as it happens.
---