A&E > Stage
Spokane Civic Theatre's production of 'Virginia Woolf' holds attention beyond final curtain call
Jan. 21, 2018 Updated Sun., Jan. 21, 2018 at 6:31 p.m.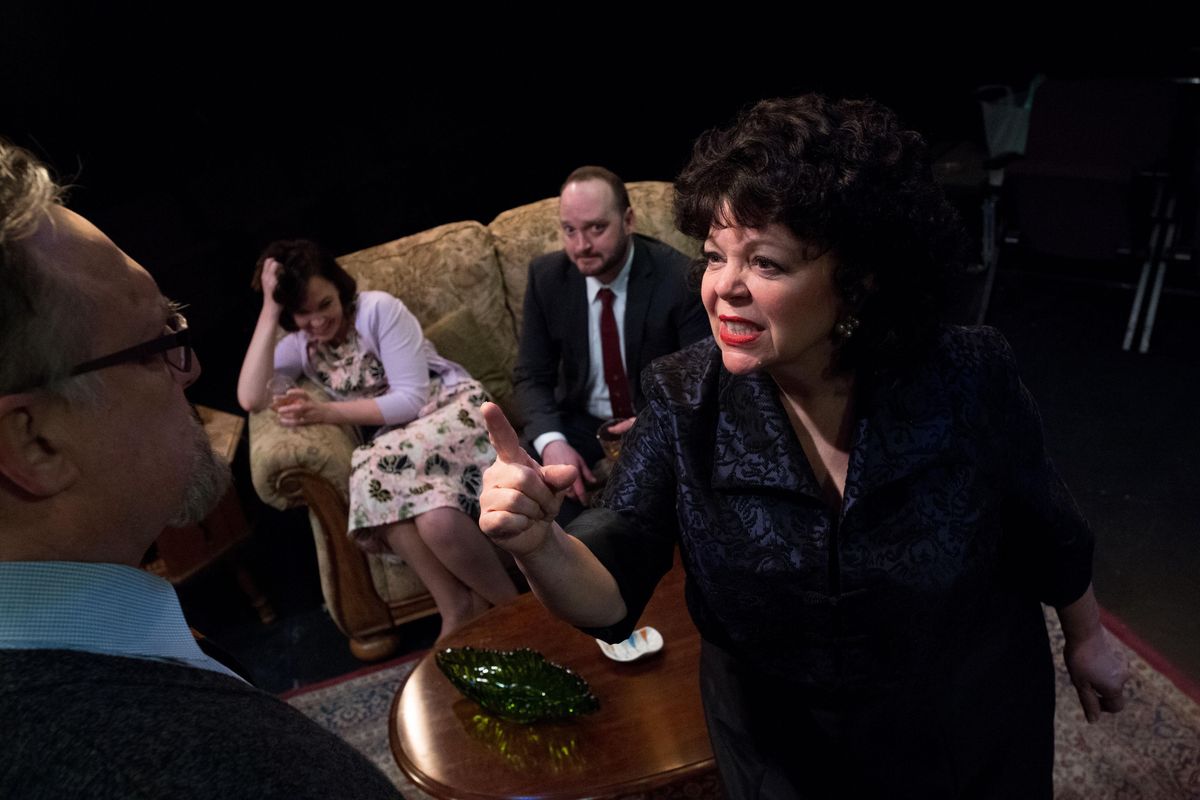 Mary Starkey, right, playing Martha, and Jamie Flanery, left, playing George; act out a scene with Emily Jones, background left, playing Honey, and Danny Anderson, background right, playing Nick during a rehearsal of Who's Afraid of Virginia Woolf?" on Monday, January 15, 2018, in Spokane, Wash. Tyler Tjomsland/THE SPOKESMAN-REVIEW (Tyler Tjomsland / The Spokesman-Review)
"Truth and illusion. Who knows the difference?"
This line, uttered by the character George, encapsulates the entirety of Spokane Civic Theatre's "Who's Afraid of Virginia Woolf?"
The plot seems innocent enough.
George (Jamie Flanery), a university professor, and Martha (Mary Starkey), his wife and the daughter of the university's president, a well-to-do middle-age couple, invite Nick (Danny Anderson), a new-in-town biology professor, and his wife, Honey (Emily Jones), to their home following a university faculty party.
But Nick and Honey, and the audience, quickly learn that the evening won't be as pleasant as it seemed on paper, as George and Martha waste no time trading taunts and verbal abuse.
Over the course of the night, unsavory pieces of information from both couples' relationships come to light, adding even more tension to the evening, which eventually culminates in an explosive revelation.
Director Troy Nickerson's decision to stage this production in the round was genius, as it allowed every single member of the audience, no matter where they were sitting, to feel like they were a fly on the wall in George and Martha's living room.
His casting choices were also spot on.
Flanery and Starkey made the perfect odd couple, alternating between harmless ribbing and vicious barbs.
The pair genuinely seemed like they'd been married for years. They both knew just the right buttons to push to upset the other and almost gleefully rehashed old wounds even though the other begged them not to.
The pair was also fun to watch when they teamed up to tease Nick after his lackluster performance with Martha.
Anderson and Jones, too, were fantastic as Nick and Honey.
Anderson went toe-to-toe with Flanery in their many scenes together, and though her role wasn't as big as Anderson's, Jones commanded the audience's attention when she was onstage, realistically getting more and more drunk as the night went on and adding humor to tense moments by making proclamations like "I dance like the wind!"
"Who's Afraid of Virginia Woolf?" is a long play, weighing in at three and a half hours including two 10-minute intermissions, but the quartet's performance of Edward Albee's writing easily kept the audience engaged.
I found myself so engrossed with the quartet that, even though I read several summaries and reviews of the play to prepare to write a preview article, I was still surprised by various plot points in the show, as when George brought out (slight spoiler) a weapon that is not as it seems, for example.
While driving home, I started to wonder if things would be different for the couples, however fictional, after that night.
Would George and Martha after their closing embrace, the pair's seemingly first sincere moment of the night, start anew the next day?
Or, on the other hand, would things go right back to the way they were after the pair's hangovers wore off?
And did this night bring Nick and Honey closer together, or did the fact that secrets were revealed start to tear them apart?
Either way, a production that holds your attention after the curtain call is a production very well done.
Local journalism is essential.
Give directly to The Spokesman-Review's Northwest Passages community forums series -- which helps to offset the costs of several reporter and editor positions at the newspaper -- by using the easy options below. Gifts processed in this system are not tax deductible, but are predominately used to help meet the local financial requirements needed to receive national matching-grant funds.
Subscribe to the Spokane7 email newsletter
Get the day's top entertainment headlines delivered to your inbox every morning.
---