News > Spokane
Spokane Schools pull milk cartons after students find them filled with cleaning solution
Jan. 23, 2018 Updated Tue., Jan. 23, 2018 at 8:34 p.m.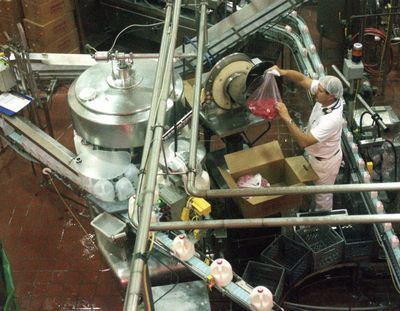 Spokane School officials raced Tuesday to pull all of the cartons of milk dated Feb. 6 after a Shadle Park High School student opened a Darigold chocolate-milk container only to find a white liquid that turned out to be a mixture of water and cleaning solution.
District spokesman Kevin Morrison said some of the Shadle Park students noticed that their milk cartons were only partially full or contained a milky-white liquid that definitely didn't look like chocolate milk.
"I don't know exactly how many students drank it," Morrison said. "As soon as (school officials) noticed it, they pulled it immediately."
One of the district's four regional nutritional supervisors just happened to be at Shadle Park for its lunch period. Once the first student came forward, the supervisor and the kitchen manager pulled every Darigold carton dated Feb. 6.
"Milk has gone sour before its pull date. That happens," Morrison said. "But this is the first time any of us have come across this sort of thing."
Darigold spokeswoman Sarah Taydas said testing results late Tuesday determined the chocolate milk containers contained "trace amounts of food-grade sanitizers and water."
"There was no human health risk," she said.
Morrison said Darigold is the single-source provider of milk for Spokane Public Schools. After the defunct cartons were discovered, "We immediately pulled all the chocolate milk with that date on it throughout the district."
The nutritional supervisor followed the Darigold supply route and pulled all of the Feb. 6 milk from nearby Glover Middle School. None of the elementary schools were affected because they only use milk pouches and not the milk containers used at the secondary schools, he said.
School officials didn't receive any other reports other than the students at Shadle Park.
"We are still in contact with Darigold to find out specifically what happened," Morrison said.
About 16,000 cartons were delivered with the Feb. 6 date.
Taydas noted that the company has a "voluntary withdrawal of that school milk product, out of an abundance of caution. This means that we will communicate to our customers that they immediately remove those particular cartons of Darigold chocolate milk from their inventory and store shelves."
The withdrawal only applies to the milk produced at the Spokane plant, which is fat free chocolate milk in half-pint cartons with a "best by date" of Feb. 6.
"We have talked with the state Department of Agriculture and notified them of the voluntary withdrawal," Taydas said. "Food safety and consumer health is a top priority for Darigold. We are working to determine the facts and as soon as we have confirmation, we will provide an update."
Local journalism is essential.
Give directly to The Spokesman-Review's Northwest Passages community forums series -- which helps to offset the costs of several reporter and editor positions at the newspaper -- by using the easy options below. Gifts processed in this system are not tax deductible, but are predominately used to help meet the local financial requirements needed to receive national matching-grant funds.
Subscribe now to get breaking news alerts in your email inbox
Get breaking news delivered to your inbox as it happens.
---