News > ID Government
Rep. Heather Scott helps lead unsuccessful move to derail routine tax bill over same-sex marriage
Jan. 24, 2018 Updated Wed., Jan. 24, 2018 at 9:40 p.m.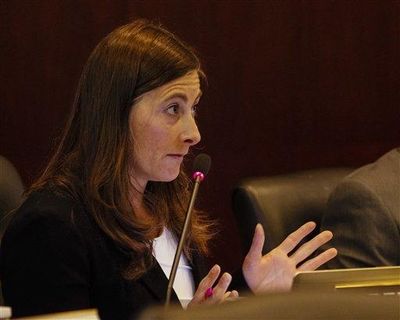 BOISE – Two Idaho legislators unsuccessfully tried to stop a routine tax bill in an effort to take a stand against same-sex marriage.
The state Tax Commission requested the bill in the Idaho House make 2017 Idaho income tax laws conform to federal changes. Little fiscal impact is expected, but Reps. Ron Nate, R-Rexburg, and Heather Scott, R-Blanchard, spoke out against passing the bill, saying it would amount to bowing to federal pressure to overlook the invalidated clause that's still in the Idaho Constitution prohibiting same-sex marriage.
Same-sex marriage has been legal in Idaho since a 2014 federal court ruling; the U.S. Supreme Court ruled it legal nationwide in 2015.
"It does not matter which side of the issue you are on, we have sworn an oath to uphold our Constitution," Scott declared. "And by passing this, we put every bureaucrat in our state government in a position where they are going to follow the tax conformity law and recognize marriage, which, we're causing them to break their oath."
House Minority Leader Mat Erpelding, D-Boise, spoke out forcefully against the move.
"If this is truly about a constitutional argument … then we can admit removing it from the Constitution would be the best way." He said, "The reality is that human rights are what unite the people of this country, not states' rights. So if the argument is constitutional, then support getting it out of the Constitution, just as we did when this state made the mistake of banning other citizens from voting. Humans make mistakes. If you want to argue that it's about the Constitution, then do it, but don't hide behind the Constitution to be discriminatory."
Idaho's Constitution long banned Mormons from voting. Voters finally removed that long-invalidated clause from the state Constitution in 1982, but even then, 34.3 percent of Idaho voters voted against its repeal.
Rep. John McCrostie, D-Boise, the House's only openly gay member, rose to ask permission to mention a personal bill he'd just introduced to eliminate the anti-same-sex marriage clause from Idaho's Constitution.
Rep. Fred Wood, R-Burley, objected to him speaking about his proposal, and requested to close the debate – a move that requires a two-thirds vote. That narrowly failed, 43-26; it needed 47 votes.
Every member of the House's GOP leadership voted against Wood's motion.
Though debate was allowed to continue, McCrostie still was not allowed to mention his other bill.
He told the House, "The way to fix the conflict … is not to vote against this bill. It is to pass a different bill."
The tax bill then passed, 64-5; it now moves to the Senate. The only "no" votes came from Reps. Nate and Scott; Karey Hanks, R-St. Anthony; Paul Shepherd, R-Riggins; and newly appointed Rep. Barbara Ehardt, R-Idaho Falls.
Local journalism is essential.
Give directly to The Spokesman-Review's Northwest Passages community forums series -- which helps to offset the costs of several reporter and editor positions at the newspaper -- by using the easy options below. Gifts processed in this system are not tax deductible, but are predominately used to help meet the local financial requirements needed to receive national matching-grant funds.
Subscribe now to get breaking news alerts in your email inbox
Get breaking news delivered to your inbox as it happens.
---