Sports > Gonzaga basketball
Analysis: Up-and-down Gonzaga finishes on high note against USF
Jan. 27, 2018 Updated Sat., Jan. 27, 2018 at 11:35 p.m.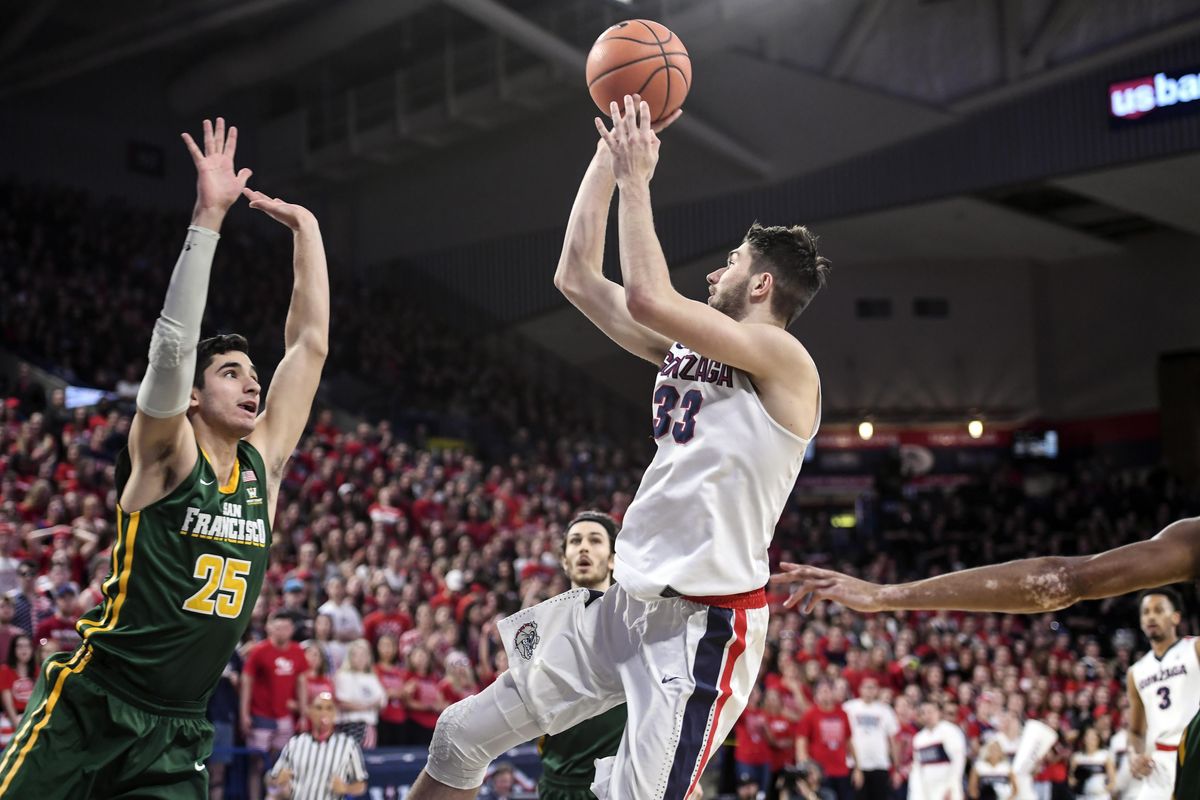 Gonzaga forward Killian Tillie is fouled by San Francisco forward Jordan Ratinho and makes the shot, Saturday, Jan. 27, 2018, in the McCarthey Athletic Center. (Dan Pelle / The Spokesman-Review)
Ten great minutes. Ten lousy minutes. Twenty edge-of-your seat minutes.
No. 15 Gonzaga showed every side of its basketball personality, both good and bad, but found a way to hold off San Francisco 82-73 in front of 6,000 nervous fans Saturday at the McCarthey Athletic Center.
GU's defense was stellar early, then struggled for a lengthy portion before making a huge difference in the final 2 minutes with the outcome hanging in the balance.
The offense was smooth in the opening 10 minutes but took a nap for the rest of the half. The Zags returned to top form with a 50-point second half.
Johnathan Williams? Quiet in the first half, huge in the second.
"I told him he saved us," junior guard Josh Perkins said. "We expect him to do that."
The coach? Pragmatic.
"I wouldn't say I would use the consistent word with anybody in our program," Mark Few said.
For example, take this three-play sequence in the second half: Corey Kispert drove baseline for a dunk, followed by Williams' ill-advised post entry pass that led to a turnover and then the 6-foot-9 Williams picked off a pass and dribbled the length of the court for a layup.
Williams produced 13 of his 16 points in the second half, five during an 11-2 spurt that allowed GU to open up a 62-52 lead. He added four straight free throws that kept the Zags on top 78-73 with 2 minutes left.
"Just a mixture of me trying to get into the game mentally and my teammate Jeremy (Jones) was there to say a few things to get me going," Williams said of his second-half resurgence.
Williams sealed the win with a pair of blocks inside the final 2 minutes on USF guards Frankie Ferrari and Jordan Ratinho, who combined for 30 points. The senior forward swatted Ferrari's layup attempt. With 30 seconds left, Ratinho appeared to be alone in the lane but Williams came down from the elbow of the free-throw line to reject Ratinho at the rim.
"I saw the dude with an open lane," Williams said. "I'm athletic enough to get there and try to block the shot."
Gonzaga (19-4, 9-1 West Coast Conference) had one of its best stretches of the season, building a 29-11 lead after a Silas Melson 3-pointer with 10:20 left. It looked like the rout was on, but USF had other ideas.
Ten minutes later, Gonzaga had managed just one field goal and one free throw, and the Dons (12-11, 4-6) had closed within 32-29 at the break.
"That's the toughest thing right now," Few said. "We're getting a great play here, then a foolish play or an inattentive play. It's quite a battle with the whole group."
San Francisco's rally began with Jamaree Bouyea's seven-point run, the last 3 coming on an off-balance 25-footer that found the mark with the shot clock about to expire. From there, the buckets came easier as reserve center Jimbo Lull maneuvered inside on Williams for a layup and Ratinho got loose on a back-door cut.
"We just have to slow down. We took a couple bad shots," Zags wing Zach Norvell Jr. said. "On the defensive end, we weren't finishing out the possession."
San Francisco deserves some credit for Gonzaga's defensive issues. The Dons were patient, connecting for several buckets late in the shot clock. They have some crafty playmakers, led by Ferrari, Ratinho and Chase Foster, who missed Gonzaga's 75-65 win in San Francisco two weeks ago with an ankle injury.
The Dons, who have played the Zags tougher than anybody in GU's nine conference wins, made nine 3-pointers and shot 51 percent from the field. They can be a handful to guard.
"Their ability to cut and how fast they run is a big part of it," Norvell Jr. said. "Their ability to shoot the ball, too. You have to protect the back cut, but also know they can come off and drill a 3."
The Dons never led, but they tied it at 45 with 14:45 left. Gonzaga moved back in front 62-52, but USF countered with a pair of 3-pointers by center Matt McCarthy, a 3 by Ferrari and three-point play by Ratinho.
The Zags finished with a burst, making eight consecutive free throws and holding USF scoreless over the final 2:20.
"We showed a much greater ability to finish the right way than we did against Saint Mary's down the stretch," Few said.
Local journalism is essential.
Give directly to The Spokesman-Review's Northwest Passages community forums series -- which helps to offset the costs of several reporter and editor positions at the newspaper -- by using the easy options below. Gifts processed in this system are not tax deductible, but are predominately used to help meet the local financial requirements needed to receive national matching-grant funds.
Follow along with the Zags
Subscribe to our Gonzaga Basketball newsletter to stay up with the latest news.
---