This column reflects the opinion of the writer. To learn about the differences between a news story and an opinion column, click here.
Opinion > Column
Eye on Boise: Otter's higher ed CEO proposal gets rocky reception in Legislature
Sun., Jan. 28, 2018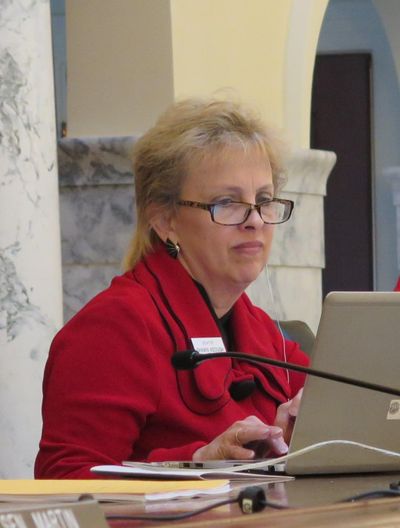 Idaho Gov. Butch Otter's proposal to add a high-paid new CEO of higher education next year to oversee consolidating business functions among the state's universities drew heavy flak in the state Legislature last week.
Otter is proposing $500,000 for a "systems integration consultant" next year, plus ongoing funding for a new executive officer to oversee the newly consolidated functions, at a salary of roughly $200,000. That would make the new CEO the state's highest-paid employee other than university presidents and top football and basketball coaches.
First, lawmakers on the Joint Finance-Appropriations Committee raised big questions about the proposal when the Office of the State Board of Education had its budget hearing Monday. Among them: To whom would the new CEO report? And how much money would the move save the state?
Matt Freeman, executive director of the Idaho State Board of Education, said, "Certainly it's going to cost money to save money – there will be an upfront cost for this."
He pointed to Maine, which went through a similar process. However, that state ended up going with a chancellor system for its universities – not a CEO over multiple independent universities. Freeman said Maine saved enough to freeze tuition for six years.
Rep. Wendy Horman, R-Idaho Falls, asked why the governor wouldn't wait until he'd received the consultant's study to recommend adding the executive officer.
David Hahn, budget analyst for the Division of Financial Management, said both processes will move forward in tandem, and the state board hopes to move forward with the consulting contract on July 1. "There's no reason in the governor's mind why this can't unfold in a parallel fashion," Hahn said.
Linda Clark, board president, told JFAC, "There has been a great deal of discussion about this position and its potential. I think the expectations are very high."
Then, on Tuesday, JFAC members asked Boise State University President Bob Kustra for his take on the CEO as he made his budget presentation.
He said BSU's estimates of the savings of consolidating "back-office" services across Idaho's public universities came in at $6 million, not the $43 million estimate that's been floated. And Kustra said it's unclear to him what a CEO would do, and how that position would function – and that it makes sense to do the planned consultant's study first, before deciding what staff positions should be added at the state Board of Education.
"I do agree that having a consultant come in here, next fiscal year, and turn 'em loose on the state's universities and colleges, finding out what back-office functions should be elevated to some central office – if we can save money that way, then that's something we should do. But I think it needs to start with the consultant's study," he said.
"As far as the CEO position is concerned," Kustra said, "I don't know anything about how the responsibilities between the executive director of the state board and the new person will be defined." Kustra paraphrased a Bible quotation, from Matthew 6:24, saying, "No man can serve two masters without loving one and hating the other. Well, I don't think we want to have that situation in any state Board of Education here in Idaho. So I think you're going to figure out who's going to be in charge. And I'm not so sure I can understand that. I don't know that."
Then, on Wednesday, when the University of Idaho had its budget hearing, legislative budget writers noted Otter didn't recommend funding next year for the university's top line items, including the second phase of a two-year upgrade to the university's library, and asked why. Hahn said throughout the higher ed budget, Otter reserved general fund increases next year for the recommendations of his new higher education task force, including the CEO and the integration study.
"Let's look at this carefully here," Hahn said. "Over the years, the governor has funded, to the extent possible, within available funds, line items for the institutions. … We've done the best we can recommending those line items. In the final year of his final term, he put together two task forces: higher education task force and workforce development task force. And the emphasis was on the system and on student-centric areas."
"And that's what you're seeing," Hahn said, "is how to figure out how to address some critical needs in the system. That's why you're seeing the CEO proposal. That's why you're seeing the $500,000 for an integration consultant. The idea here is we have to move from this siloed system to a 'system-ness.' That's a change in direction from where we've been in the past, but it's an important one for us to look at."
The higher education task force recommendations actually didn't include the proposed new higher education CEO and the $500,000 consultant's study of how to consolidate back-office functions among the universities, though one of its 12 recommendations was to look into centralizing functions to achieve efficiencies, and another called for the state Board of Education to "take immediate action to put a leadership structure in place necessary to execute the change in management needed to move higher education toward Systemness."
As Idaho Education News reported in November, seven business executives who served on the 36-member task force sent a letter to Otter about two weeks after the task force concluded its work calling for creating the CEO position. Otter proposed it, and the state Board of Education endorsed it the week before last.
Senate Education Chairman Dean Mortimer, R-Idaho Falls, said he's still strongly supportive of the proposals.
But Sen. Shawn Keough, R-Sandpoint, the co-chair of the joint budget committee, said, "I kind of thought that the executive director of the Office of the State Board of Education was the CEO. So I'm not supportive of that at this point, because I just don't see the need out there now."
Betsy Russell can be reached by email at betsyr@spokesman.com or by phone at (208) 336-2854.
---
---