News > World
Catalan parliament postpones re-election of fugitive leader
Tue., Jan. 30, 2018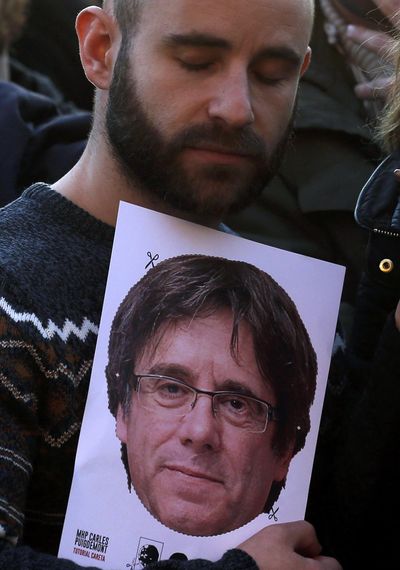 BARCELONA, Spain – Catalan separatist lawmakers who want to re-elect their fugitive ex-president suffered a setback Tuesday when the house speaker postponed a planned regional parliament meeting, saying it wouldn't take place until there were guarantees Spanish authorities "won't interfere."
The decision by Roger Torrent came after Spain's top court ruled Saturday that Carles Puigdemont, who fled to Belgium three months ago and faces arrest if he returns, could only be re-elected if physically present in the parliament in Barcelona. The court also ordered that he must obtain permission to appear at parliament from the judge investigating him over Catalonia's independence bid.
The Constitutional Court rejected an appeal by Puigdemont's party Tuesday, in effect denying the speaker's demands to allow Puigdemont's re-election without legal impediments.
The delay in the re-election leaves the future government of the prosperous region in something of a limbo. The parliament was initially scheduled to have a first investiture vote by Wednesday, but it's now not known when the speaker may call it.
The sudden suspension also exposed divisions among separatists, with Puigdemont's party caught off guard by it and even the former Catalan leader expressing open disappointment in a video released on social media late Tuesday.
"My intentions remain intact," Puigdemont said in the video, calling for pro-independence lawmakers to remain unified in the goal of his re-election. "There is no other possible candidate o other possible arithmetic combination," he added.
Earlier in the day, the chamber's speaker had defended the move to postpone the plenary while remaining loyal to Puigdemont.
"I am not going to propose a candidate other than Puigdemont," Torrent said. "President Puigdemont has all the right to be elected."
"The Spanish government and the Constitutional court aim to violate the rights of millions of Catalans and this we will not accept," he added.
Spain's government welcomed Torrent's decision. An official speaking anonymously in line with government rules said that pressure applied by the government and the country's top court "have prevented a mockery of our democracy."
Earlier, Prime Minister Mariano Rajoy urged the Catalan parliament to drop Puigdemont's candidacy and opt for a "clean candidate" who was willing to restore normalcy in Catalonia, a region of 7.5 million inhabitants that represents a fifth of Spain's gross domestic product.
Puigdemont is one of more than a dozen Catalan political figures facing possible rebellion and sedition charges following the previous parliament's illegal and unsuccessful declaration of independence in October, which brought Spain's worst political crisis in decades to a head.
Spain seized control of the region by firing Puigdemont and his government and dissolving parliament following the independence declaration. It says it will keep control until a new government takes office following elections held Dec. 21.
Dozens of extra police were deployed outside the parliament building in central Barcelona and helicopters hovered overhead in a bid to detect Puigdemont if he tried to turn up clandestinely. Border controls have also been stepped in recent days.
Several hundred pro-independence supporters rallied near a park surrounding the building, many donning Puigdemont masks. The demonstration was largely peaceful, but some participants broke through police cordons into the park and made their way to parliament's gates, producing brief clashes with anti-riot police,
The protesters shouted slogans in support of Puigdemont and Catalonia's independence. Their numbers dwindled after dusk, but around 100 people set up camp and planned to spend the night near the regional parliament.
Local journalism is essential.
Give directly to The Spokesman-Review's Northwest Passages community forums series -- which helps to offset the costs of several reporter and editor positions at the newspaper -- by using the easy options below. Gifts processed in this system are not tax deductible, but are predominately used to help meet the local financial requirements needed to receive national matching-grant funds.
Subscribe to the Coronavirus newsletter
Get the day's latest Coronavirus news delivered to your inbox by subscribing to our newsletter.
---