News > Idaho
Caldwell man to serve up to 37 years and 6 months in prison for trying to lure Twin Falls children
Tue., July 3, 2018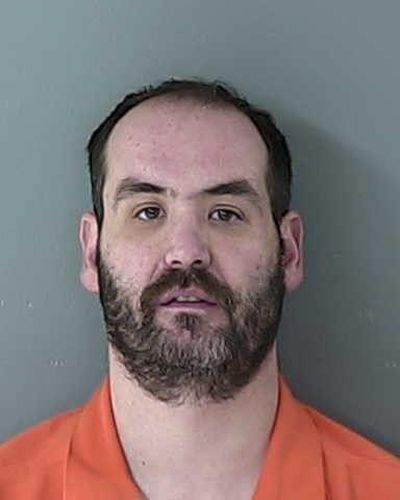 TWIN FALLS – A Caldwell man will serve up to 37½ years in prison for trying to lure three Twin Falls children to his car.
Chad McLean, 41, pleaded guilty in April to three counts of attempted sexual abuse of a child under 16. He was initially charged with three additional counts of attempted kidnapping.
He be eligible for parole after 18 years in prison for his crimes, Judge Benjamin Cluff determined Monday. For each count of sexual abuse, McLean was handed a 12½ year sentence, with 6 years minimum and up to 6½ years more. The counts will run one after another, not at the same time.
"In this case, there were crimes committed against those who cannot protect themselves," Cluff said. "They are the most vulnerable in our society."
McLean was arrested in September after three young girls told their parents that a strange man tried to talk to them. One nine-year-old girl said that McLean offered her a ride while she was walking home from school.
Twin Falls police identified McLean as the suspect after he was arrested by Caldwell police under similar charges.
McLean admitted to police that he had spoken to the three girls, but said he would not have actually let them get into his car.
He did say, however, that if one of the girls had gotten into his car, there was a "20 percent possibility" he would have molested her.
McLean also told police in an interview that he was sexually gratified just by speaking to the children. Deputy prosecutor Trevor Misseldine played a clip of the conversation at the sentencing hearing Monday.
"It might be a little bit of a release, just being around them and talking to them," McLean said in the video.
Misseldine asked Cluff to sentence McLean to three consecutive sentences of 12½ years, to be served in full — a minimum of 37½ years in prison. He noted that the pre-sentence investigation indicated a high likelihood that McLean would commit a sexual offense again.
"Anything less than prison, I think, undermines this," Misseldine said. "These victims did not bring this on themselves. They shouldn't have to worry…that a man like Mr. McLean is driving around stalking them."
Defense attorney George Essma countered that McLean should not be punished for what might have happened had the situation escalated.
"You can certainly speculate, you can certainly fabricate and catastrophize, and I think it's understandable to do that because what he did was enough," Essma said. "But what he did was all he did."
Essma did not request a specific sentence, but asked that Cluff impose a punishment "that is not just a tunnel into darkness, but allows for a period of rehabilitation as well."
McLean himself spoke at the hearing, offering an apology to his victims and their parents.
"I should have taken more steps to make sure it didn't happen," McLean said. "I realize I need more treatment and I know I'm treatable."
After apologizing, McLean asked Cluff not to impose the state's recommended 37½ years in prison.
"I don't feel that sentencing me to the rest of my life, pretty much, in prison is what's best for me," McLean said. "I don't think that that's the right answer. But I understand why it's been imposed."
In explaining his sentencing decision, Cluff said he saw the likelihood of rehabilitation for McLean as "very small."
This is not McLean's first sexual offense in Twin Falls County. He previously served a 15-year sentence for sexual abuse of a child under 16.
Local journalism is essential.
Give directly to The Spokesman-Review's Northwest Passages community forums series -- which helps to offset the costs of several reporter and editor positions at the newspaper -- by using the easy options below. Gifts processed in this system are not tax deductible, but are predominately used to help meet the local financial requirements needed to receive national matching-grant funds.
Subscribe to the Coronavirus newsletter
Get the day's latest Coronavirus news delivered to your inbox by subscribing to our newsletter.
---