News > Washington
100 redwoods coming to the region, all in need of permanent homes
Wed., July 4, 2018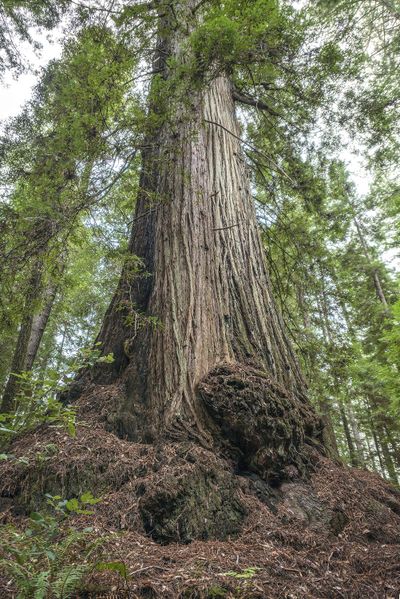 A refrigerated semi-truck loaded with 100 6-foot-tall giant redwood trees is heading to the Pacific Northwest. Philip Stielstra, a retired Boeing employee and volunteer Seattle Tree Ambassador, is in search of a home for them.
The trees, cloned from some of the oldest and largest redwood trees, represent the genetic diversity of the entire 500-mile range of California's redwood forests. Stielstra is searching for a person or organization with the vision and resources to create a preserve where they can be a living archive, available for the public to see as well as for scientific research.
"It has to be the right place and the right benefactor," said Stielstra, "if you will provide a place for these to be planted and tend to a living archive. That batch of trees represents 25 years of work on the part of Archangel."
Archangel Ancient Tree Archive is a non-profit organization that makes it its mission to archive the genetics of the oldest and largest trees in the country, to provide saplings and seeds from those trees to eventually be used to plant in parks and other areas where they can be appreciated and continue to propagate.
The Olympic Peninsula could easily provide the type of climate these redwood trees require to thrive.
"Redwoods are known for the fog they grow up in," said Stielstra. "Supposedly they can take in water with their needles from the fog as easily as from their roots in the ground."
The number of inquiries about obtaining the redwoods has been solid since a story about Stielstra ran in the Seattle Times June 4.
"I have over 250 names I have just put on a mailing list, about to send out an email just to update everyone," said Stielstra. "I'm getting just a really amazing amount of emails from across the state, including east of the Cascades, definitely a lot from coastal areas and the islands from Vancouver and south of there. It's been very heartwarming."
Stielstra plans to get together with experts on redwoods to decide which areas would be best for the trees. Eventually, a list of sorts will be sent to interested parties, detailing the proper ground, how to plant the trees and how to nourish them to ensure they will be around for hundreds of years to come.
Bellevue Parks has a very aggressive tree planting program and will purchase a number of these trees. Inquiries are coming in from Bainbridge, Vashon and Orcas islands, and the Kitsap and Olympic peninsulas.
Why move the trees?
Archangel is a nonprofit organization that relies on donations to operate.
"They were doing the work in California and bringing it back to Michigan," said Stielstra. "So they decided, let's send them to the Pacific Northwest, where they don't have to be in a greenhouse."
The mild weather in the region means even unplanted trees can survive quite well just sitting outside as they await their permanent homes. In the unforgiving winters of northern Michigan, where Archangel is located, the 100 redwoods require greenhouses to keep them healthy, and just the power bill alone has exhausted Archangel's budget, necessitating the move.
Stielstra's involvement
"I've always enjoyed trees, climbing them as a young kid, but it wasn't the obsession it's kind of turned into," said Stielstra.
The year before he retired from Boeing in 2012, the City of Seattle started up a tree ambassador program and put out the call for volunteers. Stielstra put in his name and was chosen to design tree walks and educate participants about trees in urban and suburban areas.
"When we started we had maybe one tree walk," he said. "Now you Google 'Seattle tree walk' and there's probably a list of 30 to 50." He added participants in the Tree Ambassador program work in projects including invasive plants removal and cleaning up greenbelts.
Stielstra became aware of the work done by Archangel in 2012 after reading "The Man who Planted Trees," a biographical piece written by Jim Robbins about David Milarch, Archangel's co-founder. When he discovered Archangel's nursery was only 45 miles away from family property on Lake Michigan, Stielstra reached out and asked if he could pay the place a visit, and that began an ongoing relationship.
"After that I continued to get emails from Archangel, when in 2016 I was invited to a tree climbing expedition in the Sierra Nevada Mountains, climbing giant sequoias and redwoods," said Stielstra. "I got to hang out with David and (Archangel's director of propagation and education program) Jake Milarch and build a relationship where I could have a better opportunity to introduce their cloned tree offspring to the Pacific Northwest."
That led to Stielstra taking part in the distribution of 350 redwood saplings to 23 communities in the Puget Sound region, 75 percent of which have already been planted, the rest waiting to get big enough to plant so they won't be damaged.
Getting involved
Anyone interested in any of the trees coming in from Michigan can get on Stielstra's mailing list by emailing pstielstra@comcast.net. For more information about Archangel and to donate to their ongoing efforts to preserve and plant trees cloned from the largest and oldest in the country, visit ancienttreearchive.org.
Local journalism is essential.
Give directly to The Spokesman-Review's Northwest Passages community forums series -- which helps to offset the costs of several reporter and editor positions at the newspaper -- by using the easy options below. Gifts processed in this system are not tax deductible, but are predominately used to help meet the local financial requirements needed to receive national matching-grant funds.
Subscribe to the Coronavirus newsletter
Get the day's latest Coronavirus news delivered to your inbox by subscribing to our newsletter.
---