A $6 billion China startup wants to be the Amazon of health care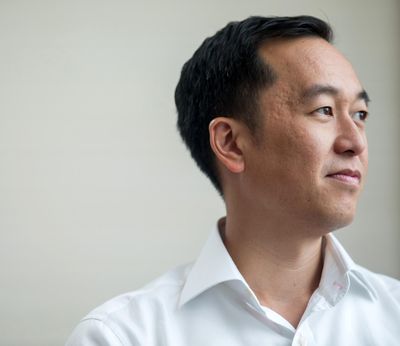 As soon as you're diagnosed as diabetic, ads for treatments show up on social feeds. You get alerts on health supplements, maybe nutrition tips. Prompts on insurance policies pop up on your phone.
That's not a scene from Minority Report. It's a manifestation of the trove of data harnessed by WeDoctor, one of China's most richly valued online health outfits, in an ambitious quest to upend the business of personal care. The ads may not be conspicuous – they can be buried within a pitch about chronic diseases – but the target is uncannily precise: You.
Backed by Tencent Holdings, WeDoctor joins a growing contingent of tech giants hoping to revolutionize an industry seemingly impervious to online disruption. While the likes of Google seek to unlock the secrets of immortality or unravel medical mysteries, WeDoctor's focusing on something more pragmatic: Making money by unclogging bottlenecks in a Chinese health care market slated to hit $1.2 trillion by 2020.
Founded by artificial intelligence maven Jerry Liao Jieyuan in 2010, WeDoctor's ambitions are nothing short of an Amazon for health care. Once a scrappy startup that helped people book doctors, it's grown into an outfit valued at $5.5 billion that operates online follow-up consultations, drug prescriptions and actual clinics staffed by physicians. It's building AI to parse data, helping detect ailments like cervical cancer. It sells an Amazon Echo-like $600 speaker for the home that can link to fitness wearables and doubles as a doctors' hotline.
In Chinese fashion, it's even concocted a game out of treating maladies, a function that helps sufferers ask questions and reward the best answers. To fund all that, WeDoctor's counting on an IPO as soon as 2019.
"AI won't replace doctors but it will become an important tool for doctors and help improve their efficiency and accuracy," Liao, also a co-founder of speech-recognition specialist iFlytek Co., said in a written response to questions. "Through the internet and AI, China's health care services will improve significantly in the next five to 10 years."
WeDoctor's come a ways since Liao began traversing the country trying to convince hospitals to get online. Formally known as We Doctor Holdings, the Hangzhou-based firm this year scored one of the largest fundraisings by a health startup, securing $500 million from investors including insurer AIA Group, property developer New World Development Co. and Shanghai Fosun Pharmaceutical Group.
It's now angling to break into an area that's stymied some of the country's deepest pockets, including Alibaba Group Holding and Baidu. But the impetus to overhaul the sector is clear to anyone who's visited a Chinese hospital, many of which are dingy affairs run by state organs that pay doctors less than $10,000 a year on average. If WeDoctor's model takes off, it may levy an additional cost on patients – the price of cutting through red tape and wait times at government clinics.
"The industry is still in its early stage, so hard to say which one has the most potential," said Leon Qi, head of Asian financials research for Daiwa Capital. "While internet companies have advantage in their online user traffic, we see offline players, either supported by financial institutions or other conglomerates, have edges in their offline distribution and offline medical resources. Hence we do not see it as a 'winner takes all' business."
Underpinning the business is the freedom to collect and use patient data on a scale unparalleled in much of the rest of the world, particularly as regulators grow increasingly wary of the influence of tech giants. China has yet to establish laws to protect personal information but is building health profiles on its 1.3 billion citizens – a worldwide first for scale.
That allows WeDoctor, and peers such as Ping An Insurance Group Co.'s Good Doctor, to tinker in areas often off-limits to rivals. Google's Deepmind, for one, drew fire from British regulators for inappropriately accessing hospital records. In the U.S., the industry navigates a web of regulations designed to protect patient privacy.
"There's a lot of issues that need to be taken into consideration when it comes to privacy, including who can access data on patient's medical records and how that data can be used," Jason Siu, an analyst with Guosen Securities, wrote in a report.
WeDoctor isn't shy about its ability to glean data. Users in China are accustomed to surveillance and having their information shared with the government, and information leaks – when publicized – seldom cause ripples. Jeff Chen, a former HSBC banker who now heads strategy for the firm, talks openly about how unfettered access to medical data helps profile users and create powerful marketing tools for big pharma and insurance.
"One of the reasons we think WeDoctor could become a big business in China is because of the sheer demand for better and more convenient health care treatment," said Gilbert Ho, a senior director at NWS Holdings, a New World unit. "WeDoctor also has the advantage to understand users with its big data and technology."
WeDoctor's data comes from several sources, but one of the most important is the hundreds of hospitals in its network whose doctors plug information into a central database – with consent from patients who may want to switch care-givers. They could also upload their own records. The company then profiles users, classifying them in buckets based on age, gender, region or symptoms. That's a potent advertising aid to drugmakers and insurers, Chen says. That leeway to commercialize patient information comes with caveats: WeDoctor stresses data is anonymous and it doesn't share it with third parties.
"So one bucket might be chronic disease, and within that bucket there might be diabetes, high blood pressure or gout," he said. "Then they would basically create products that target that bucket, so when I give it to you, you don't feel it's really specifically targeted."
From another perspective, WeDoctor and its rivals' direct-to-consumer approach represent a short-cut through a system prone to corruption. Pharma firms spend millions every year convincing doctors to prescribe their drugs – a system not unlike the U.S. Beijing, in its quest to stamp out graft, has taken aim at this practice since 2014, when it fined GlaxoSmithKline 3 billion yuan for alleged bribery.
WeDoctor's platform is more transparent, Chen said.
"The drug companies can target easily just by doing a campaign with us, or a seminar basically teaching to 240,000 doctors," he said. "It's very cost-effective for them."
That's just one piece of the money-making puzzle. WeDoctor also takes a cut on consultation fees via its app or smart speaker. The 4,000 yuan box has a screen in the front and comes with a year's access to doctors online.
In March, WeDoctor opened a clinic in Hangzhou, a rising tech hub that is home to Alibaba. The 2,500-square-meter center houses pediatricians, ophthalmologists and a CT scanner. It plans at least six by the end of the year, including in Beijing and Nanjing. That's where backer New World could come in handy: The partners plan to develop clinics in its residential projects across China.
"Most of the businesses that have been disrupted by the internet, you see users spend a lot of time online and a small part offline," Chen said in an interview with Bloomberg Television. "Health care service is the reverse. Your bulk is offline."
Those clinics complement "online hospitals." WeDoctor's won licenses to operate 10 such platforms that offer real-time chats with doctors. This also lets the best clinicians, usually working out of big hospitals that keep fees artificially low, to earn more on the side. Top doctors can demand 3,000 yuan per session, WeDoctor says.
"Our platform is just in the early phases of development and there's so much more we can do to make the space more efficient," Chen said.
---