News > Health
Last year 262 Washingtonians were injured by fireworks
Wed., July 4, 2018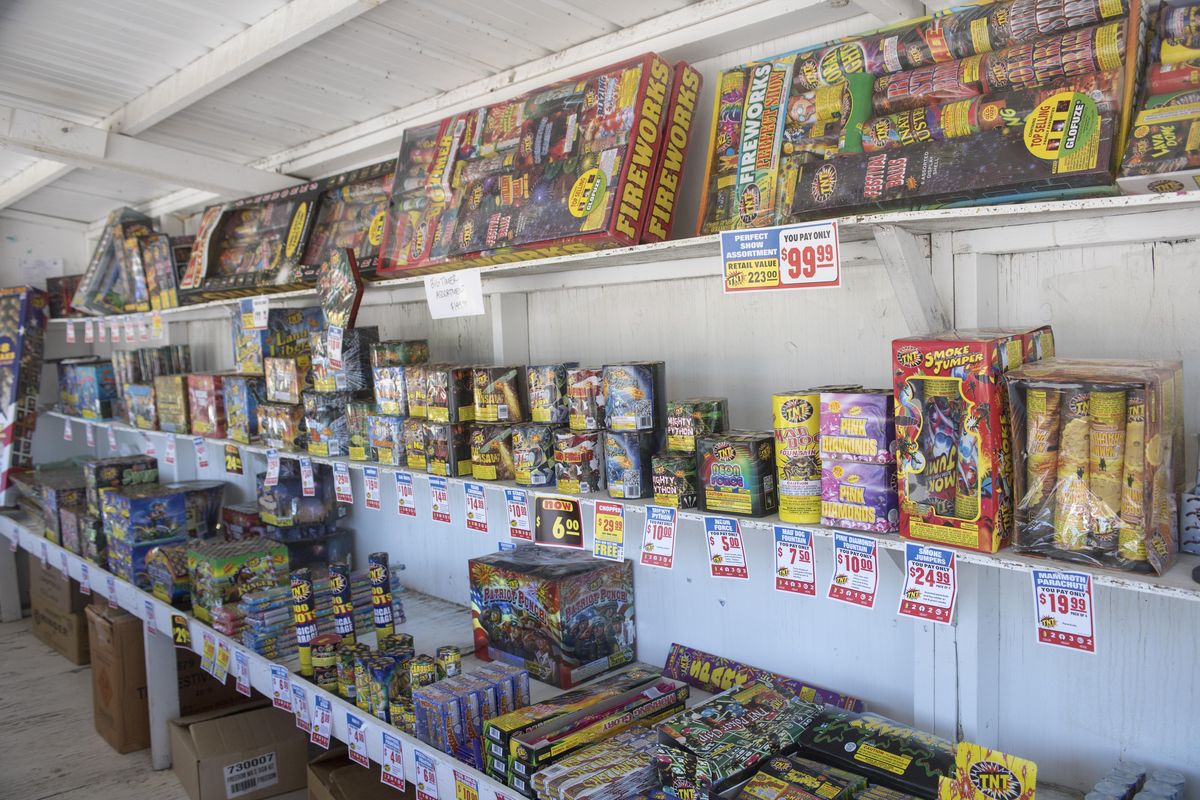 A fireworks stand in the parking lot of a Rosauers grocery store in the Nine Mile area on June 30, 2017. (Jesse Tinsley / The Spokesman-Review)Buy a print of this photo
Every Fourth of July, firefighters around the country remind Americans not to injure or kill themselves by patriotically blowing things up.
Last year, an estimated 262 Washingtonians did not heed the message.
In hopes of a better 2018 fireworks season, The Spokesman-Review looked through state and national reports of fireworks-related injuries to bring you cautionary tales.
The state estimate comes from the Fire Marshal's Office, which surveys hospitals and fire departments across Washington.
The number of hospitals responding varies year to year, so the estimates aren't apples-to-apples comparisons, but 2017's injury count was a slight increase over 2016, even with fewer hospitals reporting.
More than half of the injuries came from legal fireworks, chiefly aerial shells and mortars. The state has broad guidelines on what's allowed, with many counties and cities adopting more strict rules.
All fireworks are banned in Spokane, Spokane Valley, unincorporated Spokane County and most other cities in the county. Airway Heights, Deer Park and Medical Lake allow legal fireworks to be set off during specified hours on July 4 only.
Burns accounted for nearly half the injuries, but 26 people suffered amputations, 10 broke bones and five suffered hearing or sight loss. Most injuries were caused by either standing too close to fireworks or holding them. (In case it's unclear from the package directions, you should not hold lit fireworks.)
Nationally, 12,411 people were hospitalized for fireworks-related injuries last year, according to the National Electronic Injury Surveillance System, a federal effort to monitor hospital visits caused by product injuries.
Unlike state data, the number is an estimate extrapolated from a nationally representative sample of reporting hospitals. The actual number of incidents reported at those hospitals last year was 320.
Many of the injuries reported involved young children, often while they or their siblings were playing with sparklers.
Overall, injuries were relatively minor: 82 percent were treated at a hospital and released. Most of the rest were either admitted or transferred to another hospital.
Not every injury resulted from direct contact with fireworks. The oldest victim, an 89-year-old woman, fractured her right upper arm after a firework startled her, causing her to fall and hit a door.
Several men in their 70s also were injured last year, including one who was burned while lighting fireworks to celebrate a Seahawks touchdown. A device exploded in his hand.
Another man, 77, received second-degree burns on his hands, chin and thigh while building homemade fireworks.
New Year's Eve and New Year's Day were popular times for fireworks injuries, but 70 percent of the burns, breaks and other incidents occurred in July, suggesting there's nothing quite like celebrating our Independence Day.
Local journalism is essential.
Give directly to The Spokesman-Review's Northwest Passages community forums series -- which helps to offset the costs of several reporter and editor positions at the newspaper -- by using the easy options below. Gifts processed in this system are not tax deductible, but are predominately used to help meet the local financial requirements needed to receive national matching-grant funds.
Subscribe now to get breaking news alerts in your email inbox
Get breaking news delivered to your inbox as it happens.
---