News > Idaho
Trucker dies in fiery collision on I-84 in southern Idaho
Wed., July 4, 2018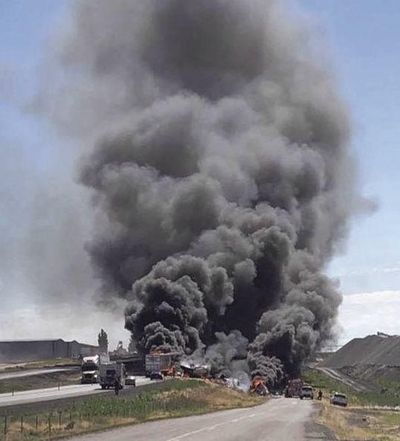 EDEN — One trucker died and another was seriously injured when their tractor-trailers collided and exploded in an Interstate 84 construction zone near this town east of Twin Falls on Tuesday morning.
The 10:41 a.m. collision caused both semis to explode into flames, creating a massive cloud of smoke that could be seen for miles. Interstate 84 remained shut down because of the crash late Tuesday afternoon and authorities don't know when it will reopen.
Corey McCaslin, 39, of Port Washington, Ohio, died at the scene of the crash, state police said.
He was driving eastbound on Interstate 84 in a 2015 Peterbilt tractor-trailer that was struck by a westbound semi driven by David Wetmore, 57, of Irrigon, Oregon, state police said.
Wetmore was airlifted via emergency helicopter to Portneuf Medical Center in Pocatello following the crash. PMC officials reported on Tuesday afternoon that he was in stable condition and is expected to survive.
State police confirmed that Wetmore caused the crash by crossing over the center line in the construction zone and colliding with McCaslin's tractor-trailer. Authorities have not yet commented on what could have caused Wetmore to drift into the oncoming lane of travel.
The burning semis completely blocked Interstate 84 following the collision and the interstate remained closed as of 4:10 p.m. Tuesday.
The crash remains under investigation by state police.
State Police say a tractor-trailer driven by an Oregon man crossed over the center line in a construction zone and collided with McCaslin's truck.
Police say David Wetmore, of Irrigon, Oregon, was airlifted to a hospital in Pocatello. He was in stable condition Tuesday and is expected to survive.
Local journalism is essential.
Give directly to The Spokesman-Review's Northwest Passages community forums series -- which helps to offset the costs of several reporter and editor positions at the newspaper -- by using the easy options below. Gifts processed in this system are not tax deductible, but are predominately used to help meet the local financial requirements needed to receive national matching-grant funds.
Subscribe to the Coronavirus newsletter
Get the day's latest Coronavirus news delivered to your inbox by subscribing to our newsletter.
---