News > Spokane
Local teacher hopes to become first mother to complete American Ninja Warrior
Thu., July 5, 2018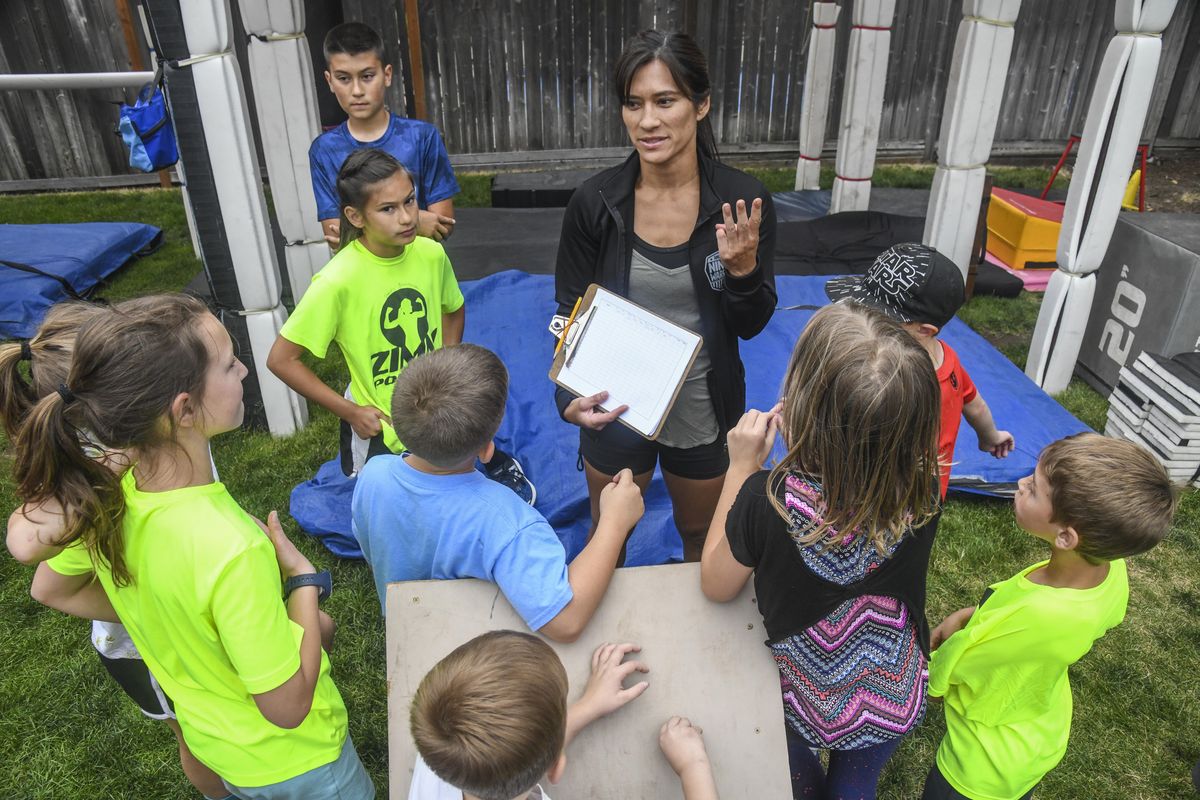 American Ninja Warrior contestant Sandy Zimmerman leads the Little Ninjas class in her backyard, Thursday, June 28, 2018, in Spokane Wash. (Dan Pelle / The Spokesman-Review)
The Salmon ladder, a set of metal rungs that an athlete ascends by lodging a bar between them one by one, is the first obstacle in a series of challenges in local teacher Sandy Zimmerman's backyard. Zimmerman said this obstacle, an anniversary present from her husband, is extremely difficult for women to complete because of the explosive upper-body strength it requires.
But after months of work, Zimmerman said, she's mastered it, along with the trapeze, the floating steps and dozens of other obstacles built into her family's ninja fortress, all of them steps in her quest to be the first mother to complete the famously difficult obstacle course of the reality TV show "American Ninja Warrior."
Zimmerman, who lives in Spokane and works as a physical education teacher at Michael Anderson Elementary at Fairchild Air Force Base, has competed on the show and in league ninja competitions around the U.S. for about three years. She said she started playing sports at a young age, and athleticism has been a constant through most of her life. Growing up in a military family, spending time in foster care, struggling academically and dealing with food insecurity issues as a child, she said sports was where she could always stand out.
"The whole rest of my day could be a struggle," she said, "that's where … I would shine."
Zimmerman has turned her training into family time. Her children, Blake, 7, Lindsey, 9, and Brett, 12, compete in children's league obstacle courses, and her husband, Charlie, took up the sport after she was injured on a trapeze obstacle and he ran a league competition in her honor.
Zimmerman, who is in her early 40s, said her family's approach to the sport is different than most other competitors. Often, when they go to league ninja competitions, most of the other ninjas are single and in their 20s, and the parents in attendance are there to support their children.
"We're one of the really unique families where every one of us does ninja and we cheer each other on and coach each other," she said.
Fellow American Ninja Warrior contestant Barclay Stockett, 24, from Houston, said Zimmerman's accomplishments as a ninja, mother and professional inspire her. Stockett, a former gymnast, said as a child she thought quitting sports was a part of growing up and getting a career, but as she became more involved in ninja and got to know athletes like Zimmerman, she realized sports can be her lifelong passion.
"It gives me hope in my future as an athlete," she said.
While the Zimmermans' approach sets them apart from others training as ninjas, Zimmerman said their location puts them at a disadvantage when training for the official America Ninja Warrior course. She said there are few local gyms with obstacles similar to those that appear on the show. With the help of her husband and a contractor, they have been able to recreate a few challenges on the ninja fortress in their backyard, but the family has to travel to ninja competitions and gyms around the country to keep in shape for the show.
She said traveling to other gyms helps her adapt to different versions of the same obstacles, and the league competitions prepare the family to perform in front of an audience.
"It's just a different sport," she said. "It's just you and everybody's watching."
Zimmerman said she sat out this season because of her injuries, but now that she's recovering, she's already preparing for next year.
She is working on making Spokane more ninja-friendly by collaborating with a local physical therapist to potentially build a few ninja obstacles, and is training with a few American Ninja Warrior hopefuls.
She has also created a child-friendly version of the family's backyard ninja fortress by moving some of the obstacles closer together, changing some of the rules of the challenges and placing better footholds. She teaches ninja classes for children and hosts an open gym time for adults looking to try out obstacles.
Zimmerman said the classes are designed to pass on the wisdom she learned from her sensei and coaches – she was a judo national champion as a teenager, as well as a basketball player at Gonzaga – as a child. She said some ninja challenges have taken her more than a year to master, and have taught her life lessons about perseverance and what it means to succeed.
"Did I fail for a year?" she asked. "Or did I just get a little better every day for a year?"
Local journalism is essential.
Give directly to The Spokesman-Review's Northwest Passages community forums series -- which helps to offset the costs of several reporter and editor positions at the newspaper -- by using the easy options below. Gifts processed in this system are not tax deductible, but are predominately used to help meet the local financial requirements needed to receive national matching-grant funds.
Subscribe now to get breaking news alerts in your email inbox
Get breaking news delivered to your inbox as it happens.
---