News > Spokane
Spokane County's population passes 500,000 mark following strong job growth
Thu., July 5, 2018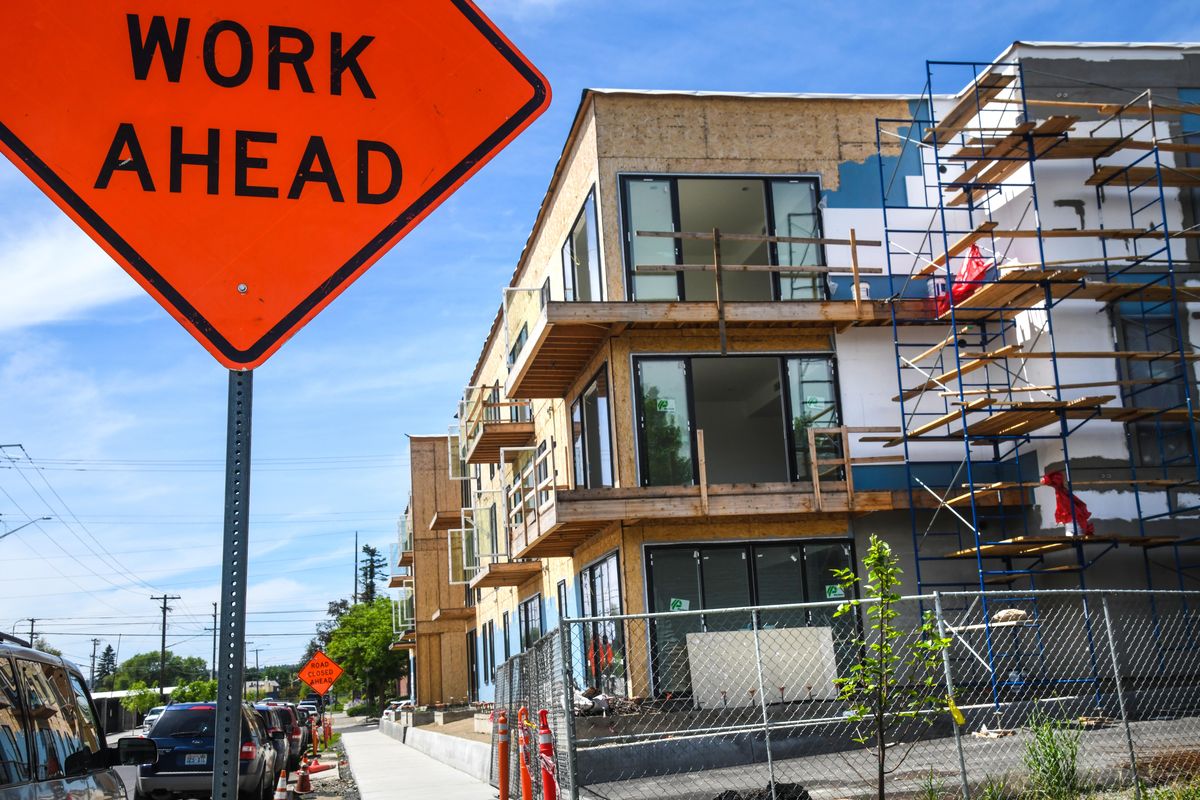 The College Avenue Apartments in Spokane. Spokane County's population has passed the half-million mark, fueling new construction and housing prices. (Dan Pelle / The Spokesman-Review)
Spokane County's population has passed the half-million mark, with an estimated 507,950 people living here, according to new state estimates.
Over the past 12 months, the county's population grew by 8,150 people. Hiring in the region and affordable housing costs were likely drivers, local economists say.
"I don't think it's due to a lot more babies," said Patrick Jones, executive director of Eastern Washington University's Institute for Public Policy and Economic Analysis.
While there were modest net gains from births, Jones said, the 3,500 new jobs created in Spokane County last year were probably a bigger influence.
"Regionally, the economy is doing pretty well, which has created the ability or reason for people to move here," said Grant Forsyth, Avista Corp.'s chief economist.
Population growth has followed the county's post-recession recovery, with the past three years showing strong gains, Forsyth said.
In 2015, Spokane County had 488,310 residents. In 2016, the county's population was 492,530; and in 2017, it was 499,800.
The figures from the state's Office of Financial Management reflect estimates on April 1 of each year.
The national economic recovery also is helping attract new residents to the Spokane area, Forsyth said.
"This is a desirable area for retirees that are currently living in high-cost areas," he said. "Because of the recovery, they can sell their home in a high-cost area, take that money and move to Spokane."
For retirees, Spokane County's reputation as a regional hub for hospitals and health care is part of the draw, Forsyth added. For people relocating here for jobs, local school districts' reputation is a consideration, he said.
The past year's population growth was scattered throughout Spokane County, Jones noted. The city of Spokane added 2,800 residents, for an estimated population of 220,100. Spokane Valley's population grew by 920 people to 95,810 residents.
Smaller communities also shared the population growth. Airway Height's population grew 7.4 percent to 9,085 in the past year. Liberty Lake's population grew 4.8 percent to 10,380. And Cheney's population grew 2.7 percent to 12,200.
"We're seeing growth like other areas in Spokane County," said Katy Allen, Liberty Lake's city manager. "I think it's the healthy economy."
Allen credited part of Liberty Lake's population gain to the wide range of housing products, including new construction, in the city. Liberty Lake has everything from large custom homes to 55-plus communities, apartments and 1,000-square-foot homes. The number of home occupation permits – for people who work for companies in larger metro areas but live in Liberty Lake and telecommute – is growing, she said.
"Housing products are affordable and our schools are good," Allen said. "We cater to the families and home ownership and (outdoor recreation) with parks and trails."
Local journalism is essential.
Give directly to The Spokesman-Review's Northwest Passages community forums series -- which helps to offset the costs of several reporter and editor positions at the newspaper -- by using the easy options below. Gifts processed in this system are not tax deductible, but are predominately used to help meet the local financial requirements needed to receive national matching-grant funds.
Subscribe now to get breaking news alerts in your email inbox
Get breaking news delivered to your inbox as it happens.
---