News > Travel
Catching the bus: Restored buses provide unique view at several national parks.
Sat., July 7, 2018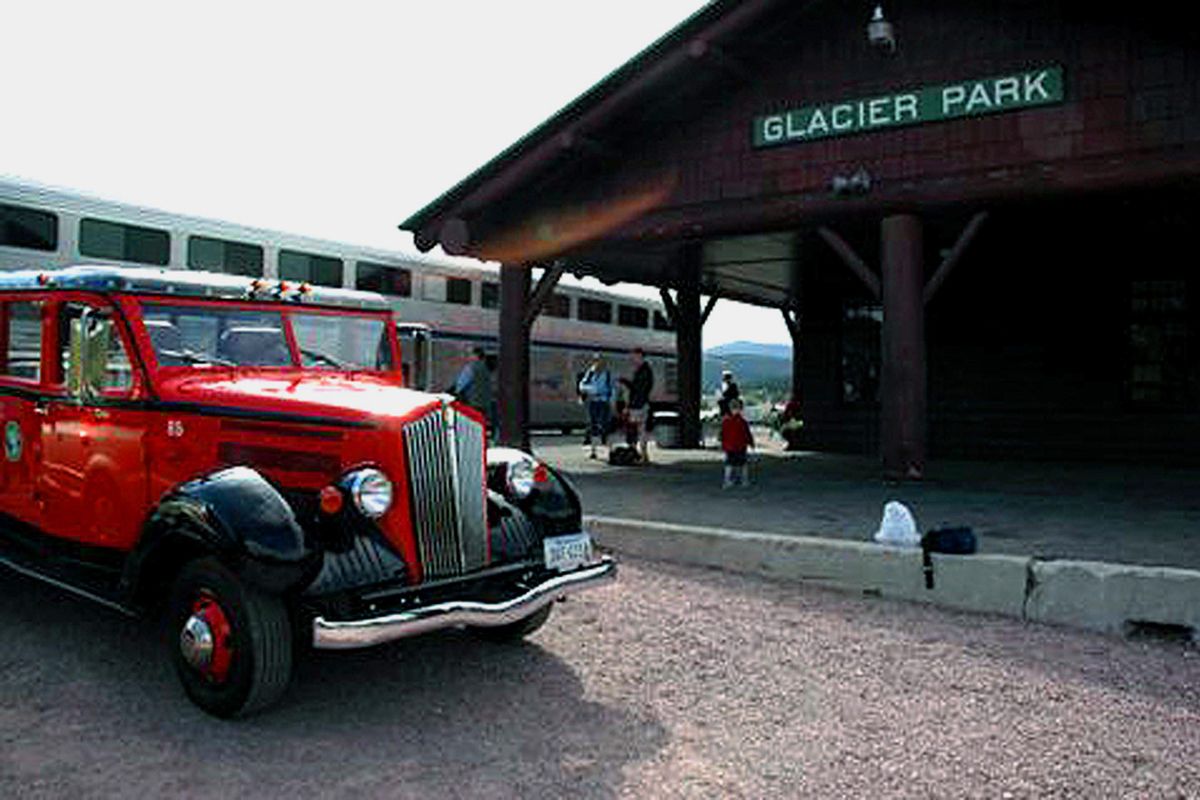 A Red Bus transports visitors from the Amtrac Station located in the town of East Glacier to Glacier National Park Lodge at Two Medicine. (Mike Brodwater/For The Spokesman-Review)
You really can't miss them. Depending on the national park, they are bright red or yellow with a style rarely seen in today's automotive landscape. Book a bus ride and enjoy the historical encounter.
The buses were originally found in Yosemite, Yellowstone, Glacier and Mount Rainier national parks. Although cars had replaced horses and buggies, there were no standard on creating a 15-seat vehicle to climb up steep grades. Four competing companies used sand bags in their testing, and in 1935, the White Model 706, with a longer wheel base and a powerful six cylinder engine, outperformed its competitors.
The 706 was designed specifically for sightseeing in the national parks, and Yellowstone ordered 27 of the buses in 1936, and by 1940 had 98 in service. They were in use until the mid-'60s before being sold. Eight buses have returned to Yellowstone, restored and put to limited use.
Xanterra Parks & Resorts Company, along with the park, sponsored the renovations, using a new Ford engine.
Glacier National Park ordered 35 of the 706, introducing them from 1936 to 1940. Except for four years during World War II, they were in service until 1999, before succumbing to metal fatigue. In 2002, the park restored 33 buses to working condition, with gasoline or propane options, and returned them to service.
Mount Rainier's buses looked similar to Glacier's red buses, however, five Kenworth touring buses carried patrons from Seattle's Olympic Hotel and Tacoma's Winthrop Hotel to Mount Rainier from 1937 to 1962. None of the buses is now in service. There is an original bus displayed in the Longmire Historic District, one of three still in existence.
The red and yellow buses certainly have had staying power and a long history of use. There is a certain panache about climbing into a fancy vehicle. Like a celebrity in a stretch limo, it may be hard to constrain a parade-type wave while passing by onlookers.
There is also the sense of history. Not too many people have ever ridden in a 1930s motor vehicle, enjoying the parks the way others have for more than 90 years. The top rolls back, letting tourists take in some of the most beautiful landscapes in the Northwest.
The drivers, known as "jammers" due to a time when the original buses had standard transmissions that were doubled clutched and jammed into the right gear, are excellent guides. They present a running dialog about the history of the park as well as the geology, American Indian presence, plants and animals, recent fires. And yes, they will stop at animal sightings. They'll even throw in some good (and bad) jokes.
For first-time visitors, a bus tour will provide an orientation to the park point out locations to visit later on your own. Also, letting someone else do the driving allows a relaxing, full-time exposure for whatever spectacular sight there is to see.
After all, isn't that why the trip was made?
Local journalism is essential.
Give directly to The Spokesman-Review's Northwest Passages community forums series -- which helps to offset the costs of several reporter and editor positions at the newspaper -- by using the easy options below. Gifts processed in this system are not tax deductible, but are predominately used to help meet the local financial requirements needed to receive national matching-grant funds.
Subscribe now to get breaking news alerts in your email inbox
Get breaking news delivered to your inbox as it happens.
---