A&E > Food
Crave is back and bigger than before
July 9, 2018 Updated Mon., July 9, 2018 at 5:20 p.m.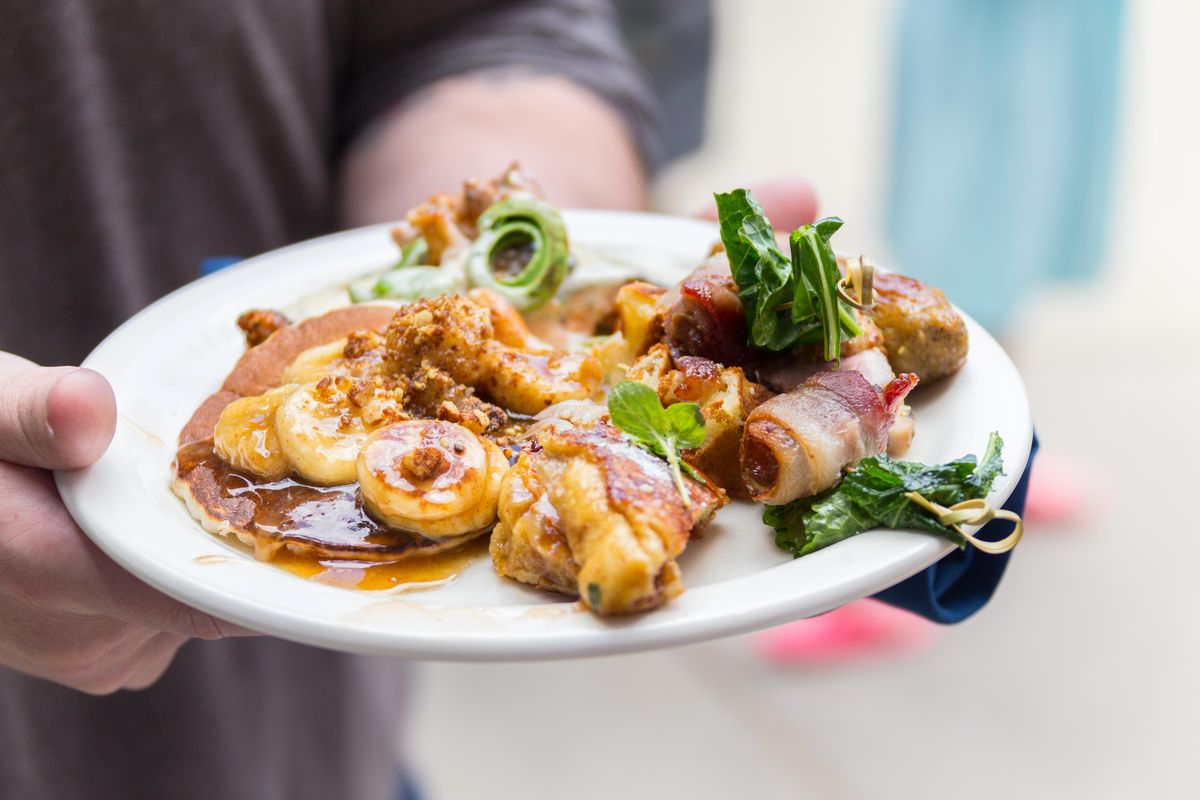 One of the highlights of the four-day Crave fest is Sunday brunch. Pictured here is a plate from brunch at last year's inaugural event. (Crave / Courtesy photo)
The Crave Food and Drink Celebration runs Thursday through Sunday in Spokane Valley, and this year it's even bigger than last year.
More than 50 chefs from around the region – and country – are coming to the sophomore Crave fest, created by local restaurateur and chef Adam Hegsted. He's working in partnership with Newman Lake-based Vision Marketing to organize the event, which is expected to draw more than 2,000 people to the CenterPlace Regional Event Center.
"It isn't just for foodies," said Karen Stebbins, who co-owns Vision Marketing with her husband, Tom. "You don't have to know chefs' names. You don't have to watch the food channel. You'll still have fun. There's something for everyone."
Tickets are available online or at the door. They run $40 to $311, depending on the single event or package. The "best bargain," Karen Stebbins said, is the Grand Tasting, which costs $40 and runs for three hours on Saturday and Sunday afternoon. It features cooking demonstrations by top nationally known chefs as well as the chance to sample products from about 80 different regional food and beverage vendors.
There are, Hegsted said, "way more vendors" than last year. In fact, "there's probably three times as many. There's lots."
That was intentional. "We wanted to reach a wider demographic," Hegsted said. "This is for everybody. You get to sample a bunch of stuff from the area. You get to celebrate the Northwest and what it has to offer. And it's really fun."
Also intentional, Hegsted said, is including more chefs from throughout the region. Most are coming from around the Pacific Northwest, including Spokane, Seattle, Walla Walla, Moses Lake, Coeur d'Alene, Ponderay, Pullman, Montana and the Yakima Valley town of Union Gap.
That's where Felipe and June Hernandez have owned and operated Los Hernandez Tamales since 1990. This year, they won a prestigious James Beard Foundation America's Classics Award for their handmade chicken, pork and asparagus-and-cheese tamales. They'll be bringing about 40 dozen of them – along with their red and green salsas – to Friday night's Food from Around the World event.
Felipe Hernandez admits that's "probably not enough." Ever since winning the prestigious national award, demand for their tamales has doubled.
"We've already done last year's sales. We're running out of product," said Felipe Hernandez, 70, who came to the U.S. from Mexico in the 1950s for agricultural work.
The secret to making tamales, said June Hernandez, 65, is simply "hard work."
It could also be the corn meal, Felipe Hernandez said. "The corn meal we make ourselves. We grind our own corn," he said.
They're looking forward to Crave, Felipe Hernandez added, "to share the tamales that we make and showcase our product."
There's lots to sample. The four-day festival features six main walk-around tasting events with more than 50 chefs in all. Each of the four themed tastings – Thursday's Seafood Bash, Friday's Foods from Around the World, Saturday's Fire and Smoke, and Sunday's brunch – will spotlight 12 to 15 chefs and wineries.
Chefs are coming from as far away as Chicago, the San Francisco Bay Area, Georgia and Vancouver, B.C., to participate. One of the most recognizable is Hugh Acheson, a judge on "Top Chef," who owns a handful of restaurants in Atlanta and has won James Beard Foundation Awards for his 2011 cookbook "A New Turn in the South" as well as for best chef in the American southeast in 2012.
Look, also, for Tu David Phu, named by the San Francisco Chronicle as a Rising Star Chef in 2017 and a recent contestant on "Top Chef," as well as Mark Singson, the runner-up on the latest season of "Top Chef Canada." Phu will be preparing sweet potato tartare during Friday's Foods from Around the World tasting. Singson will be making beef tartare at the same event.
Brian Duffy, who owns Flying Fish Crafthouse in Philadelphia, doesn't plan on cooking at the event. He had such a good time at least year's Crave that he's coming back this year "just to have fun and hang out," Karen Stebbins said.
Aarthi Sampath, who won "Chopped" in 2016 and recently bested Bobby Flay on his own show, "Beat Bobby Flay," will also be cooking at Crave. So will Matthias Merges, who owns and operates Folkart Restaurant Management in the Windy City.
Sampath plans to prepare summer chicken with lemon harissa, lentil pilaf and a cucumber-fennel salad. Merges is making Northwest steelhead poke with Thai curry, kimchee and nori.
Of course, that's not all. Vendors will also be sampling their fare. Look for a variety of wines and food samples from the Visit Walla Walla organization, including olive, vinegar and cheese. Yoke's Fresh Markets also has a tent with an assortment of cheese, bread and other samples.
Booey's Gourmet will be sampling its sauces. Roast House and Thomas Hammer Coffee Roasters will be sampling their coffee. Look, also, for samples from Fannie's Ice Pops, Sweet Annie's Artisan Creamery, Caramel Kitchen, Henderson Dip, Vandal Hot Sauce and more.
Tickets are all-inclusive for all events, except for Saturday's after-party that has a no-host bar. Look for offerings from One Tree Cider, Tieton Cider Works, No-Li Brewhouse, River City Brewing, Dry Fly Distilling, Maryhill Winery, Terra Blanca Winery, Arbor Crest Wine Cellars, Castaway Cellars, Robert Karl Cellars, Va Piano Vineyards and more.
Thursday night's Seafood Bash kicks off festivities with offerings from Grant Hinderliter of the Marcus Whitman Hotel in Walla Walla, Brian Clevenger of Vendemmia in Seattle, Chad White of Zona Blanca, Rick Reichelt of Anthony's at Coeur d'Alene, Randy Wilson of Anthony's at Spokane Falls, Chris White of Cosmic Cowboy, Steve Jensen of Craft and Gather, Paul Mason of Vine and Olive, Alexa Wilson of FSA, Patrick Fechser of Hay J's Bistro, Jesse Clott from Gilded Unicorn and Matt DaCosta of Republic Kitchen and Taphouse, and a chef from Steam Plant Kitchen and Brewery.
At Friday night's Foods from Around the World tasting, expect samples from Tony Brown of Ruins, Bryan Doyle of Durkin's Liquor Bar, Travis Tveit of Iron Goat Brewing, Chris Selfridge of Simmer in Moses Lake, Joe Morris of Luna, Shane Clark of Honey, and Molly Patrick, formerly of the Blackbird and Manito Tap House.
Saturday night's Fire and Smoke features John Sundstrom of Lark in Seattle, Wilson Wieggel of Big Sky Resort in Montana, Travis Dickinson of Cochinito Taqueria, Chris Silor of Farmhouse Kitchen and Silo Bar, Steven Walk of Coeur d'Alene Casino Resort, Will Wohlfeil of South Fork Public House in Pullman, Tim Mitchell of Mangia Catering, Alex Stoy of Wandering Table, Niki Foros of Black Cypress, Shawn Matlock of Max at Mirabeau, Barry Strand of the National Cattlemen's Beef Association, and Colin Barker of Barker BBQ. Tveit is also scheduled to be there, along with a chef from Casper Fry.
Sunday brunch features fare from Matt Mayer of Incrediburger, Nick Onustack from Le Catering Co., Kylsey Paul of Madeleine's Cafe and Patisserie, David Adlard of Candle in the Woods, and Jeanine and Eric Smith of Cole's Bakery & Café as well as Silor, Clark, Stoy, Matlock, Green Bluff Catering, Doughlicious Bakeshop and Crack of Dawn food truck.
Unlike last year, when Crave was held in June and brunch was a sit-down affair to celebrate Father's Day, this year's Sunday meal will be a walk-around event, like the themed nightly tastings, with guests ambling from tent to tent to sample brunch items.
Good news: the grounds have been leveled since last year's Crave "to make it easier," Karen Stebbins said, "for events like ours."
Also new this year: a beefed-up cocktail program curated by cocktail historian Renee Cebula of Spokane's Raising the Bar vintage barware business. Grand Tastings are slated to include featured cocktails.
Plus, there will be a mini cooking demonstration at 5:30 p.m. Thursday, Friday and Saturday for fest-goers to enjoy while they're waiting for the doors to open for the nightly themed tasting events. It includes food samples.
Fifteen wineries from Spokane's Cork District will provide wine pairings for Friday's Foods from Around the World event.
There won't be any off-site after-parties this year. All events take place on the grounds of the 54,000-square-foot CenterPlace Regional Event Center at Mirabeau Point Park.
A portion of the proceeds will benefit Second Harvest and Spokane Valley Partners as well as the nonprofit JAKT Foundation, which hosts the Crave festival. Its mission is "making events focused on chefs and cultural celebration in the Intermountain Northwest while partnering and highlighting the Spokane Valley's vibrant and healthy community."
Hegsted is hoping the foundation will eventually be able to support chefs' retreats and food symposiums in the future.
"There's so much we can talk about to help each other get better because that's the way everyone gets better," he said.
Hegsted owns or is a partner in the following: Wandering Table, Yards Bruncheon, IncrediBurger and Eggs, and Gilded Unicorn in Spokane; Farmhouse Kitchen and Silo Bar in Ponderay, Eat Good Cafe in Liberty Lake, Republic Kitchen and Taphouse in Post Falls, Honey Eatery and Social Club in Coeur d'Alene, Doughlicious bakeshop, Vital Fit Meals and Le Catering, a catering company.
Local journalism is essential.
Give directly to The Spokesman-Review's Northwest Passages community forums series -- which helps to offset the costs of several reporter and editor positions at the newspaper -- by using the easy options below. Gifts processed in this system are not tax deductible, but are predominately used to help meet the local financial requirements needed to receive national matching-grant funds.
Subscribe to the Spokane7 email newsletter
Get the day's top entertainment headlines delivered to your inbox every morning.
---