News > Spokane
Getting to be a kid and reclaiming childhood fun at Camp Goodtimes
July 10, 2018 Updated Tue., July 10, 2018 at 10:22 p.m.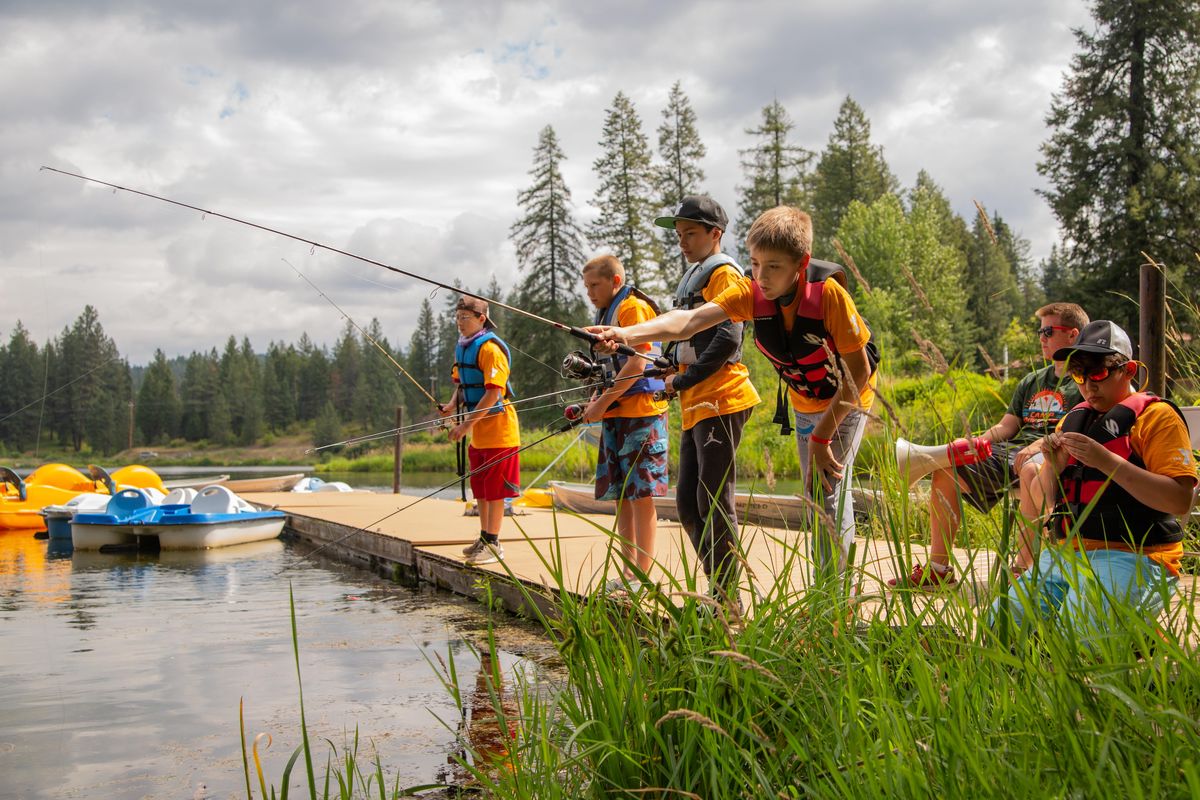 Campers go fishing on a dock at YMCA Camp Reed on Fan Lake during Camp Goodtimes on July 10, 2018. Camp Goodtimes is hosted for children affected by childhood cancer and their friends. (Libby Kamrowski / The Spokesman-Review)Buy a print of this photo
Dozens of young children and teenagers run around a cabin, their hands covered in sticky, slimy, pastel-colored Gak as pop music blasts from a boombox and a mix of glitter and goo slowly cover the wood floorboards.
The children are part of Camp Goodtimes, a free weeklong vacation for kids and families affected by childhood cancer. Some are undergoing treatment, others are in remission and more still are family members and friends of those who have, or are, battling cancer.
The camp offers children an opportunity to get away from the stress of treatment and just be kids, Executive Director Phil "Buster" Harrison said.
He's been coming to Camp Reed, where Goodtimes is held, since the fifth grade. He started working there when he got older, and Goodtimes is part of his 15th summer there.
"The best thing about my job is seeing campers happy and knowing I can give back that happiness that I had," Harrison said. "It's not a hospital, it's like, 'Hey, we just get to be kids out here.' "
The children at Goodtimes are just like any others at a summer camp – playful, smart, happy and extremely rambunctious. Walking around with goop on their hands, taking pictures at a photo booth, swimming and playing basketball.
Many talked about making new friends, and tasty breakfasts with their peers.
Fourteen-year-old Thomas Childress said the camp is "the best place in the world."
His sister, 10-year-old Patience, came with him.
"It's all just great," she said. "I love to get to know people that have had cancer so I can understand them more, and if they get bullied I can give them pep talks and stuff."
Michael Hooley, 12, comes because of his sister, Journey Hooley. This is his fourth year, and he said his favorite part of camp is pulling pranks.
For 9-year-old Lucas Ott, the good part is basketball. He likes Zach, he said. Gonzaga University's, Zach Norvell Jr. that is, a sophomore guard for the Bulldogs.
Along with the children at Camp Goodtimes, several GU basketball players participated in activities and spent time with the children.
Including at the glitter table, where a little boy held a drooping handful of Gak in outstretched hands.
"You gaked me!" GU forward Corey Kispert said to the boy, flicking a bit of it off his shorts.
Nearby, more GU players help children roll glitter into handfuls of the concoction – and make their own as well.
"Every summer I look forward to this trip," GU senior guard Josh Perkins said. "Not only does it put a smile on my face, we get to put a smile on these kids' faces."
Perkins said he loves befriending the children and families that attend each year.
"The past three years, I had a little homegirl named Mia," he said. "If there's any time I could come back, I would love to."
Local journalism is essential.
Give directly to The Spokesman-Review's Northwest Passages community forums series -- which helps to offset the costs of several reporter and editor positions at the newspaper -- by using the easy options below. Gifts processed in this system are not tax deductible, but are predominately used to help meet the local financial requirements needed to receive national matching-grant funds.
Subscribe now to get breaking news alerts in your email inbox
Get breaking news delivered to your inbox as it happens.
---