News > Washington
Vantage evacuation lifted as wildfires near Columbia River burn brush and grass
July 10, 2018 Updated Tue., July 10, 2018 at 10:11 p.m.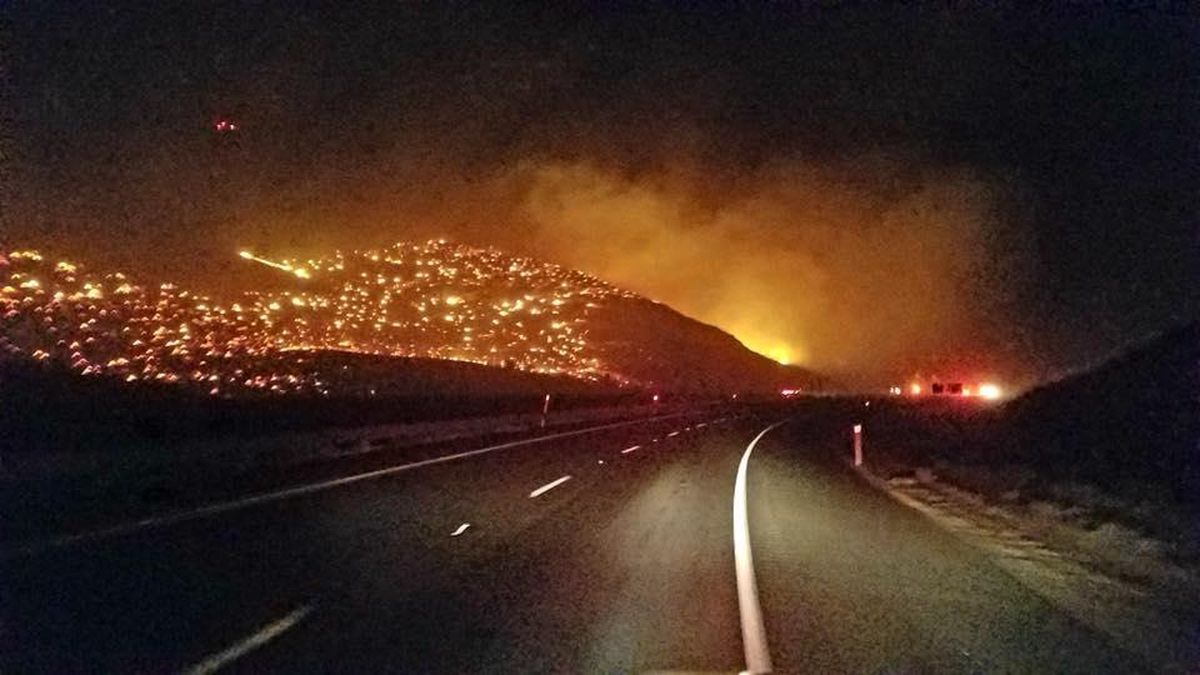 The Ryegrass Coulee fire grew quickly Monday night, forcing the evacuation of Vantage and closing Interstate 90 in both directions. (Kittitas County Fire District 7 / Courtesy photo)
Two wildfires sparked Tuesday in Central Washington, their flames coming close to major highways and forcing evacuations.
A fire east of state Route 28 on the Grant and Douglas county line near Quincy started at about 6 p.m., and firefighters had it under control by 8. Kyle Foreman with the Grant County Sheriff's Office said fire departments from both counties responded and Grant County put out an evacuation notice for 20 homes along Mansfield Road off of Crescent Bar Road.
Trooper Brian Moore, a Washington State Patrol spokesman, said Route 28 was open during the fire and the State Patrol assisted with evacuations.
At about 7:30, the Washington State Department of Natural Resources tweeted that the agency was providing air support to local districts. Thirty minutes later, the Grant County Sheriff's Office tweeted the fire's status was downgraded from a Level 3 threat, which means people should evacuate, to Level 1, which means people should be ready to evacuate and be aware of dangers.
Vantage was evacuated Monday after the surrounding area caught fire and Interstate 90 was closed in both directions.
Mandatory evacuations were put in place for the entire town of Vantage late Monday night, said Jon Sinclair, Kittitas County Fire and Rescue chief. A total of 120 people were displaced and were sheltered at the George Community Hall in George or in Ellensburg, he said.
Randy Shepard, spokesman for the fire's interagency team, said the interstate was reopened in both directions and people living in the Vantage area were told they could return to their homes at about noon.
The highway closure was necessitated by the what was being called the Ryegrass Coulee fire, which started about 11 p.m. Monday on the north side of Interstate 90 near milepost 133 and grew to about 1,000 acres, said Jim Duck, assistant manager of operations at Washington Department of Natural Resource's southeast region headquarters.
Moore said the fire overtook several stretches of bushes and guardrail near the freeway.
"A lot of smoke, dust and debris, too," he said. "And we were unable to get crews into the I-90 area."
Duck said state resources were approved and on their way to the fire Tuesday morning. In addition to a management team of about 20 people, three state crews of 20 firefighters each were on their way, including numerous fire engines and bulldozers to help build fire lines and stop the blaze from spreading to the south.
FEMA also authorized federal funds to help with firefighting costs, citing as major reasons the impact to the community of Vantage and the closure of I-90 for several hours. According to a news release from FEMA's Washington office in Bothell, this is the first use of federal resources in Washington's 2018 fire season.
Sinclair said about 50 local firefighters were battling the fire throughout the night Monday, which was made more difficult by winds gusting up to about 60 mph, and a sustained winds of about 30 mph. As a result, the fire spread quickly and burned to the edge of Vantage at about 3 a.m., coming within yards of town.
"What we were able to do is put the fire out as it got to the structures," he said. "As the fire would come, we would move with it."
Sinclair said the fire continued to move south fueled by the strong wind as crews continued to follow it and look for spots to build fire lines with bulldozers. It continued moving south for much of the morning.
Shepard, the interagency team spokesman, said at about 6 p.m. Tuesday the fire was 50 percent contained and the team hoped to be in the mop-up stages by Wednesday. He said at the time that one outbuilding had been lost and a barn was damaged.
This story is developing and will be updated.
Local journalism is essential.
Give directly to The Spokesman-Review's Northwest Passages community forums series -- which helps to offset the costs of several reporter and editor positions at the newspaper -- by using the easy options below. Gifts processed in this system are not tax deductible, but are predominately used to help meet the local financial requirements needed to receive national matching-grant funds.
Subscribe now to get breaking news alerts in your email inbox
Get breaking news delivered to your inbox as it happens.
---