Sports > Spokane Indians
Late-inning rallies lift Spokane Indians over Eugene 8-7
July 11, 2018 Updated Thu., July 12, 2018 at 12:14 a.m.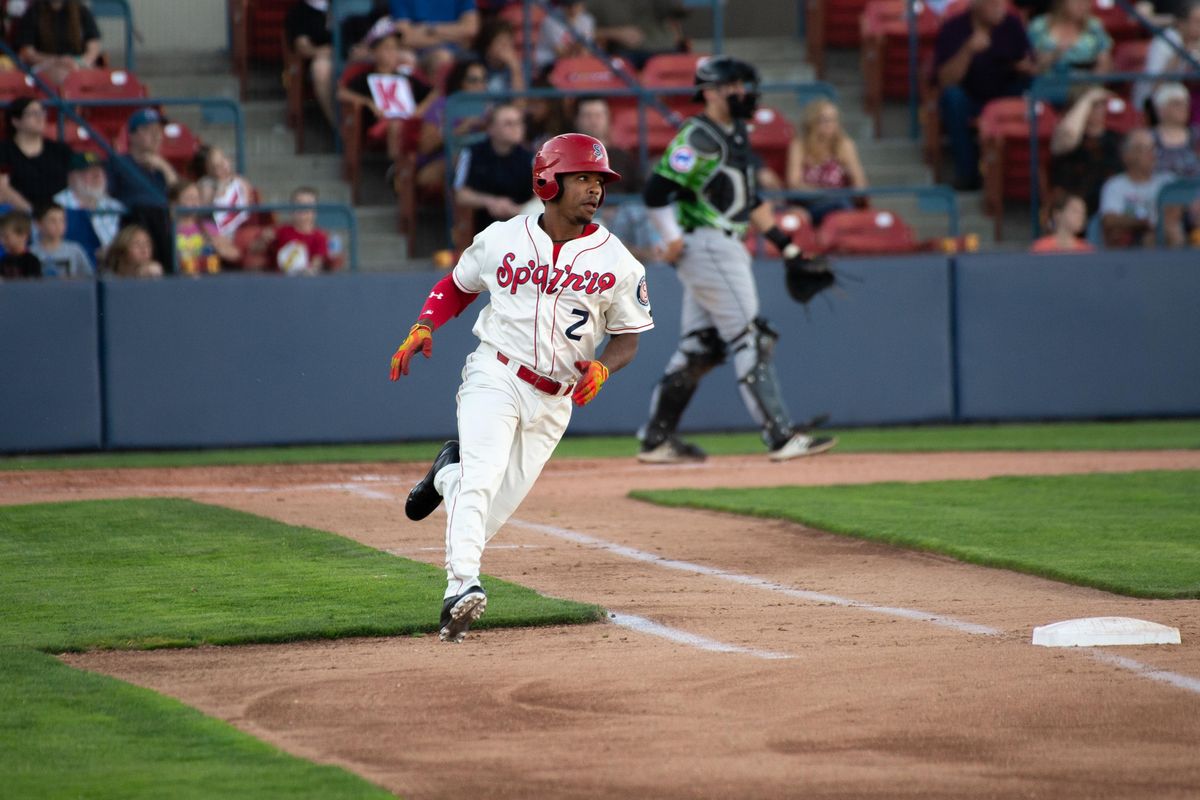 Spokane Indians second baseman Troy Dixon gets a hit and rounds first base against the Eugene Emeralds on July 11, 2018 at Avista Stadium. The Indians beat the Emeralds 8-7. (Libby Kamrowski / The Spokesman-Review)Buy a print of this photo
Manager Kenny Holmberg hoped that a return to Avista Stadium would help the Spokane Indians break out of their slump.
The first game of their five-game homestand on Wednesday didn't quite go as planned, but did the job nonetheless.
Starter Jake Latz was roughed up early – and often – and the home team trailed 7-1 entering the middle innings, but the Indians rallied late to top the Eugene Emeralds 8-7, ending the club's losing streak at four games.
The Indians (9-17) moved four games behind Tri-City, Everett and Vancouver, which are all tied for first place in the Northwest League North Division with 12 games to play in the first half.
Cristian Inoa led off the eighth inning with a single and with one down went to second on Jonah McReynolds' line-drive single. Curtis Terry fouled out to the catcher, and Starling Joseph, who tied it at 7 with a three-run homer in the seventh, drew a walk on a full-count breaking ball.
Luis Aquino was summoned to face Hasuan Viera. He spit on a curveball on the outside corner to run the count full, then watched a fastball sail outside to earn a walk and force in a run.
It was Viera's first at-bat since Thursday.
"He took some borderline pitches," Holmberg said. "It was good to get his feet back in the batter's box. Good for him.
"It ain't easy going up there and doing what he did."
Emmanuel Clase threw a 1-2-3 ninth inning for the save.
Latz was coming off his first win of the season, a tidy five-inning, two-run stint against Tri-City on July 4.
It didn't carry over. Latz allowed seven runs on five hits, including a home run, and four walks.
The team returned home after losing three straight in Vancouver, including Monday's rain-shortened 3-0 shutout. The Indians are 0-11 on the road.
"Vancouver, it's a tough place to go and play," Holmberg said. "I think it was a good environment for us to learn."
Holmberg couldn't put a finger on the Indians road woes, but feels it's not in the process.
"I don't think it's lack of effort," he said. "We just have to keep grinding it out and learn from what we're not doing right."
Holmberg said there were no excuses as to why they remain winless on the road.
"There's just a better brand of baseball to be played. And some adjustments to be made," he said.
"I just see it again as part of the learning experience. When you say, 'Player development,' this is a big part of it."
Eugene (9-17) put a run on the board in the first against Latz. Fernando Kelli led off with a line-drive single to left-center and the league's stolen base leader promptly stole second, his 15th. He moved to third on a groundout and scored on Luis Diaz's sacrifice fly to center.
J.P. Martinez singled to lead off the bottom half and stole second with one out, but was stranded after a flyout and a strikeout.
With one down in the third, Kelli walked. The Indians had him picked off, but first baseman Terry's throw to second was late. Clayton Daniel drew a walk and again the Indians had Kelli leaning. But catcher Scott Kapers threw down to second instead of third and Kelli slid in safe.
It didn't matter as Latz issued his third consecutive walk to load the bases. Nelson Velazquez smoked a liner to the left-field corner for a double to clear the bases for a 4-0 lead.
The Indians chipped away in the bottom half. Kapers led off with a walk, and Cristian Inoa drew a two-out free pass.
Diosbel Arias lined one to medium right field that Jonathan Sierra didn't pick up off the bat and despite his diving attempt it fell and got past him for a run-scoring double.
Eugene got that run right back, and then some.
Brennon Kaleiwahea led off the fourth with a single and Jake Slaughter hit a custom made double-play ball to short, but the turn by Inoa was slow and his throw was in the dirt, allowing Slaughter to reach safely.
That hurt, as No. 9 hitter Luis Vazquez pulled one halfway up the screen in straightaway left for a two-run homer.
After Latz issued a two-out walk, his fourth of the game, Holmberg came out with the hook.
Bobby Eveld took over and Diaz promptly greeted him with a double into the left-field corner to score Daniel from first and make it 7-1.
The Indians started the comeback in the bottom half. Terry led off with a walk, went to second on a passed ball, took third on a wild pitch and scored on Starling Joseph's ground out.
Martinez (2 for 4, stolen base) kept his hot hand alive, crushing a two-out, two-run homer in the sixth, his third of the season. The Texas Rangers' No. 3 prospect is 12 for his last 36 (.333) over 10 games.
Arias led off the seventh-inning rally with a walk off reliever Carlos Vega and with one down, Terry drew a base on balls. That did it for Vega, and Eugene brought in Sean Berry to face Joseph. The right fielder crushed a 1-1 offering over the screen in straight left for a three-run shot to tie it at 7.
Eugene starter Derek Casey struck out two and allowed a hit in two innings. The Chicago Cubs' ninth-round pick in the 2018 MLB Draft out of University of Virginia was making his professional debut.
Local journalism is essential.
Give directly to The Spokesman-Review's Northwest Passages community forums series -- which helps to offset the costs of several reporter and editor positions at the newspaper -- by using the easy options below. Gifts processed in this system are not tax deductible, but are predominately used to help meet the local financial requirements needed to receive national matching-grant funds.
Subscribe to the sports newsletter
Get the day's top sports headlines and breaking news delivered to your inbox by subscribing here.
---